Click here to get this post in PDF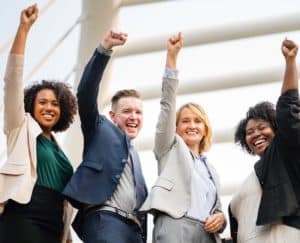 A staggering 85% of employees hate their jobs in the United States. That means if you have 20 people working for you, 17 of them are seriously unhappy. 
With the number of dissatisfied employees so high, we must ask ourselves why so many people are unhappy at work.
Is it because people just hate work in general? Most people know working is a necessity of life and accept it as such. They're not upset they have to work, they're upset about their work environment. 
As a business owner or manager, it's up to you to provide a positive work environment.
Keeping reading for our 7 key tips!
How to Create a Positive Work Environment
Creating a positive work environment is about more than just putting on a happy face and greeting people with a warm "hello" every morning. You must provide a positive work environment people actually want to be in. 
No matter what you do, people would always prefer to be home, enjoying their weekend. However, creating positivity in the workplace will make it so your employees don't dread switching out their pajamas for work clothes. 
Follow these 7 tips to maximize positivity in your workplace!
1. Genuinely Listen
When employees voice their opinions, concerns, or ideas, it's your obligation as their leader to genuinely hear what they have to say. Feeling unheard and uncared for is the fastest way for an employee to become unhappy.
Remember, your employees are human beings, not resources. They all have thoughts, feelings, needs, and desires. If they're not being respected at work, you can bet they're miserable. 
The next time an employee has a complaint, make sure you hear them out and work with them to resolve whatever the issue is. An indifferent response is not acceptable.
2. Celebrate Small Victories
High morale amongst employees is a solid recipe for a positive work environment. Some companies really lock this down and have raving work reviews from their employees. Read more here for examples of positive employee reviews.
A great way to improve employee morale is by celebrating all the small victories around the office. This also makes them feel appreciated for their hard work. A good business owner or manager knows that Rome was not built in a day. 
Similarly, a successful business is not successful because of one great feat. Rather, successful businesses are founded on many small victories. Celebrating and highlighting these victories emphasizes their importance to employees, keeping their head in the game and motivating them to keep up the hard work.
Try creating some sort of reward system for every week your team performs well. Give them an extra 10 minutes for lunch, implement casual Fridays, or have a team dinner or BBQ. These small rewards go a long way towards creating a motivated atmosphere and a positive work environment. 
3. Don't Sweat the Small Stuff
As we just covered, it's important to celebrate small victories. However, it's equally important not to react poorly to minor issues. 
While you can't allow employees to slack off or make a habit of showing up late, you also shouldn't sweat the small stuff. Don't overreact to small mistakes or infractions.
As an employer or manager, you have to be able to lay down the law, but you also have to have a friendly demeanor. Employees won't see you as approachable if you are constantly losing your cool over trivial problems. You don't want to become the boss who's known for yelling and snapping at employees.
An explosive and short-tempered boss creates the antithesis of a positive work environment.
If trivial problems become consistent or habitual, then it's time to take more of a "boss" role. Until then, relax and allow employees some grace when they make mistakes.
4. Show Gratitude
Maintaining a constant state of gratitude makes you a happier person in general.
Being openly grateful toward your employees will help spread that feeling around the workplace. Additionally, employees who feel appreciated in a positive work environment don't dread coming in.
Showing gratitude can be as simple as throwing an office party at the end of the month, buying pizza for everyone at lunch, or giving them a compliment. 
Small acts of kindness in the form of gratitude provides a positive work environment, makes you approachable as a boss, and improves employee morale and motivation.
5. Encourage Creativity
One of the main reasons employees become unhappy at work is because they are bored. Believe it or not, boredom can be just as negative in a work environment as having a bad boss or annoying co-workers.
As much as possible, encourage your employees to be creative in their jobs. If their jobs don't provide a lot of room for change, inspire them to find new and better ways to do it.
Alternatively, hold employee meetings once every couple of weeks where employees can share their ideas. Additionally, allow them the freedom and space to critique the current protocols and policies. Ask them if they like the way things are and what they would change about it.
Giving employees space to be creative and have a voice creates a positive work environment by making employees feel more involved, and therefore, more invested in the business.
6. Create Group Challenges
Team-building activities are a great way to get employees working together by giving them a common goal. It's also an external motivator, especially when there are prizes or rewards involved.
Give your team a group challenge to hit a certain number or quota for the week or month. Keep a scoreboard in the breakroom to keep the challenge on peoples' minds and to remind them of the prizes at stake.
A challenged employee is a happy employee, and studies show that happy people actually work harder!
7. Set the Example
One of the most important aspects of creating a positive work environment for employees is setting an example as their leader. 
You can't expect employees to act kindly toward one another if you're demeaning and condescending. Additionally, if you promote a hard-working environment but can be constantly found on your smartphone, the message will be lost in hypocrisy.
Be a shining example of what you expect from your employees. Treat them with respect and kindness and show them what it means to work hard.
Start Today
If your business is lacking a positive work environment, it's imperative that you start making changes today. If you need to change the way you manage or treat your employees the sooner you start, the better. 
You need your employees to trust you and feel safe, both physically and emotionally at work.
Follow these 7 steps and start creating your positive work environment today!
You may also like: 5 Great Travel & Team Building Days for Your Employees