Click here to get this post in PDF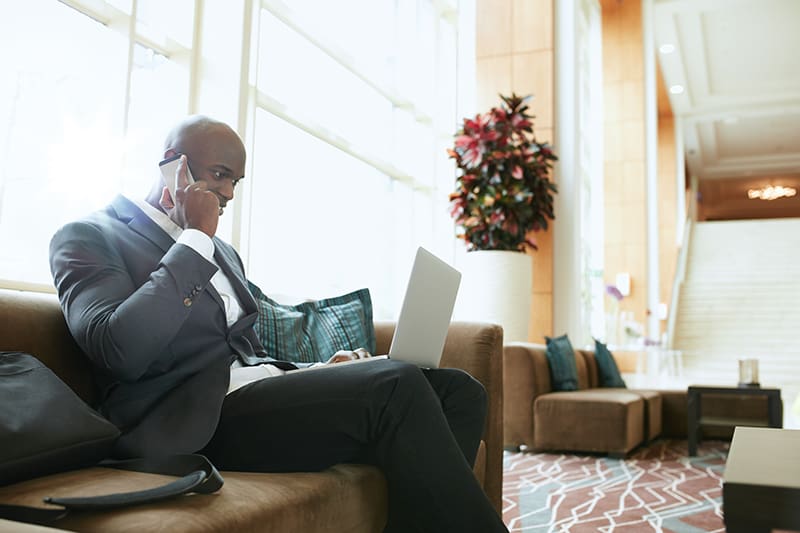 When you take a business trip, there is no denying the fact that most of your time will be spent advancing the mission of your company. From keeping current clients happy or meeting with prospects, there is always something to do upon reaching your destination.
But does this mean you have to work 24 hours a day? Of course not. In fact, even when your schedule is full of business-related activities, it's safe to assume that you'll have some downtime every now and again.
How you fill this downtime is your decision. Some people have an idea of what they want to do, while others "play it by ear." If you're unsure of how to spend your downtime, here are five ideas to consider:
Get Some Rest
With all the travel you're doing, it's imperative to keep your mind and body in good working condition. For this reason, it's a must that you get enough rest and relaxation.
So, when you find yourself with a few hours of downtime, don't hesitate to return to your hotel room to get some much-needed rest.
Even if you don't fall asleep, you can still do things to help your body recover. The more rest you get the better you will feel when your next meeting rolls around.
Get Prepared
Do you have a big sales pitch coming up? Will you be meeting with a new customer in a few hours? Have you got clients to entertain? Perhaps you could combine the formal with the informal by renting a party bus https://www.limofind.com/tx/amarillo-party-bus-rental/
Whatever your plans, you need to take full advantage of your downtime. You have the opportunity to get prepared for what's to come, so you might as well take full advantage.
Is this the most exciting way to spend your downtime? Probably not. Even so, taking this step will put you in a better position to succeed in the near future.
Catch Up on What You're Missing at the Office
It goes without saying that you can't be in two places at the same time. So, while you're out of town for business, you are unable to take care of anything happening at the office.
Rather than let your work pile up, take a few minutes every now and again to catch up on what you're missing.
This can include everything from checking email to calling your key employees. It's better to "stay ahead of the game" than to slip behind and hope for the best upon your return.
See the Sights
Are you visiting a new city? Are you constantly hearing about all the activities that the area has to offer?
While there is nothing wrong with using your downtime to rest and focus on business-related tasks, there may come a time when you want to have some fun.
Regardless of the city, you're visiting, you should be able to find a variety of sights that will pique your interest and put a smile on your face. For example, here are things to do in Boston.
Tip: ask the hotel concierge for information on the best sights that the city has to offer. If this isn't available or you'd rather do your own research, go online to find what you're looking for.
Exercise
Do you feel better when you exercise? Does this give you the opportunity to clear your mind? If so, you don't want to forgo this activity just because you are away from home.
There are many ways to exercise during your downtime. For instance, you could take a long walk around the streets that surround your hotel. Or maybe you decide to do a few laps in the hotel swimming pool.
If you stick to a strict workout regimen at home, you should attempt to do so when traveling as well. This will keep you looking and feeling your best, and there is nothing more important than that.
Travel with Your Family
While it's not always possible to travel with your family, you may be able to work this into your schedule every now and again.
Even though you have many business-related obligations, you can hang out with your family during downtime.
If you're interested in this, follow these tips:
Bring your family along when traveling to "family-friendly" destinations
Plan the trip in advance to ensure that your loved ones have things to do while you're working
Arrive early or stay late, as this will provide additional family time and the opportunity to see more of the city
This is something that many business travelers never consider, but it's one of the best ways to better enjoy any professional trip. Try it once and you may be surprised at how much fun you have.
Conclusion
Even if your business trip is packed full of activity, there will be times when you have nothing on your schedule.
The way you spend your downtime is up to you, so make the most of each and every minute. By following the five points of advice detailed above, you shouldn't have a hard time staying busy in between those important business meetings.
At first, you may find it a challenge to decide what to do with your downtime. However, the more you travel the easier it becomes to fill this space with things that will benefit you.
You may also like: How To Find Well Located Premium Virtual Offices Across Singapore
About The Author

Victoria Howes is an entrepreneur, traveler, and consultant to multiple brands including Travelocity, Hotels.com, and Homeaway.