Click here to get this post in PDF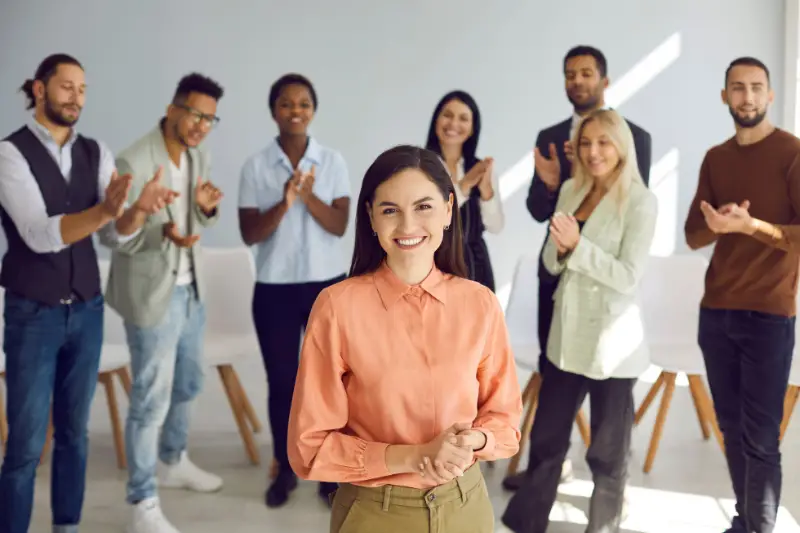 Every company needs talented and skilled employees to help keep their businesses afloat. Whether you have two employees or 2,000, they have to fully utilize their skills and collaborate efficiently to meet, and far exceed, the goals, core values, and expectations of business ― keeping costs low, profits high, customers happy, etc.

Although business owners and managers oftentimes focus so much on the company's achievements and goals that they forget about those who have helped them get there in the first place. In fact, a study of employee engagement states that a lack of appreciation is the number one reason most Americans leave their jobs. Furthermore, "65% of employees feel like they don't get enough praise." As a result, many companies experience higher turnover rates and decreased work productivity, which negatively affects their businesses. 

While you may be rewarding your employees with monetary gifts, such as gift cards or bonuses, the study illustrates that 82% of employees would rather receive praise for their hard work than a gift. Your employees want you to recognize their work, show them that their time and skills are valued, and make them feel like they are part of the team. Furthermore, regularly showing appreciation provides these essential benefits to your employees:  

– Boosts motivation
– Encourages increased productivity
– Makes them more loyal to the company
– Develops healthy working relationships with other colleagues

Many companies are now adding employee recognition to their agendas and business plans and are taking moments out of their busy company schedules to give their employees the appreciation they deserve.
The team at Assembly agrees that employee recognition is important in cultivating a positive and productive work environment. "Hard-working, talented employees deserve to be appreciated by their managers and co-workers."
Learn how these five, simple, cost-effective tasks can boost your employee engagement, morale, and motivation while keeping your successful business booming.  

Announce Standout Employees
You may have noticed that a couple of your employees recently completed more than they were asked, which ultimately boosted your company's sales, image, or customer base. But no one else knows about it. Share this accomplish during your weekly meeting or in a company newsletter where everyone can see it. And make sure too much time hasn't passed. Showing your appreciation in a timely manner can go a long way.

Give a Thank You Note
Living in a high-tech, digital society may discourage you from writing almost anything. But giving employees a Thank You card from the store or simply writing a thoughtful note appreciating their time and efforts is definitely a great way to recognize employees. They will probably never forget this act of appreciation and kindness, which could encourage them to continue working efficiently. You could also send a virtual thank you note, from Kudoboard, which allows multiple team members to express their appreciation.

Start an Employee of the Month Program
Many companies have adopted this common employee recognition program to acknowledge exceptional employees on a monthly basis. In fact, the study suggests that voluntary turnover rates were 31% lower at companies with successful employee recognition programs. Whether it's on your company website, bulletin board in the break room, plaque with a photo or list of names Donor Signs, or customer access areas, Employee of the Month postings can give you and your managers an opportunity to choose an employee who deserves recognition for his or her hard work. The team at JayceeTrophies.co.uk can provide the perfect trophies and plaques. Employees, and possibly your customers, will see who is being recognized and why. 

Use Social Media & Tell the Whole World
If your company has a Facebook, Instagram, Twitter, or other social media accounts (it should have at least one), take the time to create short yet engaging posts about your employees who have done extremely and abundantly well. Your company may have customers and other businesses that follow you on those sites. If they see that you are making efforts to appreciate your employees, they may be influenced to share your posts ― and conduct business with you and your company in the near future.

Simply Say "Thank You"
Lastly, saying "thank you" verbally to your employee with true gratitude is not only appreciated by your employee but also well received ― and should be said on a regular basis as well. An employee expressing the same gratitude toward another employee is also encouraged. According to the study, employee happiness increased by 86% when acts such as saying "thank you" are initiated. Plus, peer-to-peer recognition is 35% more likely to have a positive financial impact than with the manager only. Even though many companies use email as its primary source of communication, there's nothing like an in-person "thank you" to those who deserve it when the opportunity arises.
You may also like: 5 Advantages of Offering Employees Healthcare Benefits

About the Author
Jeffrey Brauer is a freelance writer based in Indianapolis who has been writing about work-life balance and other lifestyle issues for nearly 10 years. He has served as a consultant for local small businesses to create employee recognition programs that include customized awards, incentive awards, and more. When he's not improving employee retention and morale, he's a big fan of hiking through Southwestway Park with his Golden Retriever, Daisy.
Copy Sources
https://www.forbes.com/sites/meghanbiro/2013/01/13/5-ways-leaders-rock-employee-recognition/#312fca1047ca
http://www.snacknation.com/blog/employee-recognition-ideas/
https://www.officevibe.com/state-employee-engagement http://blog.bonus.ly/employees-all-over-the-world-dont-get-enough-praise
This article first appeared on the site on 13/07/17 and has been updated.