Click here to get this post in PDF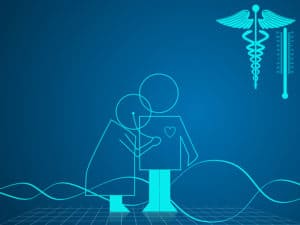 With employment rates in the UK at a new record high of 75.7 per cent, it's becoming increasingly difficult for employers to attract and retain the staff they need. Competition for candidates with in-demand skills is greater than ever, so as a business, you have to offer something that makes you stand out. Many small firms can't afford to pay over the odds in terms of salary, so some are turning to the benefits they offer to give them the edge.
Healthcare benefits can be an excellent tool to attract and retain candidates, but that's certainly not the only advantage employers can realise by offering a comprehensive benefits package. In fact, rather than a cost, increasing the healthcare benefits you offer can actually serve to boost your bottom line.
So what are the most compelling advantages of offering healthcare benefits to employees? Here's our guide…
Healthy workers are happy workers
From personal experience, most us will know that the healthier we are, the happier we are and the more productive we're likely to be at work. However, until recently, no scientific link between employee well-being and performance had been proven. That was until a recent study by the University of Warwick, which identified a positive correlation between healthy employees and increased happiness and productivity at work. It found that taking steps to boost employee wellbeing, such as providing healthy food at work and introducing schemes that encourage exercise, could be beneficial for employees and the business.
Boost employee engagement
To really engage your team, it's essential the healthcare benefits you offer are specific to every individual. Offering an element of choice and tailoring your package can make a huge difference to employee engagement. While cycle to work schemes or subsidised gym membership may be valued by younger workers, workplace massage or healthy meals at work might be more beneficial to older members of the team. In the US, where contraception can be expensive and is not always covered by health insurance, even family planning advice can be a perk that helps to make employees feel valued and engaged.    
Reduce the impact of mental health issues
Work-related stress and other mental health conditions such as depression and anxiety are responsible for between 30 and 40 per cent of all sickness absence in the UK. The result is billions of pounds lost not just to absenteeism but also presenteeism, where employees are at work but unproductive. Putting in place preventative measures such as relaxation therapy and stress days as part of your healthcare package can reduce the impact this lost productivity has on your business.   
Retain key members of the team
With employment levels on the rise, benefits are becoming an increasingly compelling way to retain the best talent. 81 per cent of 338 HR managers who responded to a recent survey admitted to using employee benefits as an effective retention tool, while 76 per cent said they used healthcare benefits to aid recruitment.   
An effective employee incentive
As an alternative to a bonus, increased wages or other hard costs, healthcare benefits can be used to motivate and reward employees for their good work. Adding new benefits to the healthcare package you offer can be a win-win for employees and your business, avoiding an increase in your wage bill while providing rewards that are valued by your team.
With such a compelling range of advantages derived from the benefits you offer, is it time you revisited your employee healthcare scheme?
You may also like: How to Attract and Retain Top Talent – Infographic