Click here to get this post in PDF
LinkedIn is one of the fastest growing professional platforms in the world. As a B2B company, it's critical to understand how LinkedIn can play a role in your marketing and lead generation efforts. 
To help you with that, we've outlined five LinkedIn marketing strategies that will help your business grow on LinkedIn. Integrating these five strategies will not only increase your brand's visibility and credibility, but increase inquiries and leads through LinkedIn 
1. Create & Optimize Your LinkedIn Business Page
The LinkedIn platform allows companies like yours to create and optimize their LinkedIn business page. 
Why are these advantageous? 
The LinkedIn business page offers features that showcase your business' services, culture, post your content, and even feature your rockstar employees.  
Think of the business page as a person's first impression of your company. Having a current and updated LinkedIn business page shows potential clients that you mean business when it comes to providing customers with excellent service.  
2. Update Your Personal LinkedIn Profile
There are a few best practices when it comes to updating your personal profile on LinkedIn. 
Let's be honest though… You've probably seen unprofessional profiles on LinkedIn. They stand out in the worst way. 
Now, imagine what prospects would do if they saw your profile: a profile that's professional, updated, and represents your company in a way that builds trust and begins sales conversations…
To stand out, we recommend: 
Having a professional headshot
Uploading a relevant cover image 
Fully fill out your About section
Adding CTA's where appropriate 
3. Write an Eye-Catching LinkedIn Headline
LinkedIn headlines can be difficult to write. Balancing professionalism and being unique is no easy task. 
Want to write a high-converting LinkedIn headline? 
We recommend:  
Using action words versus your job title
Showing off your humor (when applicable) 
Incorporating keywords from your industry
Sharing a non-work-related fact 
Here are a few examples of excellent LinkedIn headlines: 
Sales Manager | 20+ years | Contact me to see how I can reduce the amount of time your reps spend on qualifying leads
Executive experienced in marketing and customer analysis | Dedicated to developing a solutions-based approach for top companies 
Providing warm leads to B2B Tech Companies | 15+ Years in Lead Generation | Boulder Ironman 
Once you have updated your headlines, the next step is to buy Linkedin connections to supercharge your visibility.
4. Tap Into the Tools On LinkedIn Sales Navigator
If you want to create a new sales funnel via LinkedIn, consider subscribing to LinkedIn Sales Navigator.  
Based on your company's sales needs, the platform offers tiered pricing to fit your budget. 
Why consider a subscription? 
LinkedIn Sales Navigator allows you to hyper-filter and target your ideal customers on LinkedIn. Using the free LinkedIn capabilities, you're unable to do this. After you set up your search filters, such as company size and job title, you can create a pipeline of new connections and increase your reach.  
5. Hook Up your Company's CRM and Start Warming Up Leads
With sales navigator, you have not only new connections, but new LinkedIn messaging and email capabilities. Now, how can your B2B company best leverage these new opportunities? 
Funneling these contacts into your CRM allows you to start tracking where you are in the sales funnel with each new prospect.  
If you're a B2B startup without a CRM, we highly recommend getting one. A CRM allows you to build out your sales processes from the beginning, ensuring that you don't let any sales opportunities fall through the cracks. 
---
4 Digital Marketing Trends You Can't Ignore In 2021
---
Need Help Creating a B2B LinkedIn Messaging Series?
Infinity Marketing Group offers a done-for-you LinkedIn lead generation service for B2B companies. Our team of experts works with you to narrow down your targeting and create dynamic and purpose-driven messaging. Then, through LinkedIn, we create a drip series that warms up your prospects. 
Once they initiate contact, we deliver these warm leads to your sales team who can close the deal.  
Have questions? Reach out to us at Info@infinitymgroup.com or reach us at (303) 834-7344.
 About the Author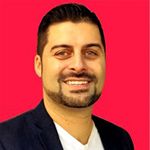 J.C. Granger is the founder and CEO of Infinity Marketing Group, located in Denver, Colorado. His company focuses on providing done-for-you lead generation services to SaaS, FinTech, and Martech companies. J.C. is also the host of The Future of BizTech podcast, where he interviews Tech Executives about their career path, companies, and asks about their predictions for the future of their industry and business.