Click here to get this post in PDF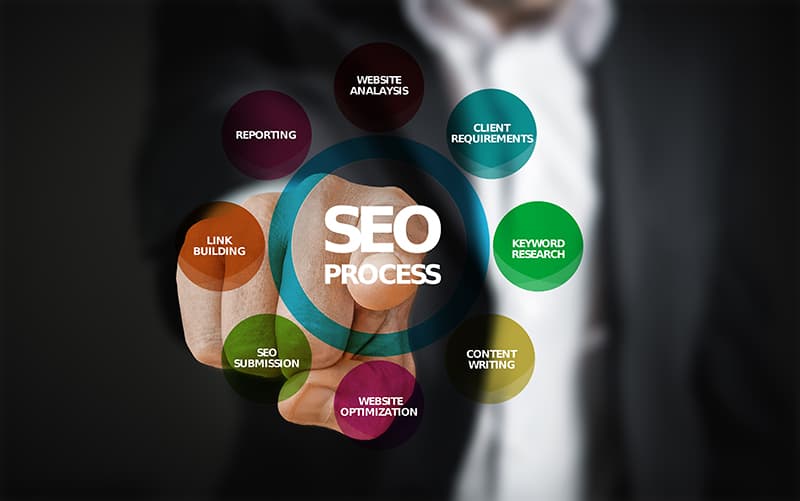 It takes a lot of knowledge to understand many components of the technical world. Websites might not seem so complicated on the surface, but there is quite a bit to know about how they work.
The point of a website is to attract viewers to help a business or company grow. For that reason, a well-structured and smoothly running website is a must-have for success.
A complex term that it is incredibly important to understand for website development is search engine optimization or SEO.
Creating an SEO website has so many benefits that will lead to more viewers that are happier with your services.
To better understand SEO and how it can be used to improve your website, you have to become familiar with everything it involves.
What is SEO?
These three letters can change your company for the better. SEO, or search engine optimization, refers to getting more hits in an online search because of the structure of a digital page.
What this means is you can't just write whatever comes into your head, publish it online, and expect it to be a hit after a web search. It takes quite a bit of data analysis to decide what should go into every piece of content.
Some major points to make sure you hit in all the content you publish are including backlinks to relevant websites, writing with certain keywords, and choosing topics that appeal to readers.
If you follow guides about what is commonly searched concerning your topic of interest, search engines will be more likely to rank your content higher on their results lists.
SEO content helps with the amount of traffic that it receives as well as the quality of the traffic. People who actually want to read the content will be more likely to find it and click your link.
Using these aspects of SEO is just a basic guide to optimizing your website. You should also pay attention to technical SEO to make sure it thrives.
Technical SEO
Technical SEO gets a bit more specific than SEO in general. It can basically be summed up as the core of any website. It is the structure that holds everything together that makes a website function.
When elements of technical SEO aren't working, you will lose popularity and keep viewers from reading what you have posted.
There is quite a bit to know about technical SEO as it relates to the success of your website.
Under technical SEO falls the ability for a website to convert seamlessly into a mobile version.
More people complete searches on their mobile devices than they do on a desktop computer these days, so the way your website is presented mobility is critical.
You must make sure the formatting of your website can be sized properly in the smaller screen format, and that it looks similar to the full-page website. You can even create a specific mobile version of your website for more optimized results.
In addition to the mobile formatting, errors on the website are also a big no-no when it comes to technical SEO.
There are a few types of errors that may present themselves as time goes on, so it is important to stay informed about any that appear.
When search engines are determining if your content is a hit, they will look to see if there are any error codes on the page. If there are, your website is not SEO and the content will not rank well in a search.
Make sure to fix any errors as soon as possible to have a stronger website.
In our fast-paced world, speed is everything. Nobody wants to wait around for your one single webpage to load. If it takes too long, they will leave.
Take loading time into consideration when making updates to your website. That, in addition to errors and mobile formatting, are all important pieces of technical SEO that can make or break a website.
SEO Leads To More Viewers
Why is SEO so important? Well, it could be the way your website rises in popularity and receives more views online.
A well-constructed SEO website will appear sooner in a search result list for interested readers to click. This means it will be on viewers' screens after they search for keywords that are on your website.        
If the website loads quickly and contains content that the reader wants to explore, your website will have more viewers than ever.
People tend to trust search results. If you come up in a Google search early in the list, viewers are more likely to click on it because they trust the early results.
The further down the list your website is, the less trusting the viewers become. Make sure to use the properties of SEO to increase the traffic to your website and grow awareness of your brand.
The goal of a website should be to expand the reach of your company. If there is a way to do this, there should be no hesitation involved!
SEO For Happier Viewers
Having a ton of viewers is great but keeping them happy and interested is also important. You want them to keep visiting and coming back for more.
Using SEO strategies will ensure that the viewer has a good experience on their first visit. A great first impression will then mean a lasting relationship with the website.
Short loading times and relevant content that is well-written can only make viewers more intrigued to read more.
Making viewers happy can also act as a source of marketing for you. They could share your website with others and get more people engaged with the content you create.
Using SEO will benefit your website long-term. The work you put in at the start will end up creating lasting relationships with the viewers you care about.
While SEO might seem complicated, it is a great tool to implement into any website. Following SEO strategies is crucial to expanding viewership and growing your brand down the line.
About the Author
Marina Turea works as Content Manager at Digital Authority Partners
You may also like: How to stay on top of SEO trends
Image Source: Pixabay.com