Click here to get this post in PDF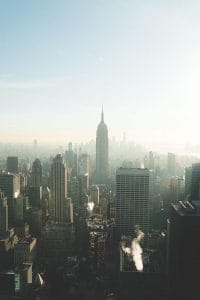 There's a lot of time and effort to put into starting a business. It's going to take up the bulk of your time, even when you're well into the years with running it! So you need to have a city surrounding you that's going to recognise you for your hard work and pay you back tenfold. And that's a hard decision to settle on, but you've gone the extra mile, let's make it easy for any customers and investors to do the same.
If you're someone who's looking to kickstart their own small business, but you're still not sure about the particulars, let's make one of the main ones easy for you: where you should locate your company. It has to be somewhere where you're going to make a good profit, one that'll firmly outweigh any of the startup costs, and where you're going to get the most exposure you ever could. So let's explore the pros and cons that you're going to need to weigh up.
When you're trying to conquer the corporate world, we all head for the big city. But is this your best option? (Image)
At Home?
If you go for a home-based business, you're going to be playing on local turf that you know, with all the advantages that bring you. You're going to know the community, the laws you'll have to follow, how you can file patents for products to protect your rights, and you're going to come face to face with a familiar market to sell to. Because of all these factors, there's no confusion over why this is the most popular option for startups!
At the same time, local turf allows you to put in the minimal effort for max profit, especially with the invention of the internet. If you're starting a business within your own home, you won't even have to commute, which cuts out a whole expense on the costs sheet you'll have to fill out at the end of each week. VAT costs alone are going to be down, and that makes your tax rebate all the more exciting.
But starting a business is all about taking risks, both short and long-term, both comfortable and uncomfortable. So if you're looking to make it big as soon as you can, it might be worth it to turn your attention elsewhere.
Move Abroad?
Making your business international off the bat can be a very risky move, and most people don't look for this option until their fourth or fifth year as a company. But if you're selling to a market that's stronger in a foreign country than it is in your own, and you really believe in the product or service you've innovated, this could be a great option for you.
But where exactly should you relocate to? Should you even need to? It might be more worth it than trying to slug it out for years in your local economy, especially if you're looking to build. You might be worried most over the idea that there are all kinds of business cities and conglomerate empires out there that rule the roost already, and trying to fit in amongst them as a startup will be incredibly hard for you to do. So it's clear you need a city that still favours the little guy, whilst offering the maximum amount of opportunity you could ever need.
Europe is a great continent for candidate cities like this. London is an extremely popular business city, and there are over 5 million small businesses in the UK alone, so it's clear you could thrive here. And you don't even need to move your entire household and workforce if you use services such as yourvirtualofficelondon.co.uk. The internet still stretches across all the international distances you could think of.
Not to mention, it's a great way to build up your own networks, ping rates, and the reduced latency necessary to entice customers. At the same time, you could very easily use the entire infrastructure of a virtual world to your advantage. That is before you have the funds in place to take a flight over. This could be your magnum opus, so feel free to look into the option.
Decided Where to Locate Your Business?
You have time to make your mind up, and you should always be sure before you make such a firm move like this. Play it safe and smart, and have an informed decision on your side to take your small business far.
You may also like: How To Start A Pressure Washing Business In 4 Simple Steps