Click here to get this post in PDF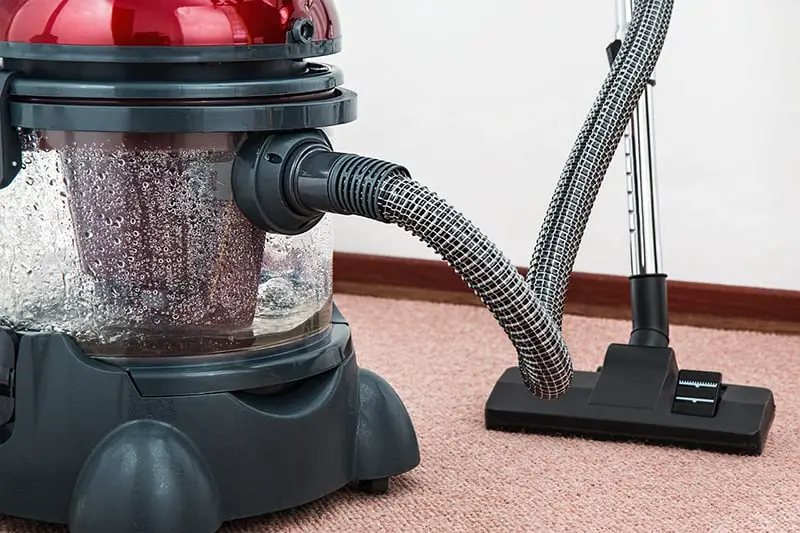 As the name suggests, the commercial cleaning industry has one main goal, that is, to keep commercial spaces clean.
No matter what type of industry you work in, your commercial property needs to have neat and clean carpets. But how do you know which carpet-cleaning method to pick when you have several methods at your disposal? Which method is better – steam cleaning or dry cleaning? Which one is the right choice for your business?
Steam cleaning and dry cleaning are both popular methods of carpet cleaning, but does one method have an advantage over the other? Read on to know the answer.
Below we have gathered some information about both methods, along with their pros and cons. At the end of the blog, you'll be able to decide which type of cleaning you want and which equipment you'd rather invest in.
Steam Cleaning
Because of the name, you might think that steam cleaning requires steam to clean the carpet – it's only logical. But the reality is something else. The process actually combines water with cleaning chemicals to remove the dirt and dust from the carpet.
Process – First, an industrial steam cleaner is used to spray cleaning detergent mixed with hot water on the carpet. And then, a wet-vacuum is used to remove the remaining moisture from it.
Pros of Steam Cleaning
It's probably the best deep-cleaning method. Since the method combines hot water with chemicals, it is able to remove dirt and dust that has sunk deep into the fibres of the carpet. The spray from the water breaks the particles of difficult-to-remove stains.
The process deals effectively with most stains, debris and dirt, and also removes allergens and pests that have settled into the carpet's fibres.
The steam carpet cleaning method gets you pristine results.
Cons of Steam Cleaning
Some owners worry that the chemicals used in the steam cleaning process can damage the carpet and harm their employees. Although, most steam cleaning companies use safe chemicals that won't damage the carpet or cause a threat to people's health. But it is best if you talk to the carpet cleaning company to learn more about the chemicals they use. For example, suppose you are looking for Carpet Steam Cleaning Melbourne. Then, you should contact Black Gold Carpet Cleaning, a company using Green Clean Certified products that are 100% biodegradable and leave no toxins or residues behind.
Another concern with steam cleaning is that it can cause mould and mildew to grow in the carpet. This generally happens when you don't properly vacuum the carpet, use too much water or let the water sit on the carpet for long. However, if you vacuum properly, you can dodge this problem.
It takes more time than other types of cleaning. It takes almost 12 to 24 hours for the carpet to dry properly.
Since steam cleaning requires more time than other methods, most business owners prefer doing it after regular business hours or over the weekend.
Dry Cleaning
Just like steam cleaning, dry cleaning too has a misleading name. Although it requires more chemicals than water, a little moisture is needed to remove the chemicals from the carpet.
Process – First, dry-powdered cleaning carpet is sprayed on the carpet. And after the chemicals have seeped into the fibres, water is sprayed on it to help the chemicals break down the dirt particles. In the end, a vacuum is used to remove the particles that have bonded with the chemicals.
Pros of Dry Cleaning
Unlike steam cleaning, dry cleaning takes comparatively less time. You can walk on your carpets soon after the process is complete. Dry cleaning doesn't interrupt business operations.
The method offers you a fairly thorough clean. The rigorous chemicals used in the process dismantle the most stubborn stains, even the ones other cleaning methods can't combat.
Cons of Dry Cleaning
It uses more abrasive chemicals than steam cleaning. If any employee in your building has asthma or allergies, they might not be able to work or enter the workspace during the process.
You should, therefore, talk to your supply company to provide effective, safe chemicals for carpet cleaning.
I hope after reading about both the processes, steam cleaning and dry cleaning, along with their pros and cons, you are able to make an informed decision about which type of cleaning you want for your commercial property.
You may also like: Upgrade Your Office