Click here to get this post in PDF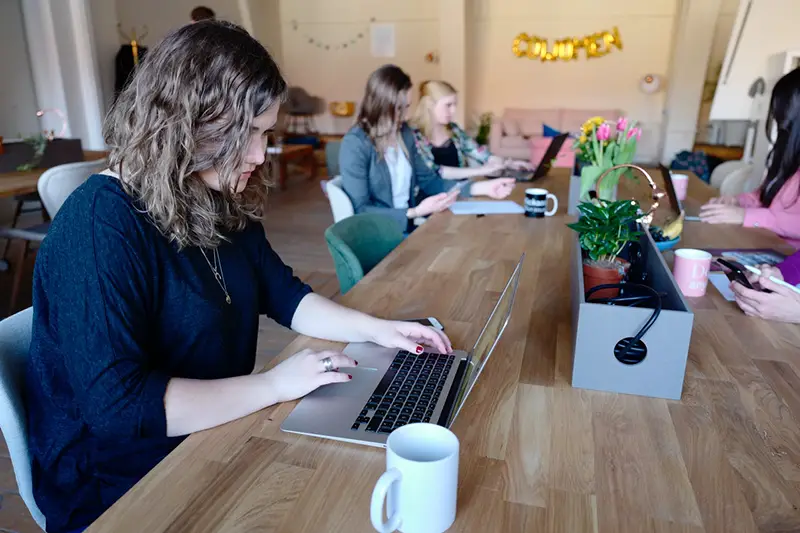 When you picture coworking spaces, what kinds of businesses do you see using them? Is it just lonely entrepreneurs and startups? Or, are there some more established businesses in there, too? The reality might surprise you. Coworking spaces cater to different business needs. Let's look at all the kinds of businesses that are using coworking spaces right now.
1. Lone Entrepreneurs and Freelancers
It's quite clear why flexible coworking spaces are advantageous for lone entrepreneurs and freelancers. They typically can't afford to rent their own office space, but want the benefits of a professional downtown address, phone-answering services, access to business facilities, and also just a nice place to work day to day.
Coworking spaces work especially well because of the flexibility on offer. Entrepreneurs may need an office for short-term projects but then might go another month or more without needing any space and just working from the kitchen table. Coworking space providers allow for that.
2. Startups
For startup companies, more permanent office space is needed but once again the problem of costs starts to rear its ugly head. Renting even small office space in prominent and accessible locations in a major city is a massive financial headache, not to mention a major business risk. You have to invest money in rent, furnishing, Internet and utilities, and more. When the budget is tight, tying so much of it up in the office space is a huge risk.
Coworking spaces give startup companies the ability to expand and contract their working space as and when they need it. They can use up more desks and office space when they're busy, but scale right back when things are quiet. The savings allows them to keep more money on hand for emergencies. One of the biggest reasons startups struggle is that they can't balance the need for a proper working space with their available budget.
3. Small and Medium-Sized Businesses
As it happens, small and medium-sized businesses are also using coworking spaces, even if they have the budget to get their own private office space. The reason? Simplicity and flexibility. The time when a company is first growing is also a dangerous one. It's easy to assume that growth will go on at the same pace, prompting business owners to overstretch, and invest in offices and additional locations before they've had time to consolidate the initial growth.
With so much invested, it's a real disaster if and when business drops off, even temporarily. Coworking spaces provide a kind of safety net that allows a growing business to perform a "tactical retreat" and shrink itself should it become overstretched. It takes the pressure away from renting and managing your own office space and allows more energy to be focused on running the business, providing products and services, and building a brand.
Building from the startup stage into a mature small or medium-sized business is a challenging and stressful process, and coworking spaces are a big part of what is helping more companies to succeed.
4. Large Established Businesses
If you're running a large and well-established business, why would you need a coworking space? Nearly all large companies rent commercial office space of their own in prominent downtown locations, right? While it's true that larger companies don't exclusively rely on coworking spaces, they are very handy for temporary projects in different cities.
A large Brisbane-based company looking to do work in Melbourne over a 6-month period would find the perfect office solution in a coworking space. Since it's only part of their team that's based in Melbourne, they just need a small and temporary location, but hopefully also in a location that matches the prestige of their brand. They get it all from a coworking space.
You may also like: How Hiring the Perfect Co-Working Space helps Realign your Business Goals post Covid19?
Image source: Pexels.com