Click here to get this post in PDF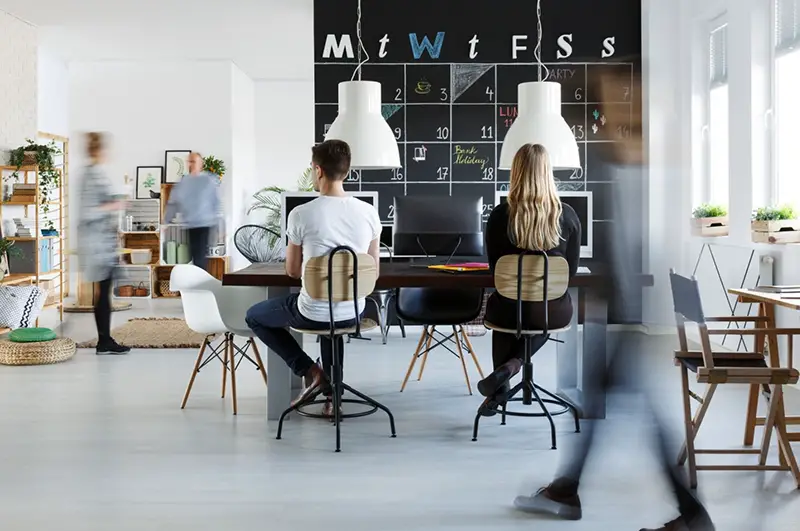 From 2015 to 2019, the number of Series A startups has almost doubled in size. Perhaps you've contributed to that statistic recently, and you're trying to figure out some of your business logistics.
For example, maybe your budget is tight and you're trying to find ways to get work done without paying through the nose. In that case, why not try coworking spaces?
Here are 4 reasons why your startup business should consider this type of working space, besides its affordability.
1. It Allows for Better Work-Life Balance
As you may already know, running a startup can take a lot out of you. You pour your blood, seat, and tears into the business, which means a lot of endless hours slaving away.
While this might seem good for the startup, it's definitely not good for you. When you start losing yourself in work, it starts blurring into your personal life. This can cause both your health and relationships to deteriorate.
When you work in a coworking space, this helps you have a mindset of only working while at the space, and only focusing on your personal life after you leave that area.
When you can strike a better work-life balance, you'll find that both areas will improve massively.
2. It Facilitates Collaboration
One of the best benefits of coworking spaces is that it's a huge catalyst for collaboration. When you're in a coworking space, you're in close proximity to other startups, entrepreneurs, and freelancers.
David Thomas from LaunchPad says "Being in such small quarters means it's only natural to start speaking to one another. Before you know it, you're throwing around ideas and getting the creativity flowing without even meaning to! Having so much talent in one space means there's a natural flow of interaction and collaboration, which you'd never get in a traditional workspace."
3. It Helps With Networking
On that note, being in a coworking space with a bunch of other professionals means networking will come naturally as well.
Perhaps you need a web designer and a marketer to bring your ideas to life. When you're in a coworking space, you'll most likely have access to these professionals, as they're just a few steps away!
4. It's Very Flexible
Every startup experiences this: growing pains. When you get things going, you eventually find your office space too small. So then, you have to up and move to a bigger space. And rinse, and repeat.
This process can be very time-consuming and costly, and not to mention, tiring for your employees.
The coworking space design is very flexible and accommodating. As your startup scales up, in most cases, you can still use the same coworking spaces. So, you won't have to worry about moving constantly to accommodate your startup's growing pains.
Reap the Benefits of Coworking Spaces
As you can see, there are so many benefits to using coworking spaces for your startup. Not only are they affordable, but they can help you boost business in more ways than one.
So, forget about moving from space to space and instead, put your money in a coworking space instead. Your startup can only benefit from it!
You may also like: 5 Tips to Choose the Best Internet Service Bundle for Your Startup