Click here to get this post in PDF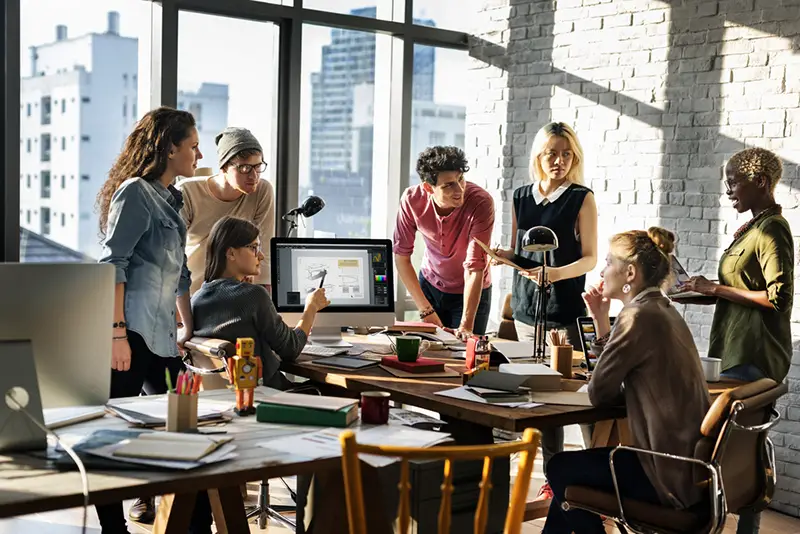 Coworking spaces have been increasingly popular over the years, particularly as remote work becomes commonplace across the globe. Analysts predict that the number of available coworking spaces will reach over 40,000 in 2024. And there are plenty of reasons why the coworking model works.
Coworking allows you to benefit from an office space while staying flexible with your needs. Small business owners might rent a private office in a coworking space, keeping their costs low, while freelance and gig workers might get a monthly hot desk membership to come and go as they please. Coworking spaces offer you a range of benefits that help maximize your productivity. With that in mind, here are five benefits of joining a coworking space:
Networking
Every business thrives on networking. A coworking environment allows you to meet different people in all types of industries, and these peers can go on to become important business connections. The more contacts you have in your industry, the better it is for your business. More contacts help connect you to future opportunities.
During a typical day at a coworking space, you can interact with different business owners, share ideas, and even find potential employees or contractors. You might even find clients and customers who are happy to support small companies and people that they know. Many coworking spaces host in-person and virtual events that make it easy to break the ice and mingle with your fellow coworking cohorts. These events are often interesting and insightful and feature guest speakers that have plenty to offer.
Office Perks
Coworking spaces offer a slew of office perks. For example, the Collection, a coworking space in Los Angeles, offers a rooftop lounge with indoor and outdoor seating, a wet bar, and music. If you had to pay for your own office space, chances are having additional services, such as fitness rooms and entertainment options, would be limited. Common coworking benefits include coffee machines, printing facilities, soundproof phone booths, private meeting rooms, and more. Nap rooms, happy hour, entertainment activities, free food, and many other facilities are also available for you depending on the space you choose.
Improved Productivity
It's normal to find yourself a little unmotivated or lazy when you're working from home and have adapted to a mundane routine. If you run a small business or are a freelancer, you want to make sure that you're putting yourself in a productive position. For many people, their homes simply don't inspire or ignite them day after day. They need a change of pace and a new environment to feel invigorated again.
A coworking space can do wonders for your productivity levels. You will be surrounded by like-minded people clicking away at their computers and getting things done. This energy can be uplifting for many. Because you'll see others around you getting work done, you will also feel motivated enough to be more productive than your usual self.
Creativity Influx
Creativity might not seem like the most important job skill, but did you know that Fortune 500 leaders consider creativity to be the most desirable leadership skill? Coworking is a great way to help get your creative juices flowing. First and foremost, coworking spaces are thoughtfully designed to maximize creativity and eliminate the uniform nature of traditional offices.
You won't feel trapped in a cubicle anymore or in the confinement of your home. Instead, you are surrounded by aspiring people and aesthetically pleasing spaces, which can help boost your overall creativity in general. People who are in environments where they feel inspired to think creatively are also more likely to be happy and productive.
Reduced Costs
One of the biggest benefits of coworking is that it's a cost-efficient alternative to traditional office space. Instead of paying high monthly rental prices and associated fees, you can pay a much smaller price and deal with much less responsibility associated with your space. Less overhead costs mean you have more freedom to deal with the business topics that matter. It also allows you to be more flexible with your needs. For example, instead of locking you into annual contracts, many coworking spaces offer month to month rentals with the ability to cancel anytime and adjust your needs to your company's growth.
You may also like: Coworking Space Marketing Ideas that put you in an Advantageous Position
Image source: Shutterstock.com