Click here to get this post in PDF
When running a startup, you'll have a lot of things on your plate. Often, you'll be recruiting new prospects, and growing your product can take all of your time and focus. Depending on the nature of your business, you might even have to look for reputable suppliers, or a location for your brick-and-mortar store. Becoming a sustainable business might not be your number one priority. 
Putting it aside, there is a misconception that it is somehow excessive to become an eco-minded or eco-friendly brand. However, this isn't true because greenifying your business and implementing environmental construction staffing strategies can help you gain more customers, save more money, and even cultivate a better brand image. Being a sustainable business can even become the reason why your brand will stand out from the competition, and more and more customers will choose to do business with you.
Pledging to become environmentally friendly might show your customers you are here to make a change as well as profit. Going green reveals that your values extend to taking care of the environment you are playing a role in. It comes as no surprise why 88% of business school students think that learning about environmental and social business is a priority. Acting toward becoming a sustainable company will not only impede the increasing ecological crisis, but it can also strengthen your business.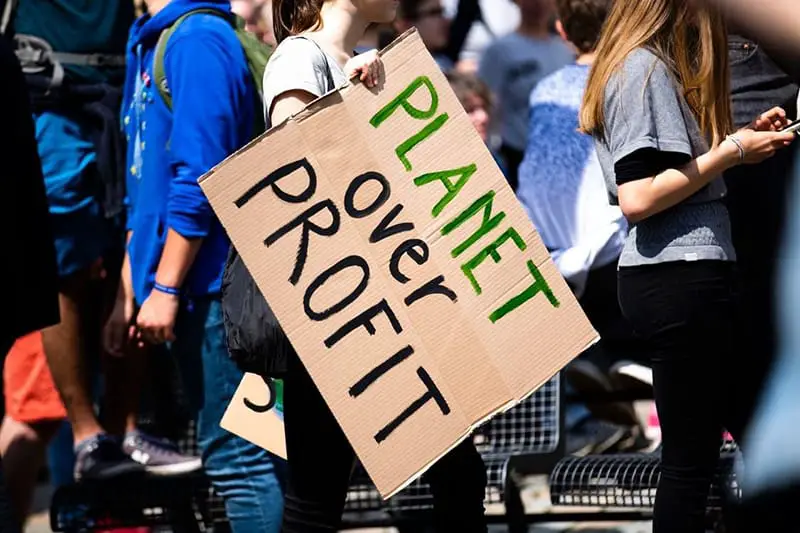 What is a sustainable business? 
Irresistible consumption and a growing tendency against plastic products are signs that sustainability is becoming paramount to future buyers. But what does that mean for your company, and how can you develop and sustain a sustainable business model?
Before making the switch, you must fully understand what sustainability is, what a sustainable business model is, what makes a sustainable business model, and why we need those models. According to Wikipedia, sustainable development is the development that satisfies the needs of the today without jeopardising the ability of later generations to meet their necessities.
When placed in the business context, sustainability means using natural resources to create products and services that meet customers' demands while ensuring that future generations still enjoy the same resources in the years to come. Sustainability encourages business owners to look forward and not waste all of the natural resources available to them.
In 2020 many businesses were preparing for another round of action on sustainability, and the latest sustainability trends are a great source for businesses that want a bird's eye view on the topic to expand their horizons.
As the planet continues to heat up, more and more businesses are taking meaningful action. Experts are predicting a fast deployment of the electric vehicle, improved emissions disclosures, and mass divestments from fossil fuel. The changing climate has already become the new normalcy; hence, startups must adapt accordingly. Sustainability in business will also see a rise of both extreme events and financial measures to buffer against them, along with the new sponsor collaboration to better our adaptive strategies, stronger risk mitigation measures, and transition to sustainable finance.
How to Grow a Sustainable Business?
The formula is pretty straightforward. You can't do this alone, so you must engage as many people as possible. This is especially true if your business is already operating and you plan to switch soon. Implementing sustainable strategies will require a lot of effort, and it'll be challenging to succeed if you're only doing all the hard work alone. Although you're the person who is ultimately tasked with managing sustainability in your organization, you can never do it all by yourself.
With that in mind, you need support from every department in your company and participation from the rest of the staff. Typically, those doing this work the best are able to engage people at all levels of the business. Thankfully, sustainable strategies and practices can empower people to act for climate action, sustainable businesses -deedster, a tech company that developed digital tools and software solutions whose vision is to enable the shift to a sustainable world.
To grow a sustainable business, you need to inform your entire workforce about your intentions—what sustainability is, what they will do to implement sustainability, and how this process will benefit them in the business. It'll be easier for you to progress and succeed with your efforts if your workforce is on the same page. They might even provide information or tips on how the business can become sustainable in the long run!
Because people usually hate working on ad hoc efforts, conducting a comprehensive sustainability assessment to compare your existing practices with established best practices is the simplest move. A well-thought evaluation will provide you with a road ramp for your company so that you can work on all-term projects. Lastly, as any socially and environmentally responsible, you must meet the proper standards. How? By getting certified as a B Corp, you can join a mounting community of businesses committed to saving the environment and even benchmark your practices.  
Engage Employees at All Levels 
Getting buy-in from management can help your sustainability efforts succeed. There might be cases where your CEO might not see sustainability as a priority, or he might never completely support it. And because there is a great chance for your green initiatives to stagnate without CEO support, you should make sure that everyone is on the same page as you.
Even though some of the best green initiatives exceed departmental boundaries, someone able to engage people and advocate sustainability must be in charge of this. That person doesn't necessarily need to be an expert in waste management solutions, know how to use a baller (balenpersen in Dutch), or be a sustainability manager since plenty of small businesses don't have the capacity for that position. It can be anyone from the Office Manager, the Facilities Manager, or HR Manager, and someone with responsibility will need to be ultimately responsible for things to get done.
Evaluate Your sustainability Practices
Many businesses today are trying to figure out new sustainability initiatives on their own, however, you can quickly learn what other companies are already practising to be sustainable. For example, many companies get rid of their e-waste by working with an e-cycling company. They sell their used IT hardware to these companies and help the environment, while also earning money from their e-waste.
Sustainable businesses are no longer new today. You'll be able to find countless businesses that have been implementing sustainable processes in their operations. If you want to grow and preserve a sustainable business on your own, you can take note of what others are doing. However, this doesn't mean that you should entirely copy their strategies and then implement them forever. Regular assessments and evaluations are vital in your efforts.
The best way to find opportunities to improve your environmental and social impact is through assessment. Using proven agendas will ensure that your green approach is comprehensive instead of a set of casual, one-off projects, and will even help you to use your efforts and time most advantageously. A proper sustainability assessment will help you to evaluate your current practices against best practices. What's more, you'll be able to see where your business is already going great and where you have opportunities for improvement.
Get Certified 
Now that you have everyone motivated and conducted an assessment, you're to put into practice your ideas. In this scenario, you should be able to identify areas of strengths and opportunities and implement best practices in your organization.
What is missing? The B Corp certification. You will need an international certification for socially and environmentally responsible businesses. This framework can help you to grow a solid sustainability program and embed sustainability into your company.
If you're planning to implement a sustainable business model, bear in mind the efforts and short-term costs you will encounter. However, it is not only for a brighter future but also an engaging brand value for the increasingly ecologically conscious consumer. Sustainability does sell, but when notable trends, as well as thousands of small companies, collaborate to promote a more sustainable lifestyle and ensure we live on a safe planet there is nothing we should hold a grudge about.
You may also like: What companies worldwide can learn from Denmark's eco-friendly business landscape
Image Source: Pexels.com