Click here to get this post in PDF
Welcome to Denmark! A place where sustainability is a core element of the business culture, where you'll find a proactive government, social responsibility, and a willingness to collaborate to put Denmark ahead on sustainability. And companies worldwide should follow this example to stop damaging our planet. 
Denmark's capital, Copenhagen has put sustainability at the top of its agenda for a very long time, and its efforts have been rewarded as the city is now one of the most sustainable and energy-efficient cities in the world. But that's not all! The city keeps on implementing a lot more initiatives to reach its goal of becoming a carbon-neutral city by 2025. 
But sustainability in Denmark goes beyond the country's capital. Denmark is known to be one of the most sustainable, globally. Data from Statista shows that, in 2019, when asked about what they associate sustainability with, 22% of Danes associated it with recycling, replanting, repairing, prolonged use of things and resource-saving. Moreover, a survey conducted last year also shows that people in Denmark are willing to change their behaviors in many areas of their lives to live more eco-friendly.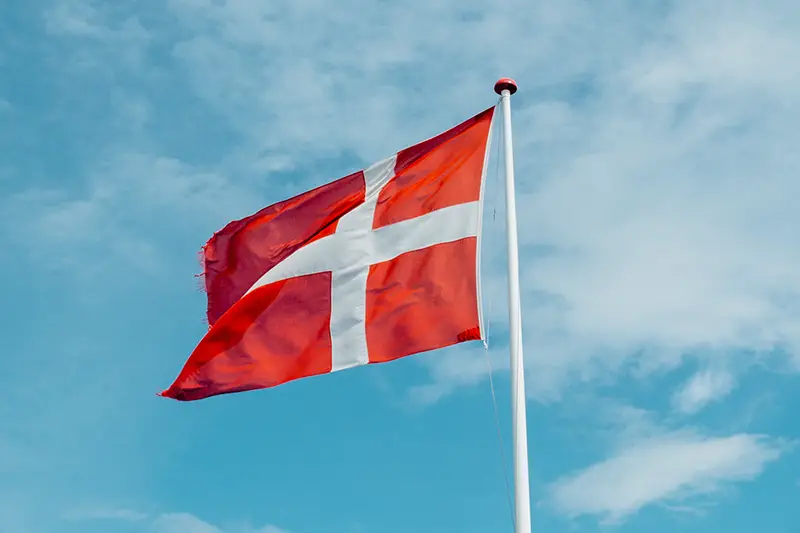 Another area that Danes are getting better at is sorting their waste for recycling. The country has an ambitious goal to recycle 50% of household waste by 2022. A of 2015, total recycling of household waste has increased to 46%. Organic waste, cardboard, glass, metal, plastic, wood waste, and paper are the seven waste materials included in Denmark's target for 2022, and 33% of the total amount is already recycled. And paper recycling translates as 'pap affald' in Danish, as a fun fact to know if you want to read more on the subject. 
The government is focused on sustainability, and Danes are willing to do their best to help the country move towards a more circular economy. But what about companies there? Are they as involved in the country's sustainability plan? Absolutely! In fact, three of the world's top 10 most sustainable companies are Danish. 
Danish companies making in on Corporate Knights' list
At the beginning of this year, Corporate Knights, a specialized Toronto-based media and investment research company, has revealed their annual ranking on the world's 100 most sustainable companies. According to the company's list, Danish companies remain in the world elite of sustainable businesses. 
Ørsted, the world's most sustainable corporation in 2020
Corporate Knights' list has ranked Ørsted, the Danish renewable energy provider, as the most sustainable corporation in the entire world this year. 
Only a decade ago, the company produced 85% of its energy from fossil and only 15% from renewable energy. However, a decade later, the company has succeeded to reverse that proportion and aims to become carbon-neutral by 2025. 
According to Corporate Knights, the renewable energy provider ranked first of its list because it increased the share of the revenue from renewable energy by 10%, from 58.4% to 68.1%. Moreover, the company's productivity, in terms of water and carbon, saw a 50% increase thanks to cuts in total carbon emissions and decreased water use combined with increased revenues. Plus, the company also obtained excellent scores on indicators that involved the amount of tax paid and a gender diverse board. 
Next on Corporate Knights' list, ranking two, is last year's most sustainable company, Chr. Hansen, a Danish bioscience company. The company uses good bacteria as a natural preservative for food, preserving plants, and helping livestock farming reduce their reliance on antibiotics. This year's goal of the company is to switch entirely to green electricity produced by solar parks, wind, and biogas for its operations in Denmark, a goal that the company hopes to achieve through an agreement with Better Energy. 
On the same list, in the sixth spot, it's another Danish company, Copenhagen-based, called Novozymes. It is a biotechnology company that focuses on the research, development and production of industrial enzymes, microorganisms, and biopharmaceutical ingredients. 
World's first sustainable and plantable pencil was designed in Denmark
If there's any place in the world where innovative but sustainable business ideas are found and shaped, that would be in Denmark because the entire business ecosystem here focuses on sustainability. 
To be more precise, we're talking about Sprout, a Danish company that develops sustainable and plantable writing tools. The company has replaced the eraser that usually sits on top of the pencil with a special seed capsule. When the pencil becomes too short to use it for writing, you can plant it, and the seeds will grow into a variety of plats, depending on what type of seeds you opt for. Your pencil can transform into vegetables, herbs, flowers, or trees.
 The pencil was launched in Denmark in 2013 and has since produced over 14 billion pencils every year. That's a lot of greenery that the company helps to produce worldwide. 
What other businesses should learn from Denmark's sustainable companies?
It's not just what other businesses can learn from Danish companies but also what the entire world should learn about Denmark's approach to sustainability.
Denmark, as well as Danish companies, have proven to the world that setting ambitious sustainability goals and actively working towards achieving them will eventually fructify. Take the goal of becoming carbon-neutral, for example. Those businesses who invested in renewable energy and made sustainability one of their core components have achieved their goals. 
Also, the plantable pencil product from Sprout is a great business idea that companies worldwide can learn from. The company's founder describes the plantable pencil as "a reaction to today's use-and-throw-away culture". On other words, the product addresses an environmental concern that threatens our planet and transforms a problem into a solution and a profitable business idea.  
Governments worldwide can also learn a lot from the business ecosystem in Denmark. Here, the government often releases national sustainability campaigns, offering free materials and conferences to small business managers and employees to support their transition to a greener way of doing business. What distinguished Denmark and Danish companies from many of its peers worldwide is the proactive approach to sustainability issues. 
---
Moving Towards Paperlite and Environmental Sustainability
How Businesses Can Become More Energy Efficient
---
Image source: Unsplash.com