Click here to get this post in PDF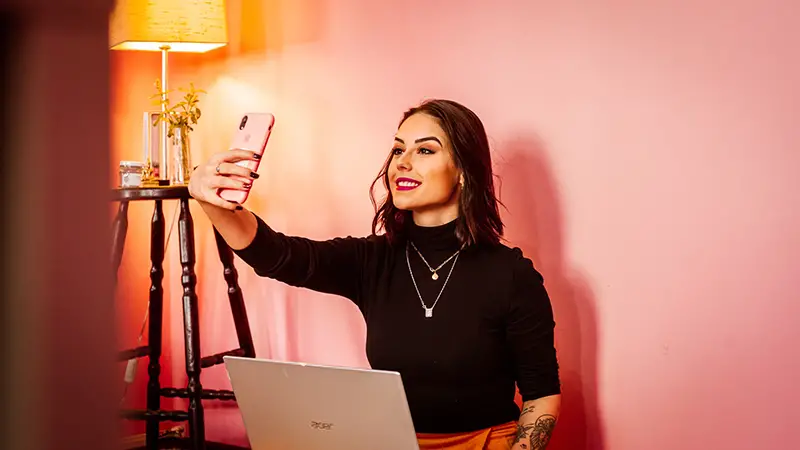 White collar crime is sadly a recurring theme in modern life, both in movies and the news. Real or not, fraud has always existed. But thankfully, in today's digital world, some instances of it are more difficult to cover up.
As influencer marketing has expanded into a multi-billion-dollar industry, it's no surprise that influencer fraud has also grown to be fairly common. Influencers have learned how to manipulate their profiles to seem more attractive in order to do brand collaborations to collaborate with.
But, just as profiles can be manipulated, they can also be analyzed to reveal that fraud. You just need to know where to look.
What to be on the lookout for
The best way to catch influencer fraud is by thoroughly analyzing an influencer's performance-driven statistics. You can get this info by asking an influencer for their media kit. Or, even better, use influencer software, which will show you performance metrics that you know the influencer hasn't modified.
Below are some of the data points to look at when running this analysis.
Follower growth over time
This is the growth of an influencer's followers over time. The best type of growth is organic, which means the influencer attracts followers for their content. This type of growth is usually slow, but steady. 
If you see sudden dramatic increases in follower count, dig deeper. First take a look at the influencer's content around the time of the spike, and Google them, too. Did they host a giveaway? Did they appear on a TV show? Did they have a video go viral? Any of these could be logical explanations.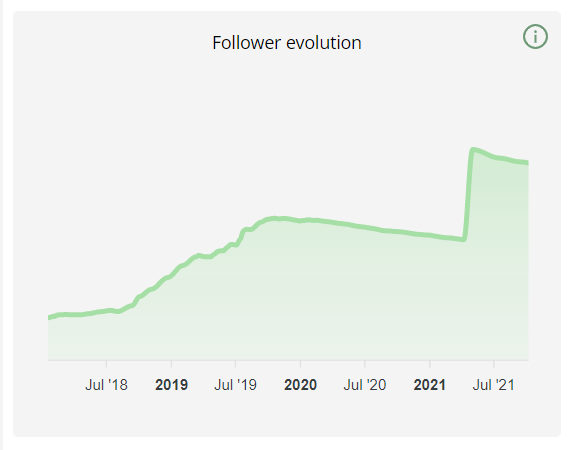 A sharp spike like this should be investigated.
But if you can't find anything like that, those spikes in growth might be showing you times when the influencer bought fake followers. 
Engagement rate
Engagement rate measures how much the audience interacts with an influencer's content. When followers trust an influencer and enjoy their content, they're more likely to like it or comment on it. Good engagement is good for your brand, as the audience will be more receptive to the branded content.
So, what's the average engagement rate? It varies based on social network, category, and follower range. TikTok creators and Twitch streamers, for example, don't have the same benchmarks.  Neither do micro influencers and mega influencers.
If an influencer bought followers, they'll probably have a very low engagement rate. On the other hand, if you see an influencer with a very high engagement rate, they may have purchased fake likes or comments. So, before you contact anyone for a collaboration, check how their engagement stacks up.
Audience authenticity
Take a look at the influencer's audience and get a sense of which percentage might be bots. This is easiest with influencer marketing software because you can get an immediate, AI-powered analysis.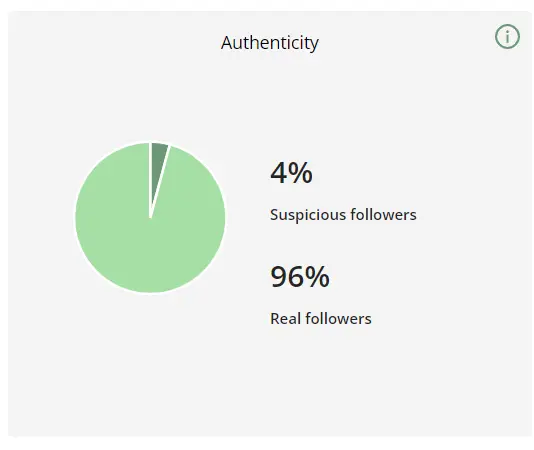 An analysis from influencer software.
Here are some warning signs common in bots:
No profile picture
Unnatural names, like nonsensical combinations of letters, words or numbers
No uploaded content, or minimal content designed to advertise
Very low amount of followers compared to following
No, or extremely vague, biography or personal information 
What to Do if You Encounter Influencer Fraud
If you think you've encountered influencer fraud, you can report it. Many social networks address fake engagement, automated comments and other types of fraud in their community guidelines. 
And thankfully, there's no shortage of real influencers looking for collaborations. So do your due diligence with the metrics above, and you're bound to find a hard-working, creative individual who can open new roads for your product or brand.
Conclusion
Always be on the lookout for fraud when finding influencers for a campaign. Carefully analyze each profile to make sure you don't end up investing your marketing budget on someone with a fake audience. And when you find someone with healthy stats and who aligns with your brand, then it's time to reach out to initiate a collaboration.
You may also like: How To Protect Yourself From Business Fraud?
Image source: Unsplash.com