Click here to get this post in PDF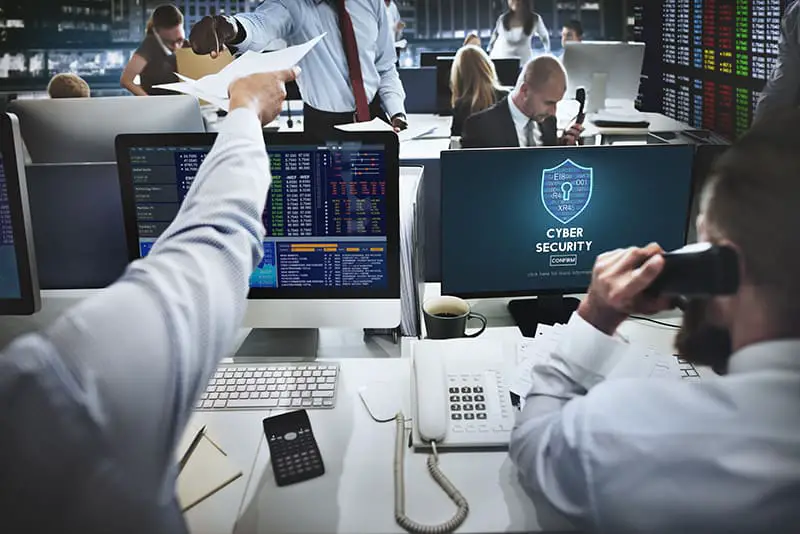 Gone are the days when reliable antivirus software was enough to keep your venture secure. With cyber threats becoming more sophisticated and numerous, efficient cybersecurity is more important than ever. Companies have to be diverse and ready, as any tiny mistake can have disastrous effects on business operations.
And even though it's commonly known, many managers still underestimate the possibility of a data breach. They believe that nothing wrong can happen to them until they're forced to close up their shop because of malware ruining their business.
You should never underestimate the possibility of a hacker attack. In fact, it's the small businesses that are the most threatened, with more than 60% of SMBs reporting a data breach in 2019. What should it tell you? That you have to do everything possible to make your company bulletproof.
But what are the cybersecurity best practices? Keep reading to see how you can protect your business.
Use Secure Passwords
Using secure passwords may sound like obvious advice, but you'd be surprised how many people still use 1234 as their first line of protection. Sure, it won't prevent malicious software or malware from infecting your device, but it's still your first line of defense.
Avoid using names, dates, or any other things that may relate to you. Create long and complicated passwords that don't make any sense. Sometimes the excellent idea is to close your eyes and bash your fingers on your keyboard. It doesn't sound professional, but it will help you create something completely random.
You can also use special password generators.
Perform Regular Data Backups
Data breaches are the most common type of cyber attacks, but that's not the only reason why you should protect your data. The main motive for it is that data is your most precious asset, and as soon as you lose it, you can as well close up your shop.
To make sure you keep your sensitive information safe, you need to back up your data regularly. How often, may you ask? The answer is every day, or at least a couple of times a week. A good idea is also to perform your backups in different ways.
You can use these solutions to store your sensitive data:
Cloud software
Data recovery program
External hard drive
Purchase Reliable Firewall
Your antivirus is your first and best tool when it comes to preventing cyber attacks from occurring. Sure, it won't stop every threat, but a reliable firewall will significantly increase your security.
Also, once you purchase an antivirus, make sure you keep it updated. Every new version comes with additional security patches, and considering how fast cyber threats evolve, keeping your firewall up to date is absolutely crucial.
Keep in mind, though, that having an antivirus is not enough. Only by combining it with other security tools, you'll be able to create an effective cybersecurity strategy.
Use a VPN
A virtual private network (VPN) is one of the best practices you can implement in your company. A VPN allows you and your employees to use your company's internet without prying eyes watching their every step. But there's much more to VPN than that.
Since it uses encryption to keep your data private, cybercriminals will find it much more challenging to steal your company's confidential information. What's more, getting a VPN solution is incredibly cheap, and there are even special business plans you can choose from.
With a reliable VPN, you'll keep your company safe from hackers and curious eyes. Using a virtual private network might not be the most popular security solution in the business world, but it's definitely one of the most effective ones.
Educate Your Employees
And last but not least, you need to make sure your employees know what they should and shouldn't do in terms of cybersecurity. Organize special training and keep them updated on any new security feature you implement in your security plan.
Train your employees so that they know how to use the internet safely. Educate them on how they can protect themselves from potential cybersecurity threats and what they should do in the event of a security breach.
Keep in mind that without proper knowledge, your employees pose a threat to your security. As various research suggests, human errors estimate for over 90% of all cyber attacks.
The Bottom Line
The importance of cybersecurity has significantly increased over the past few years. And looking at how the world of business is evolving; efficient data protection will be even more crucial in the future.
Keep in mind that online threats are nothing like physical ones. They're constantly developing, making it more challenging to protect against them entirely. With that in mind, you should do everything possible to keep your business's cybersecurity up to date.
Invest in reliable firewall software, use VPN, perform regular backups, and educate your employees. These are the best practices you can implement to ensure your business stays fully protected.
You may also like: Cybersecurity – The Most Common Threats to Your Business
Image Source: Shutterstock.com