Click here to get this post in PDF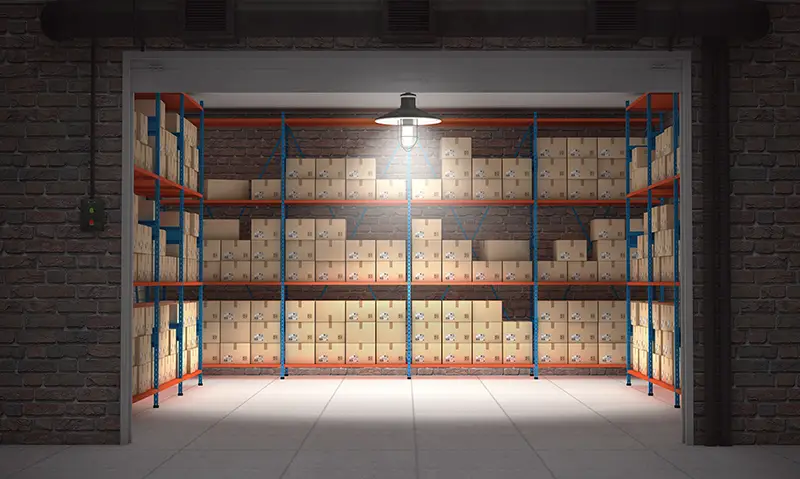 Product-based small businesses around the world often face inventory storage problems. Holding on to a product and delivering it to the consumer in good quality is an essential responsibility of small businesses. However, many small business owners struggle with product storage issues.
The most common storage problems faced by small businesses result from inefficient product tracking systems, manual documentation of the products, poor supply chain design, inefficient management of the warehouse space, and many other factors. 
Storage problems can result in damaged products, late deliveries, and other such problems that can financially strain the business and affect its reputation. Some small businesses also store their manufacturing material in a warehouse which can get spoiled over time due to improper storage.  
Small businesses have limited financial resources, and a good reputation is necessary for any business to succeed. Therefore, small businesses must overcome this, and this article will discuss how.
Invest in a Mezzanine
Mezzanine structures allow you to store products in an organized way in the warehouse. A mezzanine is a raised platform between the floor and the ceiling that can help increase the storage space. Small business owners can invest in good quality industrial mezzanines to expand their storage space without moving to a larger facility or spending a lot of money.
There are various types of mezzanines that can be installed in a warehouse. Each type of mezzanine has its own level of strength, and businesses can invest in the one most suited for their requirements. The three basic mezzanine systems are as follows;
Deck Over Shelving Mezzanine
The deck over the shelving mezzanine consists of shelves with a deck over them. The deck can be used to store larger objects and can be accessed through a staircase. You can also use a forklift to place heavy objects on the deck. Shelves, on the other hand, can be accessed from the floor.
Catwalk Mezzanine
Catwalk mezzanines consist of aisles and different types of shelves. Workers can use a staircase to access the mezzanine aisle and can navigate the aisles to easily access the required item.
Structural Mezzanine
A structural mezzanine is similar to a deck over shelving mezzanine minus the shelves. A structural mezzanine can be accessed through a ladder and is a humungous deck with no shelves on or beneath it.
Make Efficient Use of Technology
Small businesses can invest in the latest technologies to overcome their storage problems. Technology can help reduce human error, and various software can help handle the business more accurately and efficiently.
Point-of-sale software can help track the number of sales. Inventory management software can help you track the products in storage and can help determine how much more to order.
Moreover, you can utilize data analytics software to predict expected sales in the future based on your previous data. It will allow you to order enough stock for the coming months and will save you from overstocking.  
Data analytics can also help you study market trends. It will help you to improve your products and produce market-competitive products. Moreover, market trends will help you understand public preference, which can help you determine which products to keep in storage and which to let go of.
Invest in Climate Control Technology 
Small businesses that store perishable products should invest in efficient climate control systems. Install a climate control system in your warehouse or storage area to maintain a steady temperature, humidity, or climate to increase the shelf life of your products or raw materials.
Climate control devices create airflow within the storage space to maintain the temperature. It is crucial to monitor your climate control devices regularly because they can malfunction, often spoiling your products and leading to monetary losses.  
Don't Overstock
Small businesses often end up overstocking their warehouse with products or raw materials, which can be a problem for them in the long run. Some common issues associated with overstocking are;
Tied-up Cash
Once you have invested your money to buy raw materials or products for your business, you can't get that money back until the products sell.
Product Expiration
If your raw material or products are perishable, ordering more products than you sell in a specific time means that the products will be in storage for longer. Therefore, there are more chances of it expiring or going bad.
Storage Costs
Over-stocking on products means that your products will be in storage for a longer time. Therefore, you will have to invest more money to store them safely.
Small businesses can tackle overstocking by ordering a limited number of products and not ordering more until they have sold their previous stock. Inventory tracking software can be used for this purpose. Moreover, audit your stock regularly and stay current on market trends.
Consider the First in, First Out (FIFO) Approach
Small businesses must use their products or raw materials in chronological order. Small businesses should religiously follow this approach, specifically in dealing with perishable items. They should arrange their materials or products in a way that the earlier bought products are used or sold first before the products are bought on a recent date.
Small businesses dealing with non-perishable items should also follow this approach because their products are also prone to damage. Moreover, market trends keep fluctuating, and the stored products may not be sellable in a few months.
The Bottom Line
Small businesses are becoming common. More and more passionate entrepreneurs are establishing small product-or service-based businesses. However, product-based business owners often struggle with storage problems. Storage problems can result in financial losses for the business and also affect reputation when consumers don't receive good-quality products on time. Therefore, solving storage problems is a primary concern for small businesses.
Mezzanines can help increase the storage space and allow for more organized storage. In addition, they can use the latest software to run the business, which will allow them to track products and their quantity. It will also help them avoid overstocking. Moreover, small businesses should invest in a climate control device for their storage area to increase the shelf life of their products. Lastly, all small businesses should follow the FIFO approach to use the older products first. Hopefully, this article will help you understand the ways small businesses can overcome storage problems.   
You may also like: How To Make Your Self-Storage Business More Profitable
Image source: Shutterstock.com