Click here to get this post in PDF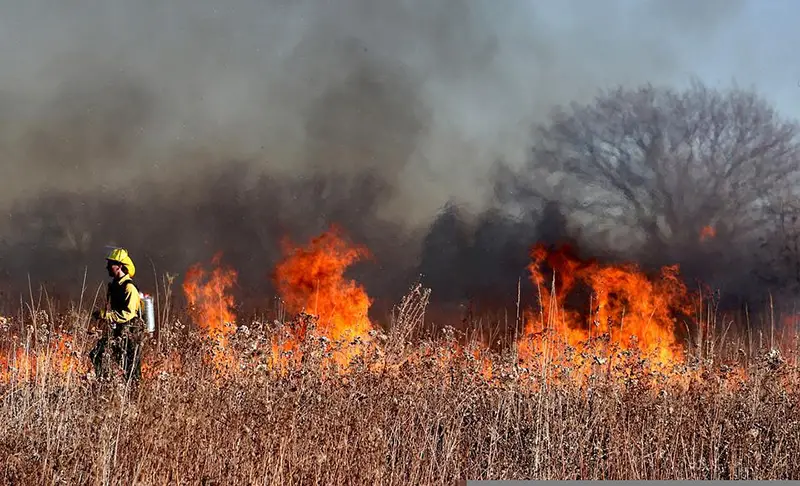 Any idea when the next wildfire is hitting your region? Your guess is as good as mine!
Casualties and disasters caused by wildfires have become frequent, especially in the western USA. The condition is so bad that the state disaster management agencies hold back from prescribing any fixed months to the wildfire season. 
Wildfires spread in unpredictable trends. That is why it's crucial for businesses, big and small, to understand and prepare for the devastation that could follow any wildfire outbreak.
Understanding the Direct Impact of Wildfires on Your Business
A raging wildfire can spread miles within hours. It is easy to imagine the extent of destruction it can cause. Even if the fire gets controlled before reaching your business location, you may have to face the brunt of evacuation. 
Let's see how this natural disaster can affect your business:
1. Impact on Property: Property loss is the most direct impact of a wildfire. Buildings, factories, offices, and anything that comes in the way of the fire will likely burn down. Even if your property gets spared, you may have to evacuate the location for safety reasons.
2. Impact on Business Assets: Machinery and equipment that cannot be saved from the fire will need to be replaced. Besides, a hasty evacuation may leave some of the equipment damaged beyond repair.
3. Impact on Operations: It's nobody's guess that all operations will have to be stopped immediately if there's a warning of a nearby forest fire. Unfortunately, if your business location gets engulfed in the raging fire, it may take a long time to resume operations.
4. Impact on Health: Your business location may be well out of the range of forest fires, but that doesn't mean it's away from indirect harm. Exposure to wildfire smokes that spreads beyond the actual fire can directly affect the health of your staff. 
5. Impact on Business Travel: Wildfires can potentially disrupt the schedule of flights and railways. As a result, you may have to cancel or postpone business meetings and other travel plans.
6. Impact on Business Utilities and Supplies: If your local utility services office or plant gets disrupted due to the wildfire, your business will be directly affected. After all, carrying out operations without electricity or water supply may be difficult. Similarly, if your business vendor or supplier is affected by the wildfire, your business will get affected.
Indirect Consequences of Wildfires for Your Business
Besides the obvious destruction of life and property, wildfires can have many other indirect yet far-reaching effects. You need to factor in these indirect impacts while taking stock of the wildfire risks for your business.
Financial Costs: Recovering your business and operations from the direct impact of wildfires may involve huge expenses. You'll have to approach your insurance company for a fire claim without further delay.
Legal Recourse: If your business suffers major or minor financial losses due to a wildfire caused by big corporations' negligence, you can file a lawsuit against the company or join a class-action lawsuit. 
But these cases may take years to come to finality. If you're already a victim of the California wildfire caused due to PG&E equipment, you may know what we're talking about very well. When you're fighting such a case, and your financial resources can fall short, you should consider PG&E wildfire pre-settlement funding. 
Loss of Human Resources: Even if there's no direct loss to your business, you or your employees may suffer personal losses due to wildfire striking residential areas. They may have to take leaves and attend to family losses. 
What Can You Do To Protect Your Business?
Preparedness is the key to averting any damage to life and property due to wildfires. It would help if you undertook a detailed fire risk audit for your business to combat wildfire risks. This will help you formulate a response plan which can be immediately implemented in case of approaching wildfire. 
Train and prepare your employees. Times of disaster can be the true test of resilience for you and your team. After understanding the nature and extent of wildfire risks for your business, we hope you'll be geared to handle the adversity.
You may also like: The Importance of Disaster Preparedness for a Small Business