Click here to get this post in PDF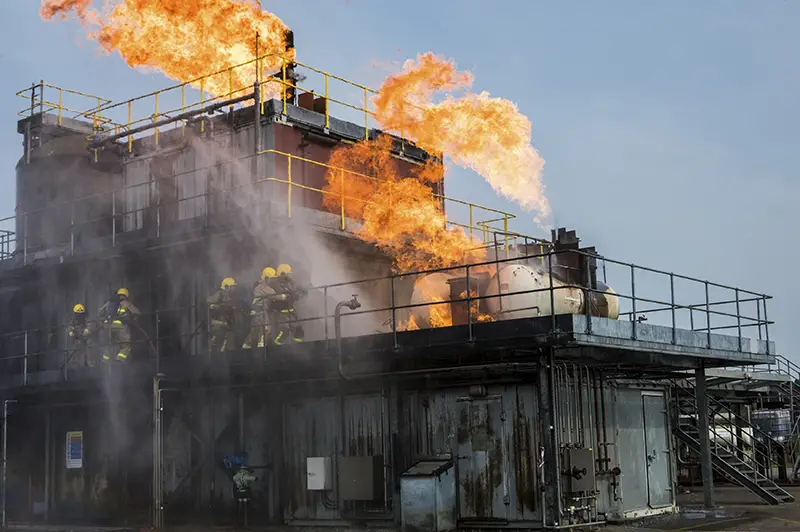 Fires and explosions are not necessarily the most common type of hazard at work, but when they occur, they have the potential to cause exceptionally dangerous accidents and ill health scenarios.
These fires and explosions cost businesses and their employers billions of dollars each year in terms of paying higher costs for business, damage, and loss of life. Even if the employees escape the fire itself, the consequences of these dangers can cause long-lasting health effects on individuals.
Nearly 37,000 fires occur in industrial and manufacturing work environments every year. These round off to nearly 18 deaths, 279 injuries, and $1 billion in property loss, according to National Fire Protection Association (NFPA).
This content piece, therefore, discusses common causes of fires within industrial work environments and ways to prevent them.
Common Causes of Fires at Work & Preventive Measures
1. Combustible Dust 
Combustible dust is one of the major causes of fires in food, woodworking, chemical, or other related industries. These industries containing food, dyes, chemicals, or metals have the potential to ignite a fire. Even a small amount of fire can result in big dangers as these materials have the potential to be combustible in dust form.
The dust itself is a major contributor for fire to occur at work. Although it is impossible to remove the dust completely from the workplace the risk can be minimized by taking preventive actions and effective approaches.
It can also be minimized by proper housekeeping of the work area and thoroughly conducting a workplace risk assessment to control fire hazards.
2. Flammable & Combustible Materials 
Improper storage of hazardous chemicals and materials is also a major source of workplace fires and explosions. Such fires usually occur in chemical industries and can be disastrous. But surely some precautions can mitigate the risks. Such as:
Storing the flammable liquids properly 
Controlling all the ignition sources
Using personal protective equipment 
3. Hot Work
Talking about some more sources of fire in a workplace, hot work activities also remain at the top in all industries.
Hot work operations are commonly linked to welding and cutting. But there are other activities as well like soldering, burning, brazing, heating, etc. that can result in fire hazards at work. 
These hot work tasks when not controlled can result in millions of dollars in damage to property or life. 
To prevent these incidents, proper safety procedures must be followed, and employers and supervisors must also consider other elements, such as:
Avoid hot work as much as they possibly can 
There is not always a specific solution to avoid work but there are always some alternative ways to do so to avoid or minimize the risk
Hands-down training on hazards associated with work operations is also an effective way to mitigate the risk. Training the staff can be an easy and cost-efficient method management can go for. These include hot work training, fire risk assessment training, fire warden training, industrial health and safety courses, and more like these.
 This is also significantly important for managers and supervisors to regularly supervise the work operations especially when they are hiring contractors to minimize the risk as much as possible can.
4. Tools, Equipment & Machinery
Other common causes of industrial fires are improper faulty tools, equipment, and machinery. Any mechanical equipment can produce fire hazards due to friction between moving parts. 
To avoid such risks employers, responsible persons, and their workforce must follow the recommended guidelines for cleaning, maintaining, and using the work equipment to avoid any dangers.
5. Electrical Hazards
Fires resulting due to electricity are also one of the top reasons for industrial fires specifically in manufacturing industries. There could be several reasons for a fire to ignite in such workplaces,
Exposed wiring
Static discharge
Overloaded circuits
The key to avoiding these electrical hazards is creating awareness among staff with correct preventive measures to control the risks. This involves providing training to the workforce properly for the best maintenance practices and implementing a safe system of work.  
Other Things to Look at 
Along with these common and major fire causes, there are other things as well that can help prevent fire hazards:
1. Implement a Proper Housekeeping Routine
With tools, equipment, and machinery all around the workplace, employers and their workers need to have proper housekeeping regimens in their work environment. A clean and tidy workplace ensures fewer accidents and ill health cases which in turn improves the quality of work.
2. Establish Fire Prevention & Emergency Procedures
Besides this, employers need to ensure that they have the right policies and procedures in place for everything from smoking at work to the correct PPE for activities to keep their workplace health and safety ahead within their industry.
Bottom Line
Industrial fires are the sad reality of every workplace and anyone part of the work needs to have vital knowledge and awareness to identify, control, and manage the risk before it gets serious. This post has covered some major causes of fire hazards and ways to prevent them.
You may also like: Why Do You Need A Fire Suppression System?
Image source: Rawpixel.com