Click here to get this post in PDF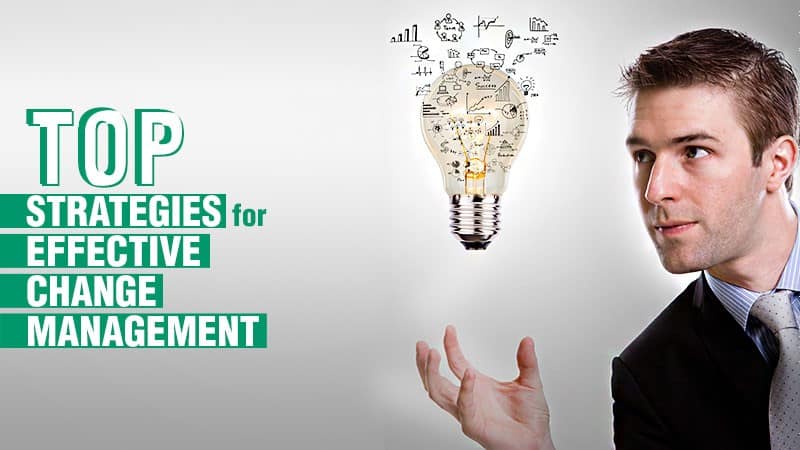 Several companies today are struggling to cope with quick-paced technology, global economy, and external business environments. Basically, everything is constantly changing. Workplace strategies, systems, processes and much more are evolving to keep at par with this kind of change.
The change being discussed cannot be dealt with by every person in your organization. It affects your employees, your real assets. Losing quality members in your team can be expensive and frustrating at multiple levels. In simple words, the moment an employee leaves the organization, the intimate knowledge about your organization leave with it too.
That's how change management came into being. It's to help people cope with change no matter what their pace is. This way, you cannot just cherish upcoming changes but, understand how to retain your employees, save costs and do so much; most importantly, deal effectively with difficult people .
Let's look into how your company can try out a good change management plan for a smooth transition for your team in the organization:
Clarity is the key
Seems obvious, doesn't it? Well, it's not that easy to be clear. Studies have shown that about 45% of organizations have undergone major losses due to lack of clarity about business goals. It must be of prime importance for you to clearly state business objectives, goals and so on. At the end of the day, it is different for you to articulate change over conducting a critical review against company goals, objectives and more for effective business outcomes.
With clarity in goals, you can effectively prioritize change management; where to invest what kind of efforts, resources and so on.
Here's what you need to ask yourself:
What needs clarity?
And
Why does your team need clarity?
Figure out the impact and who got affected by it
Once you figure out what you need to achieve and why you'll easily be able to measure the impact of change at different levels in the organization. Make it a point to review the impact on all your business units; make sure you go for an in-depth analysis. This data will slowly start forming a blueprint for areas wherein training and support is required to mitigate impacts.
Here's what you need to ask yourself:
What is the impact of the change?
Who is going to get affected by this change the most?
How will this change be accepted?
Develop an effective communication strategy
The communication strategy that you're going to opt for needs a timeline for how change can be communicated incrementally. More importantly, you need to figure out how your team is going to listen to you and be on- board with your change plan.
Here's what you need to ask yourself:
How can this change be communicated?
How to manage feedback?
Make sure you provide your team with quality training
There are change management experts who can help your organization better. Feel free to reach out to them. They have the skillset to teach, accredited coursework, structured training plan and enough bandwidth to help your company to operate effectively in the long run; rather, until the change lasts.
Most importantly, this training program will equip your team to deal with change and transition from one phase to another more smoothly.
Here's what you need to ask yourself:
What are the required competencies, workplace behaviour and skill changes required for business success?
What training styles can be most effective?
A support structure is needed
Provide your team with a good support structure wherein, they can help themselves develop technical skills, desired behaviours and more. Sometimes, change can lead to restructures so, a good industrial psychologist can help. Counseling is a good way to help your team deal with change or, you can always have an open- door policy at work; your team will feel welcomed. However, with training, you can keep things professional, maybe give them certificates for professional growth.
Here's what you need to ask yourself:
Where does your team need maximum support?
What kind of support will be most effective – Counseling or Training?
Measure your change process
Along with the course of change management, a structure needs to be put in place in order to measure business impacts of change and make sure it continues to reinforce opportunities in order to build proficiencies. All you need to do is to evaluate your plan, measure its impact and document it. This way, it can be looked into again, if required.
Here's what you need to ask yourself:
Did this change contribute to business goal achievement?
Was the process of change management successful?
How could the process have differed?
It's alright to undergo change. It's good, actually. What you need to understand is, is that you need to accept this change and deal with it strategically. Else, you can be proactive about change management. Go for professional change management training courses or do enough research to come up with your own ways. The choice is all yours.
You may also like: Management Skills Defined and Their Importance
About the Author
Niall Kennedy is the Creative Director at "Preferred training networks". He has over 20 years of experience in Professional Development Industry. He has published 4 business books – "All Aboard the Brain Train," "Healthy Leadership," "Errant Workplace Behaviours," and "Hidden Observations".