Click here to get this post in PDF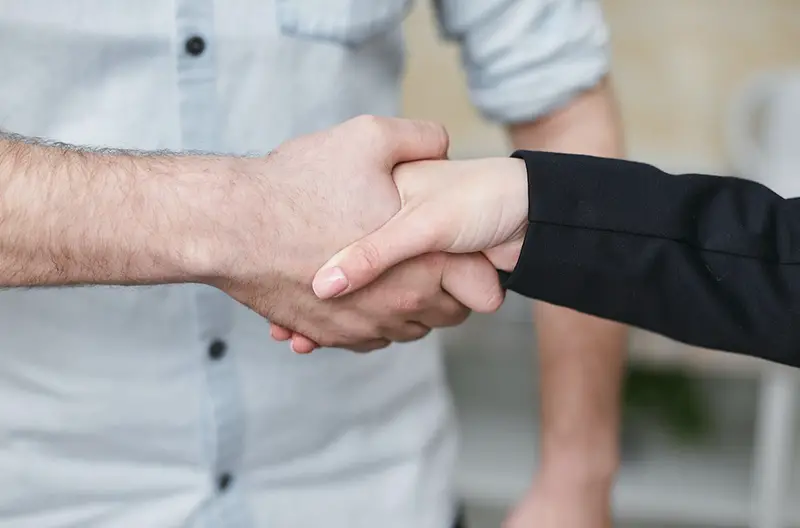 Your relationship with your customers is key to the success and growth of your business. That's why it's so important for you to gain your customer's trust. When they trust you, they will go to you first for all their future business. That customer loyalty will also translate to referrals. 
Building that trust and developing that wealth of referrals translates to growth, too. Some 81 percent of all customers will trust referrals and recommendations from friends and family. You'll earn trust and loyalty via delivering quality products, but customer service, your recommendations and reviews are important as well. Here's a breakdown of how to gain your customer's trust.  
1. Ask for Feedback
Some studies have found that your customers are less likely to trust you than in years past. There are probably lots of reasons for that, not only have they had bad experiences with other companies, but it can be more difficult to tell if all those testimonials and review you read online are legit. While you may face an uphill battle in your efforts to gain your customers' trust, you can't give up.  
As you reach out to your customers, request feedback and then ask to share that feedback with your audience as testimonials and reviews, it becomes clearer that you genuinely want to make sure that your customers are satisfied. You're building trust just as you continue to build out one of the most important features of your website and your online presence.  
That, in turn, sets you apart from your competitors, makes you more credible and helps to convert even the most skeptical prospects into long-term, loyal customers. Your audience wants to trust you. They even want to believe that you have their best interests at heart in most cases, but it's easy to become jaded. It's more important than ever to demonstrate authenticity and transparency with every communication.  
2. Communicate. Communicate. Communicate.  
Yes, you must maintain clear lines of communication with your customers. Don't wait until the last minute to inform them what's going on with their order. Communication is key to a healthy and long-term relationship, but it's not a one-and-done scenario. You need to continually work to maintain clear lines of communication with your customers and prospects.  
Beyond updates about their orders, you should look at your other channels for communication. Even if it seems time-consuming without real benefits, you need to keep your audience updated about your company. Make them a part of your community and share the latest offers, company news and updates and exciting new opportunities.  
Communication is not just about keeping them looped in and fully informed, it also lets your audience know that you're actively working to deliver the quality products and services that they need and want. It also offers sneak previews into the lives of you and your team. What better way to build trust and real understanding than by putting a face to the company and giving your customers someone to care about.  
3. Build Your Reputation and Social Proof
Your customers probably know you better than you think they do. They read reviews and testimonials. They follow you across your various online platforms and properties. And they read the news. If there's a news story about you, they'll probably see it before you do. What that means is that you are building your reputation without even really realizing it. So, everything you do makes a difference. 
Warren Buffet famously said, "It takes 20 years to build a reputation and five minutes to ruin it." It does not take much to destroy your reputation. You've probably seen it done quite effectively with a few poorly chosen words, an embarrassing photo or two of key company personnel, or associations with prominent online personalities that send all the wrong messages.  
Instead of destroying your reputation with such cavalier abandon, you can also build your reputation with posts that demonstrate how your company is committed to delivering the best possible products, reinforcing your dedication to customer service and satisfaction and reiterating how you and your team contribute to the community with volunteering and resources.  
4. Demonstrate a Commitment to Continuing to Improve
As you build your reputation, it's more than just about how your audience sees you; it's also about your actions. For example, what have you done recently to improve your products, streamline and improve your customer service and make it easier for your customers to work with you? Your customers want to see your commitment by your actions.  
One of the easiest and most cost-effective ways to immediately improve your customer experience is by implementing invoice factoring. It allows you to quickly convert unpaid invoices into an immediate cash flow advantage, which allows you to better serve the needs of your customers with expanded services and even new products that they've been requesting.  
Your customers not only feel heard and understood, but they also see that you're dedicated to acting in ways that are in their best interests. Actions speak louder than words, which is why that demonstrated commitment helps to build trust and ensure loyalty with your audience. Once you build that trust, you can take it to the bank. They'll continue to stick with you through thick and thin.  
The next step is to consider the 15 best tips and tricks to save and invest for your business, so you can continue to deliver the high-quality products and services your customers expect and deserve.  
You may also like: 6 Ways Your Small Business Can Build Customer Loyalty
Image source: Pexels.com