Click here to get this post in PDF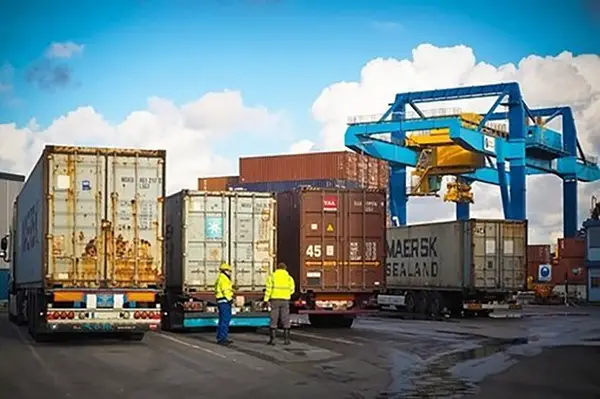 Efficient transportation of goods worldwide leads to more significant profit gains for global commerce. An international freight shipping company is at the frontline of ensuring that our goods and shipments are handled reliably in the messy and gargantuan world of global supply chain. 
Freight forwarders are companies or agents who specialize in handling trade shipments across the air, sea, and land routes. Despite the complexity of freight forwarding and global trade, having a working knowledge about the processes and operations involved in moving shipments can help you avoid freight-forwarding scams that target, almost exclusively, individual exporters and importers who like to go at it alone without reserving the services of a reliable freight forwarder.
But before diving into the steps, here's a quick primer on a few key terms that you should keep in mind while learning about freight forwarding. 
Key Terms in Shipping 
Shipper: The person or company responsible for shipping at the supplier's end
Consignee: A company or individual handling the shipment at the receiving end
Freight Forwarder: a transportation logistics provider (by road, ship, or air)
Shipping Line: A company that transports products
Steps for Freight Forwarding
Now, let's get straight into the process.
Export Haulage
In the first stage, exports are hauled into the freight forwarder's warehouse on trucks or trains. Next, freight forwarders receive the goods from their clients and store them. The hauling process can take anywhere from a few hours to even a few days, depending on the type of goods, the location, and the distance.
Checkpoint of Items
As soon as the goods arrive, the freight forwarder will thoroughly inspect everything to determine whether there are any problems or if the items are even suitable for shipment. Additionally, they'll classify the goods according to freight class codes, see NMFC class codes, which helps in storing and pricing each individual item according to preset and agreed upon pricing standards.
The clearance of exports by customs
The required clearing process can begin once the freight forwarders have approved a cargo ready for shipment. Customs officials of the exporting country will validate certain details regarding the payment of customs duties and inspect goods before they can be loaded onto the carrier.
Additionally, freight forwarders and customs brokers can help you sort out the nitty-gritty of customs clearance as they are legally adept at navigating the intricate world of customs duties and laws and trade agreements. The brokers can also submit payments on the client's behalf.
Taking care of origins
In this step, the cargo is handled, inspected, and loaded at the warehouse of the supplier. The transportation company coordinates this process.
Freight by sea/Freight by air
When considering whether you should send cargo by air or by sea, keep in mind certain advantages and disadvantages to either option. Air freight is faster, factoring in the airport delays caused by the availability of flights, but it is less environmentally friendly than sea freight. Also, air freight takes cargo by weight, while in sea freight, cargo is measured by volume. In sea freight, however, you might have to pay extra surcharges and shipping costs to the shipping lines, which are responsible for cargo transport on the seas. 
Import Customs Clearance
Basically, this is the same process as export customs clearance, only this time, the goods must comply with the legal requirements of the receiving country. In most cases, freight forwarders are responsible for this task, but it can also be handled by customs brokers.
Arrival & Handling at the destination
The freight forwarders should now take all the necessary shipping documentation after clearing the necessary requirements. Some documents that may be included are carrier bills, declarations, and duties. The goods have to go through a number of customs processes before they can be released onto import haulage to be taken off the port. 
Import Haulage
The goods are hauled into the consignee warehouse via trucks or trains. This is the final destination for the goods, and they are shipped to the destination from these warehouses after they are processed and inspected. 
As these stages clearly show, freight forwarding is not as complex as it may seem. With an experienced freight-forwarding firm, exporting and importing will always be a breeze. Therefore, choose your freight forwarder wisely so you can have a pleasant time importing or exporting items. 
Important Information about Freight Forwarding
Here are some hard-to-ignore facts of the freight-forwarding business:
Shipping delays are not on the freight forwarders 
Shipping delays are not the responsibility of freight-forwarding companies. It is common for delays to occur due to bad weather, breakdown of operations, availability of ships or aircraft, custom delays at ports, or unforeseen route changes. 
Despite the frustration of shipping delays, you should remember that they are out of your freight forwarder's control and that they are making every effort to resolve them as soon as possible.
Your paperwork must be up-to-date
If you are sending goods to your forwarder, make sure all the paperwork has been completed. If it isn't done right, you'll run the risk of your items not being released from customs or your bank refusing to release your funds – neither of these scenarios is of any benefit to your business.
Certain products are subject to shipping restrictions
Various goods and substances are not carried by air or sea by freight-forwarding companies due to strict regulations. Freight forwarders are generally averse to carrying the following items, although this list can vary from country to country:
Inflammable and toxic-hazardous goods
Recreational and prescription drugs
Alcohol & other such beverages
Battery
All perishable items (except for those being delivered expressly)
Objects with sharp edges
Therefore, to avoid facing any unnecessary bottlenecks, it's always good to check whether the items you are shipping are restricted by the laws of the destination country. 
Identify the different services that your freight forwarder can provide
When receiving a quote from a freight-forwarding company, it is always worth asking them about the other services they provide. Warehouse storage, cargo insurance, cargo tracking, and special handling of sensitive goods are some of the extra services that freight forwarders combine with actual shipping to provide a satisfactory customer experience. Even if you don't require them now, it's always worth keeping them in mind for when you do need them in future.
Bottom Line
Freight forwarding is an essential part of the global supply chain. By serving to improve shipping practices, they help the global trade to flow seamlessly. Keep in mind the above-mentioned steps the next time you want to hire a freight-forwarding company for your shipping needs. 
You may also like: Effective Ways to Improve Logistics Management