Click here to get this post in PDF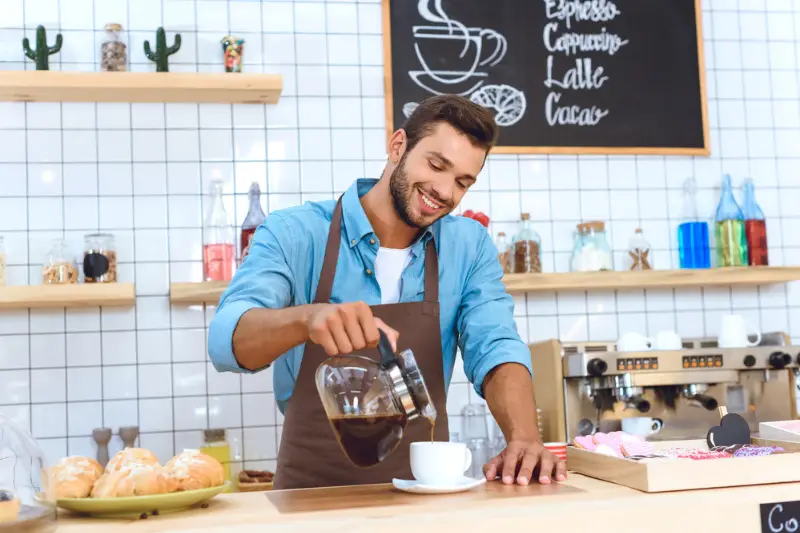 Most people already have the necessary skills to be able to make light snacks, baked goods and provide the simple brunch and lunch dishes people enjoy with tea, coffee, and soft drinks. So, running a café is not a bad first business idea.
Of course, some of the other necessary skills like making good coffee, local marketing, and food safety may need to be learned. But those knowledge gaps can easily be filled by taking a few short courses or spending a couple of months working in a local café.
Be realistic
But it is important to be aware of the fact that over 50% of cafes close during their first year. That is why you need to launch your business in the right way. This checklist provides you with a bird´s eye view of what needs to be done before you open.
Will your café be viable?
Make sure your business idea is viable – not all areas will have sufficient demand for a new café. In others, the cost of rent and other overheads may make it impossible to be profitable.
Define your concept – understand what your potential customers want and come up with a concept that will appeal to them. At this stage, start to think about creating your brand. Often, your initial ideas will be the best ones.
Create a business plan – because this is your first business, get some help with this.
Understand which permits and licenses you will need – this varies from place to place.
Choose a suitable location – to do this consider costs, how much space you need, and whether it will be within easy reach of those people you are hoping to attract.
Obtain necessary permits and licenses – start this process as early as possible. Often, it takes months for them to be issued.
Secure funding – because this is the first time you have done this, seek help from a professional.
Register your business legally – in some cases, you may need to do this before you can apply for your permits or sign a lease.
Create your brand – this article explains how to do that. Don´t put off getting this task done. You will not be able to order your shop signage, menus, serviettes, etc. without having your branding in place.
Hire a shopfitter
Order the equipment you will need – use this list.
Create your menu and order your initial supplies
Launch your marketing campaign – set up your social media accounts, get some leaflets printed, and create some promos for your in-café digital signage. Getting these installed in the window and having them on while the fit-out is finished enables you to give passersby an idea of what your café will offer.
Hire and train staff – it is wise to have them start a few weeks before your grand opening. There will be plenty for them to do. It also gives you the chance to host a soft opening so that you can identify and solve any issues.
Running a café is hard work. But they can be very profitable, and it also feels good to serve a neighborhood and provide them with a community hub.
You may also like: Everything You Need To Start a Car Washing Business
Image source: Depositphotos.com