Click here to get this post in PDF
With definite ever-increasing demand for user individualization, why is your international social media campaign lumping all countries together in a great big catch-all? Playing with national trends that make your product personal to an international audience on social media can make all the difference to your foreign consumers. Recognizing where your market is online, what they care about, and how to talk to them are all vital parts of social media success. Transform your small business into an international-savvy social media marquis by finding your customers and connecting with them.
Where Are They?
Finding your market online is the most important part of social media marketing. Whether you are selling to an international market, or just not seeing the interaction you expect from your audience; transforming your market strategy to capture that market is kind of the whole point.
Before you begin, know who your audience is, and why they should chose you? Are you luxury? Do you sell the best in the your niche, or are you a combination of economy and utility? Define yourself, your brand, and who's buying. This will all help you find where your target market hangs out online. If you need help answering this question, try collecting zip codes, phone numbers, or leaning a little on the analytics of your online store. Data collection translated into an actionable, fluid profile is explained a little bit more here. Use this information to develop a profile of who your customer is, and why they buy your product.
Once you think you've developed a conclusive profile of who your user is, do a little bit more research. Are they on their phones? Do they follow Facebook? Or are they into Twitter? What language do they speak? These all might seem like simple answers, but if you're selling an economically-priced fluffy pink dress to a group of potential buyers in Tibet then consider the dominance of mobile devices as a platform in China, the great firewall, and the fact that a majority of Chinese in Tibet speak Tibetan, not Mandrin will transform your message and where you're focusing that messages.
Are you on the right sites?
This is HUGE! Figure out where your audience goes online, if you have to, just directly ask them where they like to see coupon codes and special offers. Your audience might not actively involve themselves with social media, but could still be watching (like Japan's interaction with Twitter).
Are you speaking their language?
Not only are we talking about using the correct language for your audience, but also addressing them in a way that is relatable. While talking to Americans, you'd avoid using words like 'colour' instead of 'color' and you might advertise using football themes instead of soccer, why would it be any different for other international clients?
Is your message usable to your audience?
Sending out messages in Tibetan, exploring home grown networks like Weibo or Wechat, and making sure the messages that you send out are mobile compatible (quick, to the point, and using hyperlinks, not flat URLs) are all parts of putting out a usable message. Mobile compatibility is vital when advertising in developing markets that skipped over desktop dependance (like China).
The first step to selling your product to an international market is finding your audience, where are they online, and how are they getting there? Once there, are you speaking their language?
What Do They Care About?
You've made it to the party!! You post in the digital-locations people will find your brand, but are you posting about anything that makes sense, or relates to your audience? While getting on Weibo and posting in Tibetan might seem like an arduous task in itself, posting something that will be seen and registered with users is the real struggle. There are a few tools I recommend highly, but there are a plethora out there: Buzzsumo (the real front page of the internet, plus you can analyze content), Followerwonk (Moz tool for Twitter Analytics), or simply staying active in the social media that you are aiming at. Become involved in the culture of that social media. This means understanding what your brand means to the audience that sees it, and how you should adjust accordingly.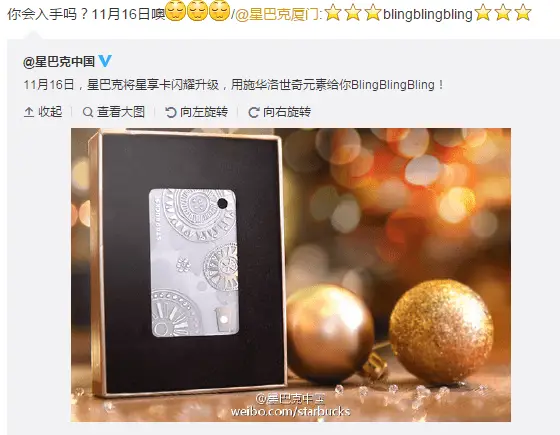 One awesome example of culturally-adjusted social media is on Starbucks Official Weibo page, where they utilize moving emojis (very popular style choice for this site) and aim at selling Starbucks as the luxury brand it is for China, see the glittery card off to the left. In contrast, Starbuck's branding on Facebook, which focuses on a very Western market, sells the coffee vendor as an everyday commodity. Starbucks is branded as an integral part of your everyday life; they even include Spotify playlists and daily tags like "Merry Monday".
While some of your market may venture off of their social media of choice (like SCMP's many Instagram articles suggest) but focusing on your primary audience is more important than picking up a few orphaned customers. You can also use different associated accounts on the same platform to individualize your international message, like Starbucks_J, Starbuck's Japanese Twitter account, which has over 2.6 million followers. Using country specific accounts means a world of difference to your followers, and to your sales. This can be vital if your domestic audience has any significant cultural or language differences when compared to your international audience (there is even a Starbucks Canada that is very different from Starbucks home).
Are You Reaching Them?
On the right platform, posting a message individualized to the audience using that medium, and you're still not getting the engagement you'd like? Funnell your social media towards forcing user engagement. There are a few tricks to solicit user activity, offering coupon code, inviting them to specific, targeted deep pages, or offering them a job within the company (content-creation contests) are all great ways to get people to share your material. If a larger influencer picks it up, then there is an even better chance people will click on their typically non-advertorial post (engage dark social). There is a much higher rate of on-site interaction when a post gets lots of shares vs. a popular post that does not get shared.
If you think people are looking at your site because of your engagement in social media, try offering a coupon code as a means of measuring user engagement. They are great for measuring user engagement that might be missing in comment form, and create a sense of urgency for current browsers. However, coupon codes can cost you money, cheapen your product, and fail to bring in new users, so dispense these sparingly.
The Japanese version of your site is a little sparse, and user engagement could be better. Offering a paid opportunity to write for your blog, or a photo contest (if you're a visually driven company) can be the perfect way to get influencers to share your content on their site. Plus, free-ish content. It will also answer the question of what your audience wants to see, and what sort of users are currently engaging with your site. It gets people involved in your company in a positive way, and activates dark social. Dark social is the semi-unmeasurable way people share your content with each other, offering helpful content can be a huge part of gaining life-blood back to dark social engagement. It is the key to true success on social media.
If you can be where your audience is, speak to them in a way that resonates, and gain user engagement, you should be set. While it's not as simple, and there will be more problems that arise with each country, those are the three main components of a successful international campaign.
About the Author
Mary Grace lives in the beautiful Boise, Idaho. She loves everything between the top of the mountain and the bottom. She also loves organic marketing webs, getting the best out of ux, and getting feedback. Tweet her @marmygrace, or email her directly if you have any questions or concerns.