Click here to get this post in PDF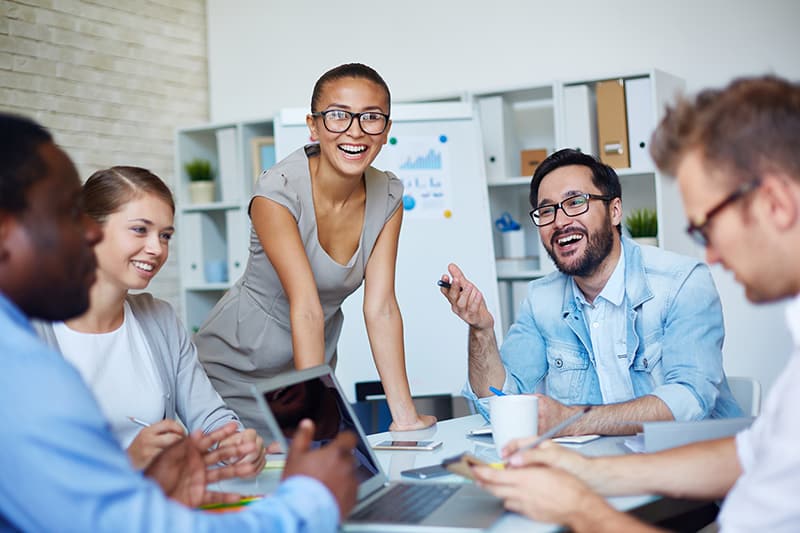 Did you know that over 85% of Americans say that they hate their current job?
If you own or operate a business, you most likely want to do everything you can to make sure your employees aren't part of that 85%. And if you don't, you'll be replacing your team members often, which isn't what you want.
So, what are some things you can do to show your employees that you care about them? And how can you create a working environment that your employees enjoy and thrive in? In this article, we'll tell you 9 ways to take care of your employees!
Now then, let's get started!
1. Treat Your Employees as Equals
Sometimes it really is the simple things that mean the most. And by treating your employees as equals, you can help create a positive dynamic amongst you and your team members. 
Doing this is as easy as talking to everyone, regardless of their position, in the same tone of voice. Don't overthink it, just be respectful to every person on your staff.
2. Ask About Their Personal Lives
Another way to show your employees that you care about them is to become interested in their personal lives. Knowing the names of your employee's spouses and kids can go a long way in showing them that you see them as more than just an employee.
Ask about them often, too, so they know that you truly care. 
3. Provide Them With Various Benefits
While treating your employees with respect and being interested in their personal lives is nice, it's not the best way to show them that you care. If you really want to make an impact, and keep your employees happy and around, you have to provide them various benefits that make a difference.
A pro tip? Create a team of executives in charge of handling various benefits, like an EAP program, for your team. That way you can have multiple voices sharing ideas on how you can provide the best benefits package possible.
4. Listen to Their Ideas
You'd be surprised at how many good ideas are sitting in your employee's heads. And by giving your team members a chance to share those ideas, you help make them feel important at work, which of course, is a good thing.
Also, you never know what idea is the next big idea to change your company for the better. And it could come from someone on your staff that you least expect, which is why it's wise to let everyone share their thoughts on occasion.
5. Pay Them What They Deserve
One of the biggest reasons why people leave one job for another is the chance to make more money. Because if there's a chance to get a similar job that pays better, most people are going to take it, for obvious reasons.
That's why it's important to pay your best employees what they deserve to be paid. It's one of the best ways to let them know you appreciate them, and again, it'll help prevent them from leaving for another job. 
6. Acknowledge Their Successes Aloud
Regardless of what kind of business you run, odds are there are plenty of small victories that happen every day. Each time one of those victories happen, it's important that you celebrate them with your team.
You don't have to do anything crazy, either. Acknowledging the moment out loud is more than enough to let your team know that you noticed their hard work and that you appreciate it.
7. Be Flexible With Working Hours
If there is one thing that all of your employees have in common, it's that they have a life outside of work. And sometimes that life can be complicated, which can affect them at work in a negative way.
By being flexible with hours, and letting people have time off when they need it, you can help keep your team members happy and healthy. They'll be quite appreciative, to say the least.
8. Create a Fun Working Environment
Regardless of the type of business you own, you can create a fun working environment that your employees love to be apart of. And while all of the things that we've mentioned so far can help create a positive work environment, they don't really create a fun working environment, which is what you want.
So how do you go about doing this? Well, doing things with your team away from the office, like hosting a game night, can go a long way in helping you create this type of vibe in the office.
9. Don't Forget About Small Gestures
Last but not least, it's important to remember that small gestures are often some of the most impactful things that you can do for your employees. Bringing in breakfast once a week, or closing down early once a month, is more than enough to show them that you care about their happiness at work.
These small gestures add up, and eventually, you can create an environment that your employees thrive in. 
10. Ways to Take Care of Your Employees
Well, there you have it! Those are 9 ways to take care of your employees! Using these ideas, you can create a positive working environment, as well as show your employees that you care about them, which is important.
You're not going to get the most out of unhappy employees. And if you aren't careful, they'll leave for greener pastures, which isn't what you want. If you do everything you can to make work fun and treat your staff well, you'll quickly notice a huge difference in productivity.
Looking for more business tips and tricks? Check out the rest of our blog!
You may also like: How To Increase Employee Engagement
You may also like: The Connection Between Business Success & Employee Happiness