Click here to get this post in PDF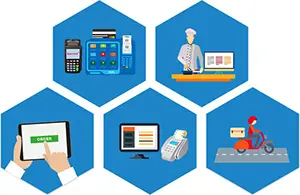 Every organization needs a leader to thrive. In the food industry, a restaurant manager has a vital role in organizing and overseeing the daily operation of the restaurant. The manager deals with challenges and streamlines the day to day activities to ensure profitability. As a restaurant manager, or if you aspire to own one or you are hiring one, these tips will help you manage better.
Working on you as a manager is more important than working in a restaurant. What you do or say will have an impact on the quality of the food to employee behaviour, and satisfaction of the customers. In this article, we choose not to look at seven ways to improve the restaurant but seven ways to achieve effective management.
Show a Positive Attitude
A team is as good as the leader. Your attitude is quickly adopted by your staff, whether positive or negative. Avoid negative attitude since it will trickle down to every staff and will get to your guests. A manager's bad attitude is the perfect recipe for disaster. Come what may always display a positive attitude. Give your employees hope even when things seem not to be running well. 
Promote Transparency in the Restaurant
Transparency is a critical pillar of management. If you want to know what exactly is happening in the grassroots of the company, let your staff know what is happening at the top. Transparency makes your employees feel part of the company. To boost transparency:
 1. Conduct regular staff meetings.
 2. In the meetings, keep them update with the organizational developments.
 3. Regularly talk to the employees as they work to know what they go through.
Be Innovative
A good manager is creative. In being innovative, you do the same things but differently. It reduces monotony. A restaurant doesn't seem like an innovation hub, but there's a lot you can change. Introducing a point of sale technology, for instance, will make the cashiers work efficiently and will improve productivity. Embrace new restaurant inventions like a sling, which is employee scheduling software.
Work on the Business
Managers who work in the business are beneficial in the short term. On the other hand, working on the business helps you keep track of its progress; monitor the marketing results and overall business. Working on the business, you keep the restaurant progressing well over the long term.
A Good Manager Celebrates Success
The secret to employee's loyalty is motivation. A motivated employee is a happy employee. Everyone, including you, requires motivation. Motivation is a reinforcement to make your staff work with maximum efficiency. Celebrating success shows your employees you value the work they do in the organization. An employee who handles a situation well or has extreme performance deserves to be commended. Mention them in the next meeting at least. Motivation makes one feel they are a respected member of the team.
Supply Chain Decision Making
As a manager, your responsibility is much high compared to other employees. You handle all the challenges in the workplace. A broken refrigerator, for instance, demands urgent attention. Such a situation calls for critical decision making. Consider your options, which might include buying another refrigerator or cooling trailer hire, and make a decision fast. The ability to make sound decisions, especially when under pressure, earns you respect from your seniors and juniors. It instils trust from the employees.
Be Good at Multitasking
A manager position will demand you handle things you are not an expert of. Employees, customers, and suppliers will need your attention at the same time at times. There is all sort of things which come up in the organization and, your multitasking ability will help your work effectively.
Working on you can be a daunting task. To become a better manager, pick the skill you feel you are most weak at and make efforts to improve. Set the right tone in the entire operation.
You may also like: Tips to Running a Small Restaurant Successfully