Click here to get this post in PDF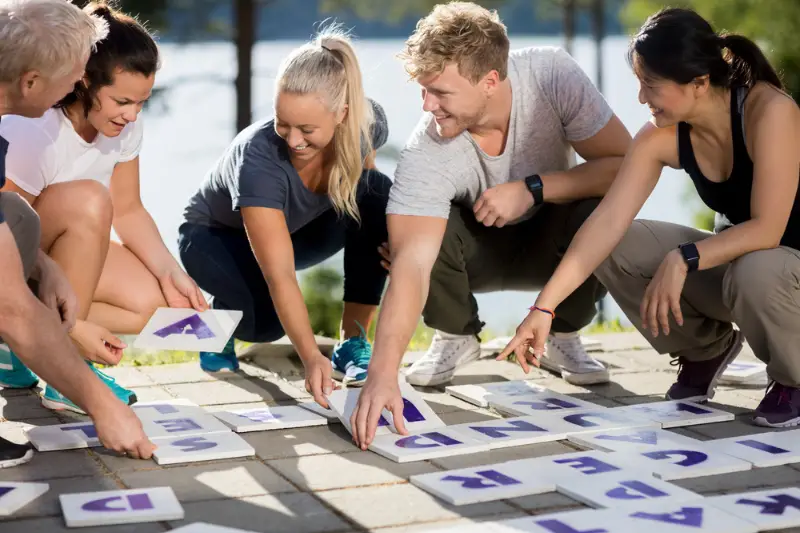 In today's ever-evolving corporate landscape, where working in personal digital spaces is the need of the hour, the success of any organization does not hinge on individual excellence. It primarily depends on the ability of its employees to work together as a cohesive team. The foundation of a productive and harmonious team lies in trust, effective communication, problem-solving skills, employee engagement, creativity and innovation. 
Organizations often turn to team building activities to cultivate these vital attributes, which help them unwind from the daily grind. Such activities often work as powerful tools for building more robust and connected teams. Here's more on how these crucial activities can help improve productivity and success.
Fostering Effective Contact Through "Communication Web"
Effective communication is the cornerstone of any harmonious team. Without it, even the most talented individuals can find themselves on a path to mediocrity. Team-building activities can be invaluable in nurturing a culture of open, productive communication and employee success. 
Consider the "Communication Web" exercise, where team members stand in a circle, each carrying a ball of string. They take turns sharing their thoughts or answering specific questions while winding their string around their fingers. This activity visually represents the interconnections formed through dialogue, emphasizing the importance of active listening, clear articulation and empathy.
Improving Problem-Solving Skills to Strengthen Team Dynamics
Every team encounters challenges, and their ability to navigate and resolve them is a litmus test of their strength. By engaging in problem-solving activities, teams can hone their collective critical thinking and decision-making skills. 
A classic exercise is the "Escape Room" challenge, where a team must decipher a series of tricks and riddles to "escape" from a locked room. This method encourages collaboration and resourcefulness and underscores the significance of staying composed under pressure.
Promoting Creativity and Innovation: Activities for a More Dynamic Team
A "Reverse Brainstorming" session is a unique approach to problem-solving. Instead of generating ideas to solve a problem, the team generates ideas on how to cause the problem. This paradoxical approach often leads to fresh insights, revealing new solutions that might have remained hidden in a traditional brainstorming session.
The Role of Team Building in Employee Engagement and Satisfaction
Employee engagement and satisfaction are cornerstones of a thriving workforce. Engaged employees are likelier to stay loyal to their organizations and contribute to their fullest potential. The "Employee Recognition" game is a powerful way to cultivate a sense of appreciation within a team. 
Team members take turns recognizing and celebrating each other's contributions in this activity. This builds trust and rapport and fosters a sense of belonging, making employees feel valued and appreciated.
You may also like: How to make online events more fun and interactive with team building activities?
Image source: Depositphotos.com