Click here to get this post in PDF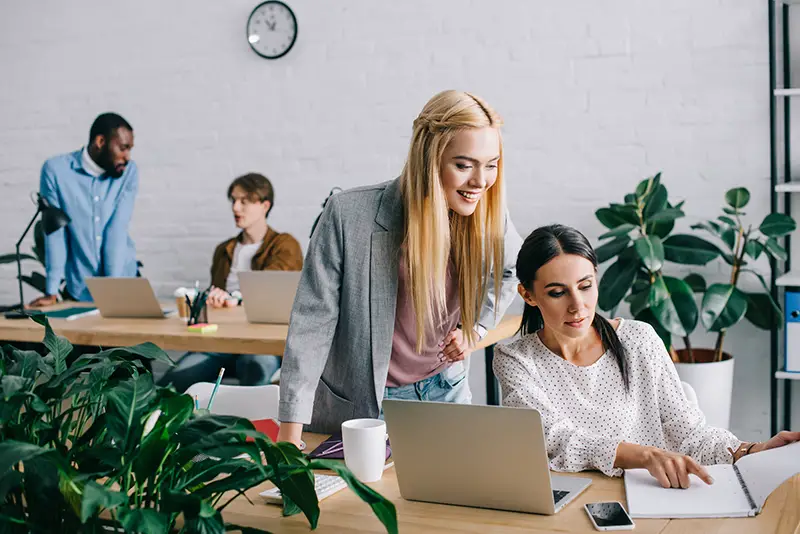 Have you ever noticed that when you're surrounded by positive people you tend to think and act more positively yourself? By the same token, a negative atmosphere can quickly escalate into apathy and conflict. In short, positivity in the workplace is crucial for productivity, staff morale, job satisfaction and overall business performance. DIB Development, experts in people development, explores some of the reasons why a positive brain makes a more productive workplace.
Train the brain to be more positive and more successful
You might wake up in the morning and feel like turning over and going back to sleep, grumpily wishing it was your day off and not a day to go to work.
The good news is that with a little psychological thinking, you can train the brain to think more positively and thinking positively puts you halfway to a more successful future.
Turning up to work with a positive attitude not only puts you in a better frame of mind for the rest of the day but it will rub off on those around you, stimulating a more positive atmosphere. Radiating positivity doesn't necessarily mean walking around the office all day with a smile on your face, but can comprise of a whole host of 'positive' attributes, including giving thanks to others, showing random acts of kindness, acknowledging a job that has been done well, celebrating achievements and looking for opportunities to have some light-hearted fun.
Instead of complaining about tasks in hand and other people, exchange the negative work attitude with a positive one, which compliments instead of complains and smiles instead of frowns.
Shawn Achor, psychologist, public speaker and CEO of Good Think Inc., where he teaches about positive psychology, talks about how rising levels of positivity and training the brain to think more positively helps us to be happier, which inspires us to be more productive.  In this great TED talk Shawn shares with us that a positive brain is 31% more productive than your brain at negative, neutral or stressed and the amazing chemicals released to make this possible.
Enthusiasm is the key to success
Enthusiasm is infectious. By making the effort to be more enthusiastic about your daily responsibilities and the people around you, your enthusiasm will create a more positive attitude in the office and will help others adopt a more enthusiastic, positive mindset.
Randy Slecta, President of Leadership Management International Inc., a global leadership and organisation development company, cites enthusiasm as the sixth key to future success.
"Enthusiasm is the energy, the fuel, the blazing fire that brings about a successful result," writes Randy, adding:
"Enthusiasm is a magnet. It attracts you to those things you set out to achieve. It creates the conditions for a successful result. It enables you to take advantage of the opportunities as they present themselves."
By retraining the brain to be a positive powerhouse, one that replaces negative, pessimistic thoughts with positive ones and tackles each task with enthusiasm and vigour, will put you in the driving seat for a more successful future that you are in control of.
Positivity equates to increased productivity
As we've already touched upon, positivity equates to productivity, which at work can make the difference between a well-performing team and, ultimately, business and a poor performing business.
Let's take the perpetual complainer as an example; after all, it's safe to say most have come across one! Complaining is a habit that is ingrained into society, with some having a tendency to complain more than others. A perpetual complainer can be draining for people, bringing the whole of the environment 'down' with their relentless gripes and moans!
Simply making fewer complaints at work can boost the productivity of a team. The savviest and most skilled of leaders will endeavour to solicit the complaints and act on the ideas of 'complainers', turning them into potential problem-solvers, thus nurturing team productivity.
On-site perks
In an article titled 'Positive teams are more productive', the Harvard Business Review (HBR), reiterates the importance of positivity in nurturing a more productive environment. Whilst many companies are still relying on using the 'same old methods' to help develop productivity, such as setting goals, strategy planning, and streamlining operations to reduce inefficiency, others, as HBR writes, are offering employee perks, such as day care, on-site food and company gyms, which can be an effective way to nurture positivism that helps equate to greater productiveness within the workforce.
Who wouldn't want to work at a place where positivity is positively encouraged?
You may also like: 7 Ways To Boost Productivity And Inspiration At Workplace
This blog post was written by DIB Development, a team of specialists in people development and experts in leadership and team development, aimed at helping people be the best version of themselves that they can be.