Click here to get this post in PDF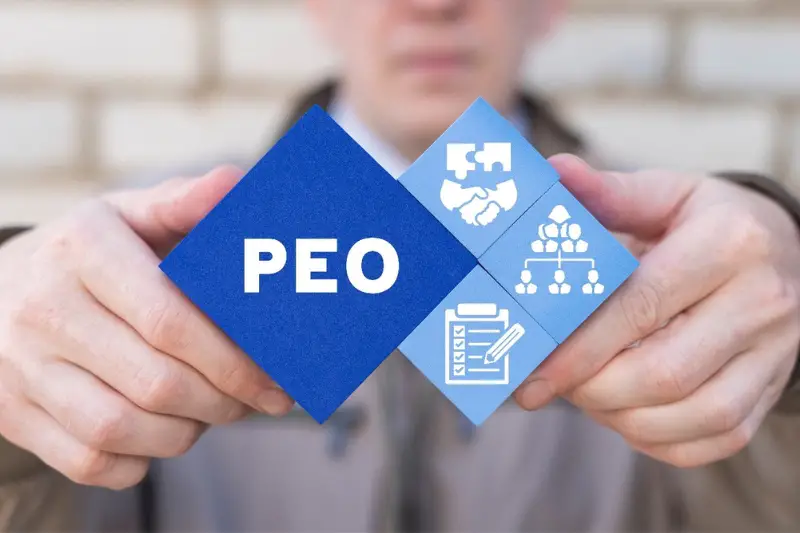 With the increase in market competition, businesses are always looking for ways to maintain an edge. One way small businesses can compete is by leveraging their HR department. This is where PEOs step in, offering salvation to businesses looking for streamlined HR management and a competitive edge. In this article, we will explore PEOs, their role in a small business's success, their benefits and drawbacks, and the factors to consider when choosing a PEO. 
Definition & Role of PEOs in HR Outsourcing
PEOs, or Professional Employer Organizations, are companies that enter a co-employment partnership with businesses and offer an array of different HR services. A co-employment partnership allows the business to share employment responsibilities and liabilities, giving it more access to provide its HR services. 
It is worth noting that businesses still maintain complete control over operations and have the final say in all employment decisions. Co-employment allows businesses to be in control while benefiting from the resources and expertise of a PEO. 
The services offered by a PEO are a comprehensive suite covering all aspects of an HR department. These include payroll management, employee benefits, compliance, advanced technologies, expert guidance, and so much more. 
According to NAPEO, small businesses that employ a PEO grow 7 to 9% faster than those that don't, have a 10 to 15% lower employee turnover rate, and are 50% less likely to close down.
Benefits of PEOs for Small Businesses
Saving benefits cost 
The most considerable benefit of a PEO for small businesses is cost savings. Because a PEO serves multiple clients, economies of scale are achieved, which allows them to gain access to high-quality employee benefits at a competitive rate. 
Automated payroll processing
A PEO provides ways in which payroll can be managed and processed. Through their software, PEOs can monitor time and attendance and collect all the necessary information concerning each employee. Soon after, wages are calculated along with any deductions, and the final amount is automatically deposited into employee bank accounts or given to them by check. 
Legal compliance
Small businesses may not have the necessary facilities to navigate the complex world of legal compliance. This is why PEOs heavily focus on their ability to provide top legal compliance strategies.
With a co-employment partnership, PEOs share liability; therefore, their dedication to ensuring your business is in compliance with all rules and regulations and eliminating fines and penalties is concrete. 
Administrative relief 
Payroll management, time and attendance, legal compliance, onboarding, and other administrative tasks can be time-consuming and burdensome. PEOs take on these responsibilities, allowing you to focus on other core services and functions of your business. 
HR expertise and guidance 
A small business can lack the resources to hire an extremely experienced HR manager, let alone a whole department. PEOs bridge this gap by providing a team of HR experts working to guide and support you in your HR endeavors. 
If any employee-related issues, compliance irregularities, or performance issues arise, a PEO's expert team helps navigate them effectively to make sensible decisions. 
Potential Drawbacks
The potential drawbacks of a PEO include a lack of choice, complex pricing structures, and a lack of personalization. 
A lack of choice occurs because PEOs already have employee benefits lined up, and in some cases, the choice of which provider may not line up with your employees' needs.
A PEO's pricing structure is complex since multiple fees are considered and calculations are required; thus, understanding the structure before employing one is time-consuming and difficult. Lastly, personalization from the side of a PEO is unlikely as they serve several different clients, so a complete focus on yours may not be the reality. 
Factors to Consider When Choosing a PEO for Your Small Business
Reputation and experience
It is imperative to research different PEO companies, looking for ones with good reputations and extensive experience. Look for PEOs that are certified by the Employer Services Assurance Corporation (ESAC) or the International Revenue Service (IRS). Additionally, a reputable organization a PEO can be part of is the National Association of Professional Employer Organizations (NAPEO). 
Services and customization options
Each business has its own wants, needs, and goals; therefore, look for a PEO that offers the services you require. Assessing the different services provided by a PEO is essential. In addition, some PEOs offer customizable solutions where customers can choose which services they require or don't. 
Industry-specific expertise
PEOs that do not have the appropriate expertise in your industry may fail to provide the adequate quality of service to meet your needs. Each industry has its own requirements and laws, so choosing one with the knowledge to operate in specific industries can provide many benefits. 
Technology and integration capabilities
Technological infrastructure is crucial when it comes to a PEO. One that does not have proper technological software will hinder your business rather than help.
Make sure that the PEO you choose has a user-friendly interface and seamless integration with existing solutions. 
Cost and pricing structure
The price of a PEO is another important factor, as not every small business has the budget to pay for every PEO. Gather the pricing structures of different PEOs through online quotes or contacting a customer representative. Once gathered, compare the different costs among several providers, ensuring that the one you choose aligns with your budget. 
If you have opted to employ a PEO, check out this guide on the best PEO companies in the market. 
Conclusion
Streamlining your HR management is advantageous for small businesses. PEOs can provide opportunities to save costs, automated payroll processing, legal compliance, and administrative relief. However, it is important to mention the potential drawbacks of a PEO. These include a lack of choice, complex pricing structures, and a lack of customization. 
When choosing a PEO, assessing the benefits, drawbacks, and different factors is critical. These factors encompass reputation, experience, services, customization, industry-specific expertise, technology, integration, and pricing structures. 
Once all these factors are taken into consideration, an informed decision on whether you should employ a PEO and which one to employ can be made.
You may also like: Recruitment Dilemma: How to Deal with a Lack of Experience and Skills
Image source: stock.adobe.com