Click here to get this post in PDF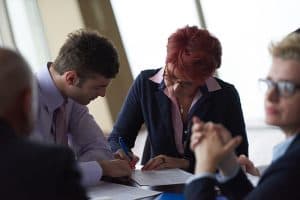 It doesn't matter how great your idea for a company is if you can't get it off the ground because you don't have the financial backing. Of course, many people choose to use their own personal savings for a project like this, but this isn't an option that is suitable for everyone. To that end, we have put together this brief guide on the business finance choices that may be available to you. Read on to find out more.
Grants
First of all, before you look to any other source to finance your loan it a great idea to check whether there are any grants that you will be eligible for. Grants are usually medium to large sums of money awarded to you by an official body or organisation. The key benefit of a grant is that you will not have to pay it back, which means they can help you get your idea for a business off the ground, and not take a toll on you future profit margins too.
Of course, you can expect the process of applying for a grant from a charity or organisation to be quite rigorous and detailed. After all, they aren't going to just give money away for free. In particular, you will probably need to show just how the business you are looking to set up fits in with the awarding organisations' goal and aims. Something that means if you have an eco-friendly or socially conscious element to your business idea, it can put you in a much more beneficial situation.
Loans
Next, another option for finding the finance to start your business is to get a loan. Most people think that the only place they can do this is with their bank, but this certainly isn't the case.
In fact, there are all sorts of business loan providers out there, and it can really be worth your while to shop around and find the one that is willing to offer you not only the amount that you need but the lowest interest rate as well.
You may even be able to find a financial provider that offers things like these small business loans for veterans, which are targeted at a particular group. Something that may further help you to get the most economically viable deal for your business.
Investors
Of course, you may think that your idea for a business is so hot that you can raise the funds that are needed by getting investors involved. This usually works with them stumping up the cash to get your company running, in return for a percentage of your business ownership.
Now, this can be a mutually beneficial situation for both you and the investors. However, many new business owners aren't comfortable with giving away a significant part of their company shares, especially if it gives another person or organisation majority control.
Therefore, if this is the case for you, it may be better to choose on the other financial options which ensure full autonomy and control of your business decision making process.
You may also like: 4 Things To Know About Start-Up Funding Stages