Click here to get this post in PDF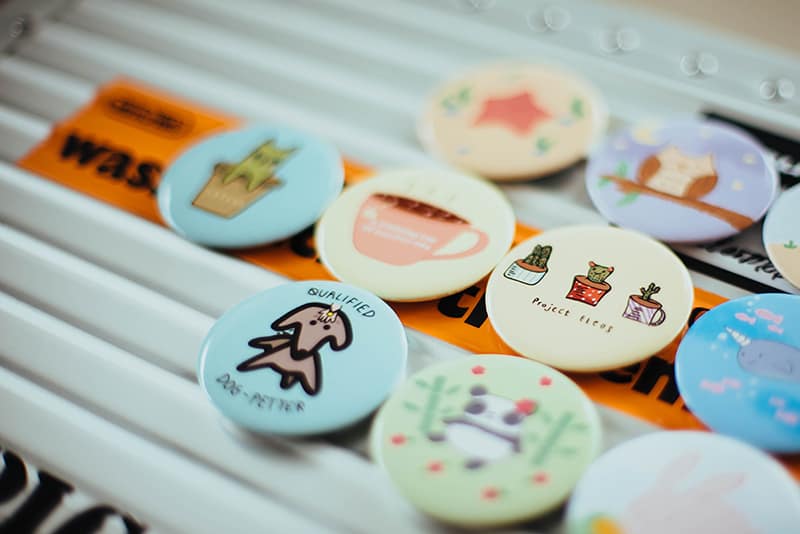 Custom badges come in different materials and designs. Some are made of metal while others are made of plastic and others use fabric material. Most importantly, custom badges leave a long-lasting impression of your brand to the customers. People love wearing them, especially when they come in unique and colorful designs.
So, when you intend to use them to promote your brand name or specific products, there are important things to consider. This guide will get you started in this project without any hitches. So, read through it and prepare to follow them religiously.
Understand the Benefits
Custom badges have many benefits for a business when used as promotional materials. First of all, people love them and you can rest assured that they will be worn. Unlike a business card that is kept inside a wallet, badges are displayed for everyone to see them. It is like branding a car that will be on the move at all times. Some of the major benefits of custom printed badges include, but are not limited to, the following:
·        Increased brand reputation
·        They are recognized and loved by everyone
·        They are affordable
Making a Plan
After understanding the benefits that you will get with the badges, it is time to sit down and plan. Such a plan should include what will be printed on the badges and the impact that it is likely to generate. Check the cost implication of making these badges and the returns it is likely to bring back.
As you plan, you will also need to decide on who will design and print the badges for your company. Rocket badge should be at the top of your list because they have been manufacturing badges for more than 30 years. If they are not accessible to you, others who have a similar reputation in your area can do the work for you. The bottom line is to have a company that will add value to your business.
Gathering the Resources
Whether it is long or short-term, getting fully prepared for this project is crucial. This means looking for a reliable supplier who will never fail whenever you need more badges. The key is to have a minimum stock. Other materials needed for the successful use of custom printed badges as a promotional material include a storage facility, complimentary gift containers if any will be used, and any other resources that are necessary.
Distribution
Even after making excellent custom printed badges, distribution makes all the difference. Giving them to the right clientele group will have more impact in the long run. Also, giving out more custom printed badges will increase your chances of reaching out to more people. They can be distributed at the point of sale as customers check out.
They could also be sent to loyal customers through the post. Any other effective distribution methods should be adopted as well, and this is where your sales and marketing team should be more innovative.
Conclusion
Custom printed badges are effective promotional materials when used in the right way. As you can see from the insights above, planning and using a reputable printing company are among the top factors to consider. Make sure that you do this well to enjoy all of the benefits.
You may also like: 5 Ways That Small Brands Can Compete with Larger Brands