Click here to get this post in PDF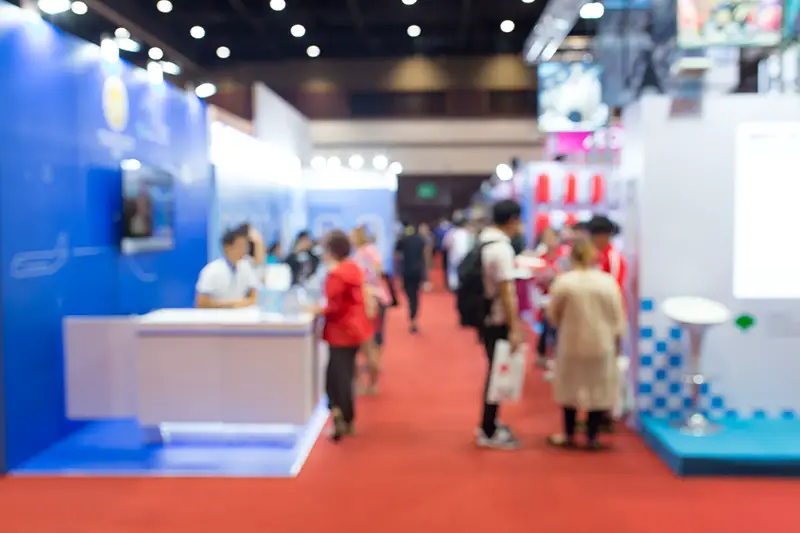 Running a business requires you to juggle several tasks. One of these essential tasks is boosting brand awareness. Luckily, participating in a trade show event is an opportunity to spread the word about your brand effectively.  
Trade shows give your business the best opportunity to gain exposure and interact with potential customers. The only drawback is that you're not alone in this event. You'll display your brand alongside your competitors, who are also trying to stand out. To ensure a head start, consider leveling up the design, adding vibrant colors, or offering an experience like live screen printing.  
Suppose you want to get ahead of the competition and gain maximum return on investment in resources and time spent for the event. In that case, ensuring that your trade show booth engages your audience and gets people talking about your business is crucial. To achieve this, here are several insightful pointers that will take your trade show booth to the next level. 
1. Draw Attention With A Memorable Experience  
If you want your trade show booth to establish a positive impression, providing an experience would be worth considering. An option you may want to try is a live screen-printing opportunity. It's a unique and exciting way to inject a fun and engaging factor into your upcoming trade show event. 
Think of it as a way to interact with your audience and give them a chance to create something they truly love together with a distinctive logo of your brand.  
With live screen printing, it offers your audience a customized product at the event, such as t-shirts or tote bags. Consider it an advantage since your audience will experience having garments or merchandise printed with customized designs as they watch.  
Another edge of having live screen printing in your trade show booth is spreading awareness. As people start to wear customized merchandise with your logo, it helps spread the word about your brand effortlessly.  
2. Create Hype About Your Upcoming Trade Show Booth 
Getting the attention of your target audience ahead of time is one approach to making your trade show booth remarkable. If you can get people excited about your brand's booth before they even attend, they will be more likely to seek it out once they visit.  
The best way to make this happen is to leverage connections via email, social media platforms, and word of mouth. More attendees will likely visit your trade show booth if you can do it right by making your efforts interactive. 
3. Integrate Eye-Catching Colors Into Your Trade Show Booth 
Colors will always play a key role in capturing attention. Choosing vivid or bright colors can help set the mood for your booth. Generally, it makes your brand readily recognizable. You can even incorporate a high-contrast color scheme to accentuate some display elements or messages. Nevertheless, you should avoid oversaturating your exhibit with too much color.  
Following the three-color scheme comprising primary, secondary, and accent colors would be best. The primary color unifies all the elements of your brand's design, while the secondary color is a contrast for creating visual interest. As for the accent color, it works by emphasizing key elements, text, and graphics.  
Emphasize your brand's primary colors when brainstorming color schemes. Another consideration is the demographics of your intended audience, including gender, age, and culture. So, it would be best if you made the necessary modifications to the color palette to connect with your audience. 
4. Showcase The Story Of Your Brand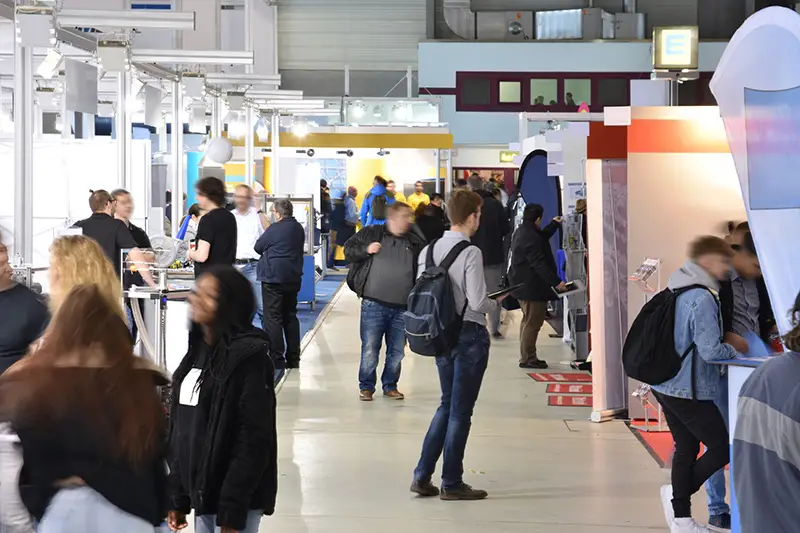 If you want your business to leave a lasting impression during a trade show, it's essential to tell your brand's compelling story. Most booths disregard the need to tell their brand's story, which is crucial in convincing your target audience to take action.  
Remember that potential customers will only interact with you if they perceive you're trustworthy. And if your audience understands what your brand stands for, only then can you earn their trust. 
When developing the ideal brand story, there are several considerations to remember, such as the problem to address and its solutions, your expertise in the industry, its driving force, and the reasons to choose the brand over others. Once you have all these elements, brainstorm how to portray your story best. Typically, you can incorporate your story in the overall design, messaging, layouts, and brochures. 
5. Maximize The Lighting For Your Booth 
Aside from the color and brand story, the booth's lighting is essential for standing out amid a sea of competitors. By accentuating the subtle elements of your exhibit, the proper lighting may increase the visual appeal of your booth. Also, it increases the visibility of your products and brand's message.  
Consider spotlights, accent lights, strobe lights, hanging lights, and ambient lighting when arranging the lighting for your booth. Combining these light fixtures will ensure your trade show booth makes a lasting impression on audiences. 
Final Thoughts  
If you want your upcoming trade show booth to stand out from the competition, it's all about being creative while maintaining a strategic mindset. Creating an engaging booth that best represents your brand is essential. So, consider these tips mentioned above to make your brand's booth stand out and make a positive lasting impression in the upcoming trade show events.  
You may also like: 5 Ideas for designing an impressive stand at an exhibition
Image source: AdobeStock