Click here to get this post in PDF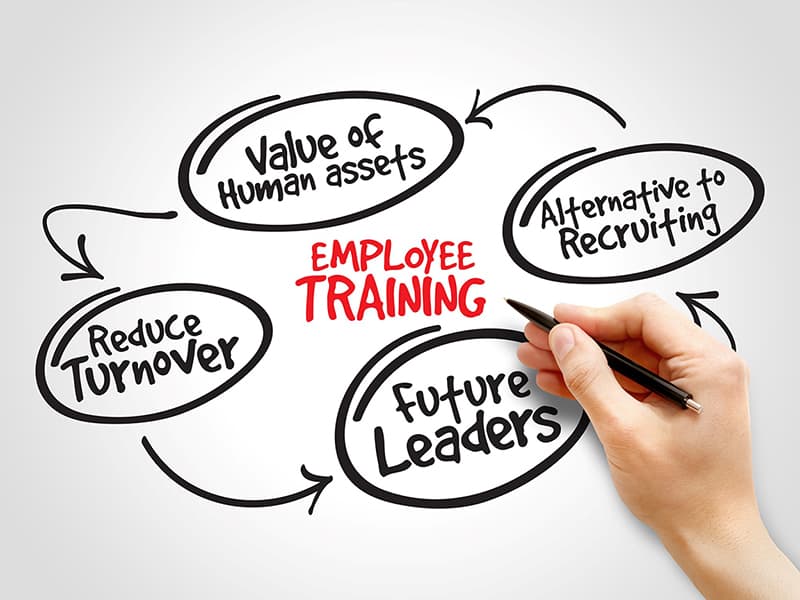 Owning and/or managing a business can be tough, especially when several employees are under you. After all, a manager is only as good as his weakest employee. 
However, consider incorporating employee training and development programs instead of cracking down on your staff and putting more pressure on them to meet your standards. 
While these programs take time and sometimes money, the perks can be worth the investment. Take a brief look at the top five benefits you can expect.
1. Safety 
No matter where you work or what your business does, employee safety is key for several reasons. First, employees must feel safe and protected at their place of work. Second, in terms of numbers, an injured employee isn't making the company any money. 
Employee training and development focused on safety are vital to industrial and physically demanding jobs, obviously. However, safety training that addresses circumstances all businesses all vulnerable to is just as important. This includes:
Fire safety training
Natural disaster training
Basic first aid training
Active shooter training
Bomb threat training
Etc.
While few of these scenarios are likely to happen, the training can quite literally save lives in the event that they do.
2. Efficiency
Employee training and development geared towards specific job functions can improve productivity on a large scale. Not only will training address any weak areas employees are struggling with, but it will also give them further insight into their responsibilities and how to complete them in a timely manner. This is where problem solving skills are involved, the ability to make decisions and develop feasible solutions for simple to complex problems quickly and effectively. 
A training program that makes staff even five percent more efficient can make big waves in a workforce of five or more employees. Additionally, training and development can help employees feel more confident, which will naturally improve their productivity.
3. A Positive Work Environment
When you invest in your employee's training and education, you also invest in their satisfaction and morale. This can serve you in multiple ways. First, employees with high morale tend to be happier, which leads to greater productivity.
However, happy employees tend to stick around longer which has a positive stacking effect on your business. The longer they're employed, the more efficient and skillful they become increasing the business's overall revenue resources. This also decreases employee turnover, which saves you money on acquiring new employees, training new employees, etc.
That's why one of the upcoming trends places such an emphasis on employee morale.
4. Quality
One of the most important benefits of employee training and development is improved quality of work. An employee needs to perform their work quickly. However, quality should always take precedence. 
Investing in applicable job training for your employees will give them the skills to perform their duties better. They'll better understand how to do their jobs, stay organized, multi-task where necessary, etc.
5. Camaraderie
Finally, employees work better together when there's a sense of camaraderie. Not only do they get along with each other better, but they also have a stronger sense of obligation to work toward a common goal. This can also lead to a more positive work environment, which we spoke of above.
A great way to improve camaraderie through employee training and development is to incorporate team-building activities or exercises. This can include anything from a faux marketing campaign to taking employees to an escape room.
Looking for More Tips on Training and Development?
Never underestimate how important employee training and development can be for your staff. It could significantly improve your business's numbers as well as help to bring your staff closer together. However, if you're looking for more advice and information on running a successful business, be sure to check out some more of our articles before you leave.
You may also like: How Fire Safety Training Can Help Employees at Work