Click here to get this post in PDF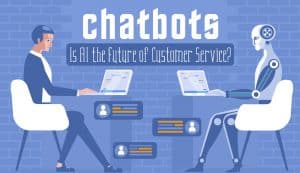 Chatbot technology has come on leaps and bounds in the past few years. The global perception of chatbots is improving, and many businesses are waking up to the many potentials of artificial technology (AI), in the form of chatbots. One of the most common uses of chatbots within businesses today is the streamlining of customer service. Experts now predict that by the year 2020, 85% of customer service interactions will be powered by chatbots.
So, what exactly is a chatbot? According to Chatbots Magazine, it is "a service, powered by rules and sometimes artificial intelligence, which you interact with via a chat interface."  Connected, intelligent and capable; this technology has many customer service applications such as answering queries, increasing engagement and selling products.
Chatbots are becoming increasingly popular among consumers, of which 48% are now stating that it is their most preferred means of contacting a business. Why is this? Firstly, chatbots offer a 24/7 service, meaning that customers can contact a business beyond regular opening hours. What's more, chatbots accelerate customer service by instantly providing answers to simple queries.
In today's competitive world, harnessing the powers of chatbots can help businesses to thrive. By automating repetitive work, they save money on customer service and free up more time for employees for other tasks. The fact that chatbots can operate 24/7 is also a major bonus for businesses, allowing for non-stop customer service.
If you are interested in learning more about how AI and chatbot technology can be leveraged for better customer service, do check out this great infographic from the team at M2OnHold. This highly informative graphic examines the applications of chatbot technology and looks at its benefits for both businesses and customers. It also provides some interesting case studies of some well-known businesses that have successfully used chatbots to support customer care.

Infographic by M2OnHold.
You may also like: Creating Meaningful Customer Relationships in the Age of Tech – Infographic