Click here to get this post in PDF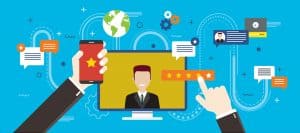 Technology can of course greatly improve the customer experience, but businesses must also thread carefully to ensure they don't lose touch with their customers either. This infographic from CUBE looks at how to use tech to build technology alongside customer relationships. Businesses need to keep in mind that 91% of consumers value brands for their authenticity so it's vital not to shove technology down their throats.
Technology should be used to amplify customer relationships and make them stronger and it should not encourage businesses to get lazy in their real-life interactions. For example, big data gives you valuable information but it's how you use this data to connect with your customers that's most important.
The key message is that obtaining data and using data are two different things entirely and all technology should be used to support customer experience goals.  You should look at using all technology to create an experience for customers that is truly memorable and authentic.

About the Author
Steve Hashman is the Director of CUBEMC. Cube provides a number of marketing solutions for businesses of all types. They specialize in providing sophisticated on hold music marketing solutions.