Click here to get this post in PDF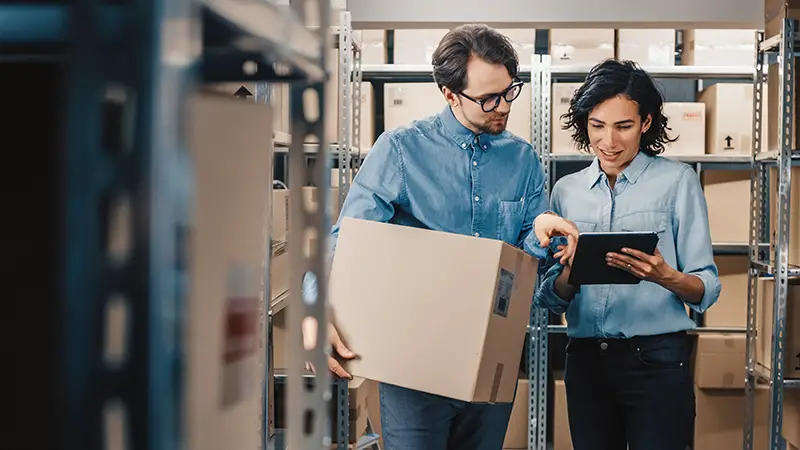 Stock management is a fundamental element of a business. Without sound inventory management practices, you can lose sales because of out-of-stock notices.
How has inventory management in your small business evolved? Have you experienced losing business when items were out of stock? Were you able to access the right products when you needed them? Or have you lost money because of excess inventory?
Acceptable inventory management practices can help you balance investing in your inventory with the need to stay lean. 
In this article, you'll learn some best practices for managing inventory and how doing so can help you grow sales in your business.
Why is inventory management so important?
Keeping track of what you have, what's in your store, and how to run the supply chain properly is a business's backbone. 
Inventory management software like focalsoft saves your time and money and helps you meet the needs of your customers. In a nutshell, it helps control operating costs. 
By giving you real-time information on what sells well and what doesn't, it empowers you to make smart business choices and close sales with confidence. It then gets more comfortable for you to know what to order in larger quantities and cut back on to maximise profits.
A thorough understanding of customer demand for what you sell is the key to proper inventory management and control. That's why you need to know all the tricks to manage your inventory correctly.
5 Inventory Management Tips to Skyrocket Your Sales
Below you will find 5 essential tips to manage your stock to increase your sales effectively.
1. Prioritise your inventory
A small business administration (SBA) study reports that inventory mismanagement is one of the main reasons why new businesses fail. This is why you need to prioritise inventory management in your business.
Organising your inventory into priority groups can help you understand which items you need to order more often and in more significant quantities. It also allows you to know which items are essential to your business. Let alone the fact that you can spot which items cost more and sell out more slowly.
If you don't take your inventory seriously, you risk facing shortages and overstocking – silently killing liquidity.
Experts usually suggest separating your inventory into groups 1, 2 and 3. 
Items in Group 1 are usually high-priced items that you need less of. 
Group 3 items are low-cost items that are quickly re-stocked. 
Group 2 lies in between: moderately priced items that sell more slowly than items 3, but faster than items 1.
2. Double down on the 80/20 rule
The 80/20 rule, commonly known as the Pareto principle, states that 80 percent of the effects of everything you do come from 20 percent of the causes.  
In sales, it means that 80 percent of overall sales are likely to come from 20 percent of the items or services you offer.
So make it a priority to manage that 20 percent of items. You need to understand the full life cycle of these items, including how much you sell over the course of a week or month, and keep an eye on them. 
You need to make sure that you have an adequate supply of these products. It is much more important to keep that 20 percent in stock than the remaining 80 percent.
These are the items that make the most money for you; so manage them carefully.
3. Track your sales
Sales achievements may seem obvious, but these go beyond the simple addition of sales.
It is true, sales mean first of all understanding, on a day-to-day basis, which items you have sold and how many, and updating your stock totals. But beyond that, you have to analyse these data to get the most of your sales. 
Here are a few questions you should ask yourself in studying sales outcomes:
Which items sell faster? 
Which items sell on a seasonal basis? 
Which day of the week do you sell the most? 
Do some things almost always sell together? 
To keep your inventory under control, it is essential to understand your total sales and how items sell.
4. Invest in inventory management technology
If you are a small enough company, managing the first items on your list manually, using spreadsheets and notebooks is almost impossible. 
So it would be best if you had good stock management software to make all these tasks easier. Before choosing a software solution, make sure you understand your needs, that the software provides the analytics that are key to your business, and that it is user-friendly. 
In addition, items such as mobile scanners and systems such as iPad point of sale software can help you stay on track with inventory management. 
When investing in technology, double down on systems that work as a whole. Having a point of sale that cannot communicate with your inventory management software is not the worst thing in the world. However, it can require extra time to transfer data from one system to another, resulting in inaccurate inventories. 
5. Audit your inventory
Some companies carry out a full audit once a year. Others carry out monthly or even daily spot checks of their most sought-after items. 
It doesn't matter how often you do your audit, but it is crucial to make sure it is done. Also, conduct a regular physical count of your stock to make sure it reflects what you think you have.
If you are overwhelmed by inventory, you can do what large retailers do and gain more control over every transaction using Vend inventory management software.
A well-managed inventory will allow you to reduce operating costs, provide your customers with the products they need, and ultimately, better manage your business. While it may not necessarily show you the immediate return on investment than advertising or new products will bring, it will allow you to lay the foundation for a healthier business in the future.
Many models will be outdated, but inventory management will always be good for your business. And it's something you never need to take stock of.
AUTHOR BIO
Ross Smith is the Managing Partner at iPad POS Middle East. Based in Dubai, covering the whole of the Middle East, the company is passionate about helping restaurateurs and retailers alike find the most suitable point of sale system to meet the needs of their business. They specialize in iPad-based point of sales systems and are resellers of Revel and Vend.
You may also like: 8 Questions to Ask Before you Buy an Inventory Management Software
Image Source: Shutterstock.com