Click here to get this post in PDF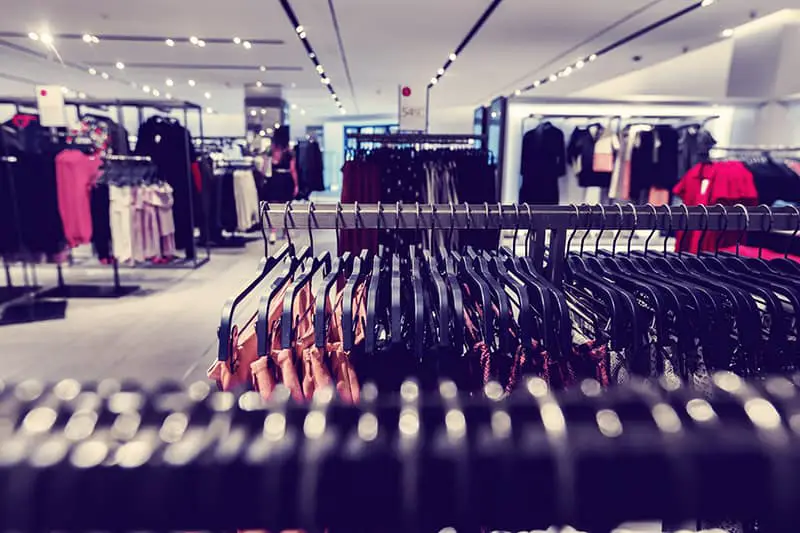 Although many businesses are facing struggles on the high street, QUIZ seems to be stronger than ever. Could this be down to the number of its concessions rather than physical stores? Read on, as we compare the success of concession stores with regular standing shops and discuss if one is more successful than the other and why.
Understanding high street stores
When you're setting up a business, many people will immediately consider high street stores. They're in some of the biggest towns and cities and are therefore accessible to thousands of people each day. But, almost 6,000 stores closed on high streets in 2017 across the pond, with many brands blaming the rise of internet shopping for their demise. Analysis of the UK's top 500 towns, carried out by the Local Data Company (LDC) for PricewaterhouseCoopers, found that, while an average of 11 stores opened each day in 2017, 16 per day closed down (not including independent shops). The report determined that it was the fashion and footwear stores that were hardest hit in 2017 and that spending in these areas had fallen by around 2% over the last two years.
Investigating concessions
In the past, concessions were solely used by high-end brands — but now, everyone is getting involved. A retail concession is basically a shop within a shop and it usually involves the process of one company selling its products in a host department store. Talking about the switch towards the concessions model, former President and CEO of The Body Shop and Monsoon, Peter Ridler, explained: "What's accelerating this change is that the standalone store model is no longer sustainable due to increases in payroll/rents and the lack of footfall on our high streets. And of course, the flight to online has left retailers with an excess of space. What do you fill it with? Complementary brands."
There is little risk when it comes to operating a concession. Rents are lower and there are fewer costs associated with dressing a concession stand than kitting out a full store. There are lower numbers of staff and footfall can increase because of the reputation of the department store or surrounding concessions. Ted Baker's wholesale licensing and international model means that it has significantly more concessions than high-street shops. In 2017, it announced a lift in sales and profit, whilst reporting to have 237 concessions around the world.
As well as this, it's easier to market new products to consumers. When customers come over to the concession, their impressions of the new service can be judged before it is rolled out on a wider scale. One example of this was the Smartech concession in London's Oxford Street Selfridges. Smartech expanded its concession space to showcase new tech products such as a robot that can serve coffee to visiting customers. Smartech is also a great example of how concessions can expand, similar to physical stores. This business started as a 7sqm Selfridges' concession in 2016 before increasing its space to 100 sqm in 2018.
Quiz Clothing, despite the rise of online shopping, is opening new stores frequently. The chief commercial officer at the fashion retailer, Sheraz Ramzan, said: "Stores and concessions in the UK continue to play an important part in our strategy to expand QUIZ by driving sales, building awareness, and showcasing the brand. Our stores not only showcase the brand and the product but as a true omnichannel business model, the customer can shop in a way that suits them, whether that's online, in-store, or via concessions." QUIZ operates an omnichannel business where it sells its products through a range of platforms including stand-alone stores, department stores, international franchises, and online channels. It looks like this multi-faceted strategy could be the way forward.
Some brands may find it difficult to set up a concession though. The customer of both the host department store and the concession must be similar and the product range must be appropriate. Visual merchandising is important to bear in mind too, as companies strive to get their concession noticed over others in the department store — although, it's rare that these will be in direct competition with each other. Although we've said that the relationship between the concession and the host must be appropriate, it may not be obvious. Iceland announced in August 2018 that it would begin to sell its frozen foods through concessions in The Range, for example. Talking about the partnership, The Range founder Chris Dawson said that the "exciting" partnership will give customers "access to over 80,000 different products under one roof". It's clear to see that the customers are still at the forefront of any strategic alliance.
Suitable research and plans must be in place so that the business can operate on a smaller level and within a more limited space. It's not only beneficial to the brand implementing a concession, though. The model can also benefit the host store, as the process can help with rental costs and improve overall footfall.
You may also like: Scaling a Business From Zero to a High Street Brand
Sources
http://www.unibox.co.uk/news-inspiration/retail-concessions
https://www.theguardian.com/business/2018/apr/11/tough-year-high-street-internet-shopping-weak-pound
https://www.telegraph.co.uk/business/2017/03/23/ted-baker-defies-retail-gloom-rising-sales-profits/
https://www.linkedin.com/pulse/concession-stores-future-retail-stuart-hogg
https://www.investorschronicle.co.uk/shares/2017/09/25/boardroom-talk-quiz-clothing/
https://www.pwc.co.uk/press-room/press-releases/store-openings-at-lowest-level-in-seven-years-as-digital-demands-and-appetite-for-experiences-continue-to-redefine-british-high-streets.html
https://www.retailgazette.co.uk/blog/2018/08/iceland-open-concessions-range/