Click here to get this post in PDF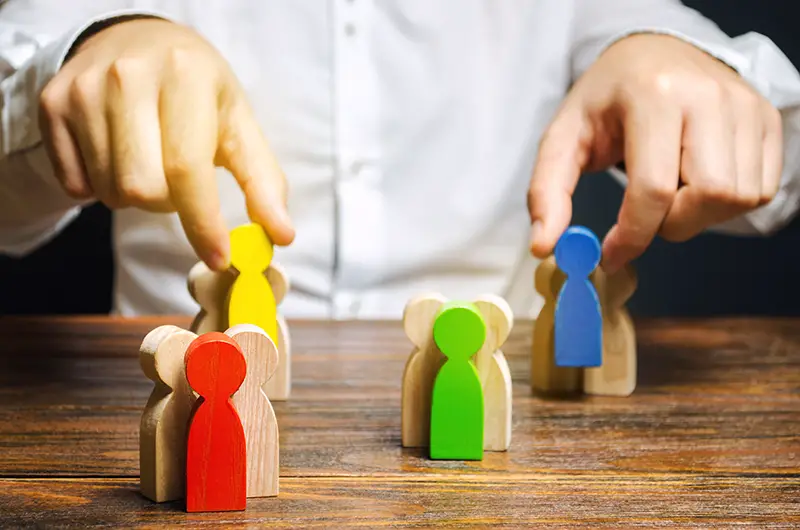 We earn a small commission if you shop through the link below
Behavioral segmentation is a way to target specific groups of people with advertising. It's based on the idea that different types of consumers respond differently to certain messages, and it can be used for online and offline marketing efforts.
Behavioral segmentation is commonly applied in two main ways: behavioral targeting, where ads are targeted at a single user based on their browsing habits or past purchases, and demographic targeting, which targets individuals who have similar attributes such as age range or income level.
To learn more about behavioral segmentation and how it is applied, continue reading this informative article.
What is Behavioral Segmentation
When a marketer or a business owner wants to promote products or services, the first thing that usually comes to mind is advertising. The problem with traditional forms of promotion such as TV commercials and billboards is that they are only seen by a small percentage of intended audience members, who may not be interested in what you're offering.
Behavioral segmentation uses digital marketing techniques like behavioral targeting and demographic targeting to allow companies to be able to reach their target audiences or customers more effectively than ever before – reaching individuals who have already started to show their interest in your brand!
As we've mentioned earlier, there are two main ways behavioral segmentation can be applied, which are behavioral targeting and demographic targeting:
Behavioral targeting is simply basing your ads on users' online behavioral data, for example, what sites they visited or where they were located. This is important because it generates ads and content that is more likely to engage the audience, meaning higher click-through rates and lower costs.
Demographic targeting, on the other hand, uses behavioral data but instead applies it to a user's age, gender, or location, for example, which gives marketers an even greater understanding of their customers' needs and wants.
Why use behavioral segmentation in advertising
One of the reasons why behavioral segmentation is so important in the digital marketing world is that it allows you to be able to target your audience more effectively.
For example, behavioral targeting works by using users' browsing data to understand better what they want and engage with online. This means when a marketer goes ahead and uses behaviorally targeted ads, their advertisements will be much more suited towards each individual user's interests or needs which results in higher conversions and ROI!
Behavioral segmentation also helps marketers target their ads through search engines, social media sites, and apps. This means that your ad or advertisement will be seen by people who have already shown an interest in what you're selling – the ultimate goal of behavioral segmentation! It's much easier to entice someone into buying something if they've expressed a previous interest rather than trying to convince them with no context or knowledge about their interests at all.
The importance of behavioral segmentation is growing exponentially as businesses begin using data to understand consumer behavior. For example, behavioral targeting aims to send users relevant content based on past searches, so it would make sense for marketers who want high conversion rates, such as e-commerce stores, to use this tactic more frequently. What's even better is that behavioral targeting can be applied on mobile devices, which means your ads will reach more people at a lower cost!
How to use behavioral segmentation in advertising
To use behavioral segmentation in advertising, marketers need to first understand why they are using it. For example, if you're a new e-commerce store that sells clothes and shoes, then behavioral targeting would be the perfect tactic as users will have searched for items similar to what your company is selling already!
In this case, behavioral targeting allows the marketer to use search intent data from potential customers who may not know of their existence yet but could potentially become great leads or sales opportunities. This marketing method helps establish brand awareness and trust by providing relevant content, which results in higher conversions – a win-win situation!
Conclusion
There are many different ways behavioral segmentation can be used in advertising, from use on social media sites and search engines to even within e-commerce stores.
However, the most important thing to remember is that behavioral targeting ultimately aims to deliver ads tailored towards users' interests which means higher engagement rates and a much more effective marketing strategy overall. This simply works by using behavioral data to understand what users are most likely to engage with, which then leads them down the conversion funnel.
Marketers need to remember that behavioral segmentation is all about providing relevant content based on someone's unique interests, needs, or wants, so it makes sense for businesses who want increased conversions rates, such as e-commerce stores use this type of advertising more frequently. Ultimately behavioral targeting helps marketers target their ads through search engines, social media sites, and apps resulting in higher engagement rates at a lower cost – another win-win situation.
Ref links:
https://en.wikipedia.org/wiki/Market_segmentation#Behavioural_segmentation
https://en.wikipedia.org/wiki/Demographic_targeting#:~:text=Demographic%20targeting%20is%20a%20form,consumers%20based%20on%20demographic%20information.&text=Demography%20can%20be%20defined%20as,%2C%20occupation%20and%20other%20statistics%22.
https://www.forbes.com/sites/forbesagencycouncil/2017/06/26/how-to-use-behavioral-data-in-personalized-marketing-campaigns/?sh=63624b116fbf
You may also like: This Is the Difference Between Advertising and Marketing
Image source: elements.envato.com