Click here to get this post in PDF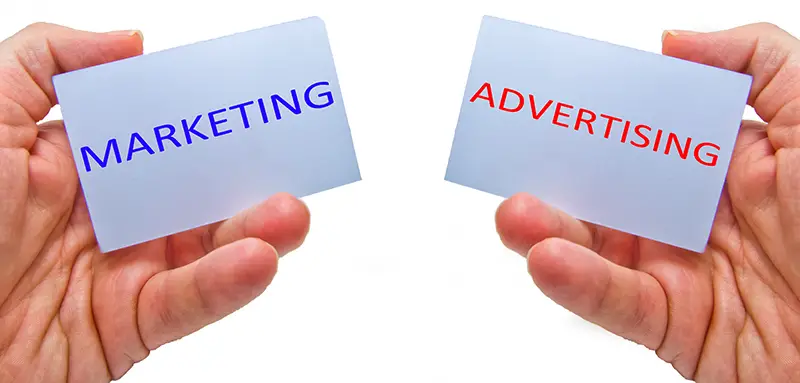 What's the difference between a Wendy's chicken sandwich and a Chik-fil-a sandwich? They're essentially the same product, but everything else about them, from the restaurant to the packaging, to the experience of buying one is different.
If that doesn't make sense, then keep reading. We're going over our guide to the difference between advertising and marketing, using food examples, below.
What Is Marketing?
Marketing is everything that has to do with your brand. That means the products, the fonts you use, your brand colors, your voice, your logo, how you interact with customers, the quality of your website, and more.
Advertising is part of marketing, but not the whole thing. Marketing is the entire thanksgiving dinner spread, while advertising is the turkey. It's important – essential, even, but it's a smaller part of the big thing.
What Are the Different Parts of Marketing?
Just like there are different parts of Thanksgiving dinner, there are different parts of marketing. Think of them as the classic side dishes, to stick with our analogy.
Brand Voice
Your brand voice is how you communicate with customers. Think of Wendy's Twitter as an example. They are sassy when they interact with customers and even other brands. And that extends outside of Twitter. One of their taglines is "Fresh, never frozen", which is a quip at their competitors.
They're consistent over their entire marketing setup, from Twitter to their responses to people on Facebook, to their ad copy.
Brand Visuals
Your visuals are things like your logos, the specific types of fonts you use, your brand colors, and any mascots or associated images you use often. To stick with Wendy's, their brand colors are dark red, red, pink, black, and a touch of blue. Their logo is the little girl with pigtails, and they have a font that their name is always written in.
Your brand visuals are what helps customers recognize your company at a glance, even if those customers are children!
Customer Experience
Another part of marketing is the customer experience. Think of the difference between going to the drive-through at Wendy's, vs Chik-fil-a. Wendy's is pleasant and quick, but they focus on the speed and efficiency aspect.
Chik-fil-a can take longer, but they go out of their way to be kind and let you know it was "a pleasure to serve you". You can essentially get the same product at each restaurant, but the experience of getting that product will differ.
Still, confused? It's a lot to process. Contact a Marketing Agency to help.
What is Advertising
Advertising is the way you let customers know about your products. You can have marketing without advertising (if it's a lifestyle brand, for example), but you can't have advertising campaigns without marketing.
Examples of advertising are things like: radio/tv ads, flyers, billboards, mailers, Facebook ads, sale flyers, and promotions.
To run a successful business, you need both advertising and marketing to work seamlessly together.
What is the Difference Between Advertising and Marketing?
Marketing is the umbrella that encompasses everything your business does, and advertising is one part that falls beneath that umbrella. It's the difference between selling your brand (marketing) and selling a product (advertising).
We hope you got some value out of this guide to the difference between advertising and marketing. For more helpful tips, bookmark our site!
You may also like: 3 Reasons Why Your Built-For-Success Marketing Campaign Failed
Image source: Shutterstock.com