Click here to get this post in PDF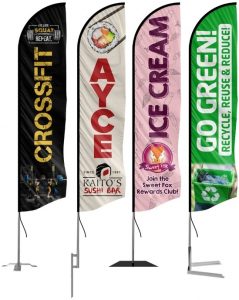 Excellent communication is one of the most substantial assets of an organization that is often ignored in the street view. Proper signage is necessary to portray a cohesive identity, inform the community about offerings and services, and broadcast your message to the world.
Using a flag banner is one of the ideal ways to draw attention to your auto business. It helps in boosting your offline traffic, offers better targeting, and brings in more leads for the company. Since they are printed in attractive sizes and shapes, these banners can impact everyone literally!
So, how can you spot the right one?
Picking the Right Flag Banner for Your Business
A large number of factors come into play while choosing the best flag banners that suit your business needs.
Message
A custom flag depends on the message you wish to convey. Note that the banners may be placed around highways where speeding vehicles have only seconds to grasp your message. Experts recommend keeping the wordings at a minimum. A couple of words or a strong sentence makes a good point. This message, along with the logo, will largely determine the flag's shape.
Think about the flag's placement as well. This will determine the colors and text you may want in the flag design. Do not opt for flags that are crammed with design elements and words since they tend to confuse the customers. Your banner must be eye-catching and appealing with bold prints.
Flying and Movement
Certain flag banners like feather flags and CSA Flags for sale are known to attract attention from further away by pleasantly flying in comparison to teardrop flags. On the other hand, teardrop flags display bright images in the wind and are always readable.
They lack the 'fly' because no free edges flap to the wind. These flags are fully tensioned, maintain the shape, and facilitates bright image display. So, if your auto business is located in windy areas, then teardrop flags may be your best bet.
Size
Consider the purpose of erecting a flag bannerand possible height and space limitations. Check if there are any canopies, obstructions, or overhead wires that limit the height of your banner.
From 8ft to 17ft high, custom banners arrive in different sizes. So, don't fret over a smaller flag, not attracting enough attention.
If you are planning to use these banners at an auto event, then consider picking more massive flags that give you higher visibility and presence. They place your brand well above the clutter of stands and other intrusions.
Nevertheless, it is advised to exhibit caution about purchasing huge banners since they tend to flex more in the wind. This action creates stress on the mountings and poles that crack under pressure. Also, note that more prominent flags must settle well on a fenceline.
Single and Double Sided Banners
Off late, there is a shift in trend from single to double-sided flags due to the apparent reason that they convey your message in both directions. They are even known to last longer and offer a stunning appearance when compared to single-sided banners. But they can also get heavier and may require a strong base to bear the additional weight.
Finishing
Even the most expertly designed banner becomes ineffective when it is poorly displayed. So, make sure to observe material wrinkles, pockets or webbing, crooked mounting of the flag, improper mounting hardware, and other glitches.
Make your marketing efforts fruitful with custom flag banners. They are the most effective and affordable means of boosting brand awareness. The flag of your choice must ultimately get the message across effectively and convince customers that you are open for business.
You may also like: Things You Need to Consider in Building Signage Designs