Click here to get this post in PDF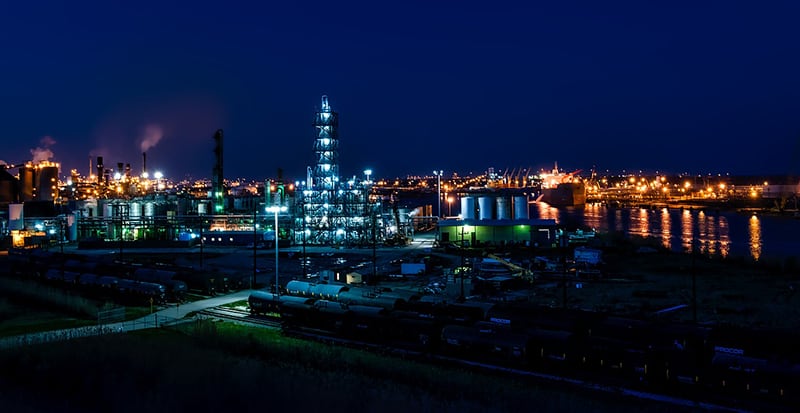 The pivot to a digitized economy has hit some industries harder than others, and few economic sectors have undergone such tumultuous disruption as oil and gas. This disruption hasn't always been a negative thing, however, as the digital economy is transforming the oil and gas sector positively in a myriad of ways, ranging from threat detection to better workplace safety.
Here's an exploration of how the digital economy is transforming oil and gas, which innovations to keep an eye on, and how industry experts are responding to these changes.
A new era of interconnectivity
Like so many other industries, the oil and gas sector has been enjoying a newfound era of interconnectivity that supercharges workplace productivity. By tying together databases, offshore facilities, and management networks which were previously disparate and difficult to unite, the digital economy is ensuring that oil and gas workers have access to more and better information than ever before when making important decisions. Whether investors and engineers are scouting out potential new drilling sites or everyday workers are avoiding cataclysmic failures which could imperil lives, there are countless examples of this interconnectivity being put to work.
According to Deloitte, the industrial internet of things and the interconnectivity which it enables is slated to add a staggering $15 trillion in value to our global economy by 2030. The so-called "digital deluge" currently besetting oil and gas experts can actually be a negative in that there's sometimes too much data to handle. Oil and gas companies are thus racing to hire more data analysts than ever before while existing professionals in the field are brushing up on their data science to remain employable well into the future.
Oil and gas companies of tomorrow may thus be more concerned about digital training than they are about HUET training. More realistically, the two will be combined, and future training programs which prepare next-generation oil and gas professionals will be incredibly more centered around data than contemporary operations are.
Aspiring youngsters trying to make their way into this lucrative industry are thus well advised to focus on data science and the role of interconnectivity in manufacturing processes. Companies of the future will want those employees who are effective when surrounded by huge sums of swirling information pools, which are ever-changing and inscrutable to those not invested in learning about the future.
Dealing with digital chaos
All these disruptions have imperiled the profitability of many companies, but others are reacting well to this digital chaos. Confronting and overcoming the digital paradox brought about by recent innovations demands a stellar and forward-thinking workforce that isn't afraid to work with their hands and minds alike. Educating workforces and coming up with more efficient supply chains will thus be a primary focus for any oil and gas industry leader in the near future.
As one white paper from the World Economic Forum makes clear, however, executives in the oil and gas industry are no strangers to digital technology and disruption; as far back as the 1980s, oil and gas companies were forced to make difficult choices when it came to integrating computers into their operations. Oil and gas professionals should thus be unafraid to look to the past for advice when it comes to dealing with the future, as mistakes of yesterday could occur again come tomorrow if we haven't learned from previous failures.
In order to make the most of the opportunities being presented to them by digital oil and gas solutions, major companies will likely invest huge sums of money into artificial intelligence networks which guide their decision-making. Cognitive advisors that vacuum up huge sums of data and make sense of the numbers where humans never could, will become crucial elements of the industry going forward. Nevertheless, human workers and expertise will always be in hot demand, so the oil and gas industry need not fall victim to the fear of automation-induced unemployment.
The digital economy is allowing oil and gas companies to personalize their services to consumers more than ever before, but it's also changing their hiring practices and drastically reworking how field operations are conducted. Before long, we can expect additional innovations to beset the oil and gas sector, proving that we must always be flexible and forward-thinking to attain long-term profitability.
You may also like: An Explosion In Offshore Wind Jobs Is Coming