Click here to get this post in PDF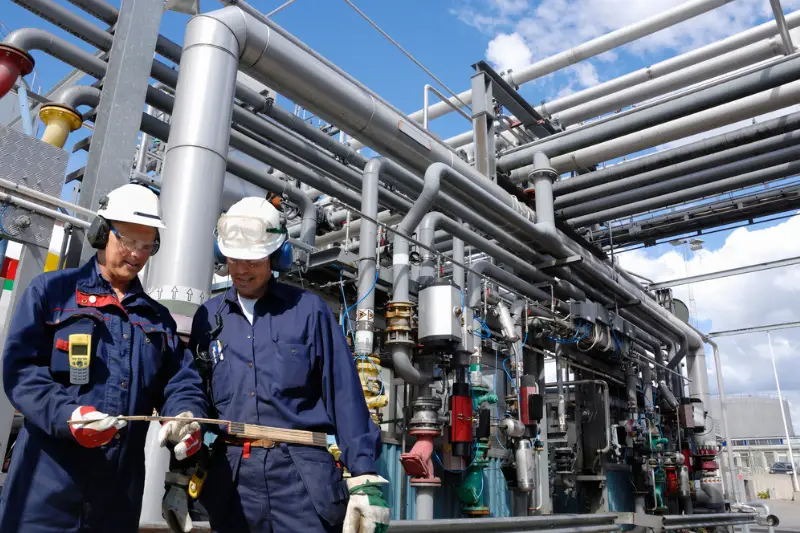 Oil and gas operations are essential for energy production, but they can also be dangerous. Unseen threats such as environmental hazards, infrastructure defects, and equipment malfunctions can lead to costly repairs or even injury. 
Thankfully, advanced infrared thermal technology provides a simple way to monitor the conditions of your oil and gas operations, so potential risks don't go unnoticed. 
With this powerful tool in hand, you have peace of mind knowing that any unseen problems will be quickly identified before they cause damage or threaten safety. 
In this article, we will explore how infrared solutions give oil and gas operators an effective way to detect hidden dangers in their operations.
Introducing Infrared Thermal Technologies for Oil and Gas Operations
Oil and gas operations can be complex and challenging. And with evolving technologies, it's crucial to stay ahead of the game to not only meet industry standards but also improve the efficiency of these operations. 
The introduction of infrared thermal technologies has been a game-changer for the oil and gas industry. These cutting-edge technologies provide a non-intrusive and cost-effective way to monitor pipelines, storage tanks, and equipment. 
They help detect temperature variations, leaks, and other anomalies that could cause accidents or disruptions. As a result, operators can now detect and solve problems before they escalate, leading to improved safety, reduced downtime, and increased profits. 
With infrared thermal technologies, it's possible to revolutionize the way we handle oil and gas operations.
Understanding the Benefits of Infrared Inspections in Oil and Gas Industries
Infrared inspections have become increasingly popular in the oil and gas industry due to their numerous benefits. 
By utilizing infrared cameras, technicians can detect and monitor temperature variations in equipment, pipelines, and surrounding infrastructure without interrupting production. 
Infrared inspections can identify potential problems before they escalate into costly repairs or system failures, ultimately saving time and money and reducing safety risks. 
Additionally, utilizing infrared inspections as part of a comprehensive maintenance plan can increase equipment lifespan and promote overall efficiency. 
How to Use Infrared to Spot Unseen Threats in Oil and Gas Operations
Infrared technology has become an essential tool in the oil and gas industry. It has proven effective in identifying potential hazards that may go unnoticed by the human eye. 
Infrared cameras can detect heat and radiation emitted by different objects, helping technicians spot leaks, fires, and other critical issues. By detecting these unseen threats early on, oil and gas operations can avoid costly shutdowns and dangers to personnel. 
Whether it's detecting leaks in pipelines or finding unusual hotspots in machinery, infrared technology has revolutionized the way the industry operates. 
The Advantages of Infrared Solutions for Maintenance, Safety, and Productivity
Imagine having a tool that not only improves maintenance but also enhances safety and productivity. 
With infrared solutions, this is a reality. Infrared technology allows you to detect heat patterns and temperature variations, which can indicate potential issues before they become major problems. 
As a result, infrared solutions can reduce unexpected downtime and repair costs and increase equipment lifespan. Moreover, infrared solutions eliminate the need for physical contact, making them ideal for hazardous environments and avoiding any potential safety hazards. 
By detecting issues quickly and safely, infrared solutions ultimately improve productivity by streamlining maintenance processes. 
Exploring Potential Applications of Infrared Solutions in Oil and Gas Industries
The oil and gas industry is always searching for new technologies to improve efficiency and increase safety, and infrared solutions may be the next big thing. 
Infrared technology is already being used in a variety of industries to detect leaks, monitor equipment, and perform predictive maintenance. 
In the oil and gas industry, infrared cameras can be used to detect leaks in pipelines, tanks, and other equipment that can release hazardous materials. Additionally, they can be used to monitor temperature changes in machinery and detect potential failures before they occur. 
As the industry continues to explore how infrared solutions can be applied, it is exciting to see the potential for significant improvements in safety and productivity.
Minimizing Risk with Advanced Thermal Imaging Solutions
As technology advances, so do our options for minimizing risk. Advanced thermal imaging solutions are the latest tools that can aid us in identifying potential hazards and ultimately avoiding accidents. 
These solutions allow us to view the temperature of objects and environments, giving us the ability to recognize danger before it becomes a problem. 
Not only can these imaging solutions be used for preventative measures, but they can also be utilized during emergency situations to assess the extent of damage and locate individuals in need of assistance. 
By incorporating advanced thermal imaging solutions into our risk management strategies, we are able to take proactive steps towards ensuring the safety of ourselves and those around us.
From the initial introduction of the services of infrared thermal technologies to exploring potential applications in oil and gas operations, this post provided a comprehensive overview of how these solutions can be leveraged for a variety of use cases.
By utilizing state-of-the-art infrared solutions for the oil and gas industries, companies will ensure that they have the necessary tools for success in an ever-changing industry environment.
You may also like: How to Prevent Unplanned Downtime in Oil and Petrochemical Industries – Raise Your Firms Profitability and Efficiency
Image source: Depositphotos.com