Click here to get this post in PDF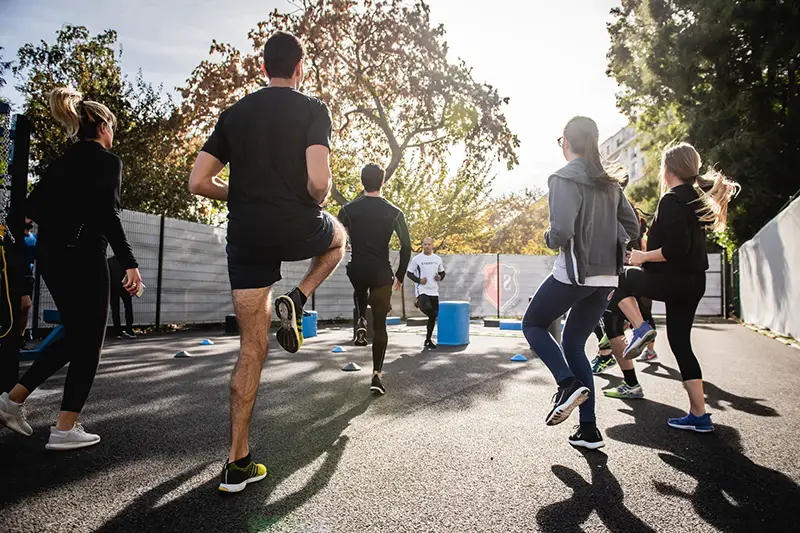 Staying fit and healthy while pursuing professional goals can sometimes be very challenging. Many workers have to sit at a desk or in front of computers throughout the day, that some even find themselves skipping meals or not having the time to do other activities aside from work. The vending machines and snacks available in the office kitchen become most workers' morning and afternoon diet. Hard work provides the means of livelihood and pays the bills, but it is also crucial to stay fit and healthy while trying to achieve those dreams.
You do not have to do too much to stay fit and healthy at work. Also, you do not have to quit your job to stay fit as inactivity can also be dangerous to the health even if you engage in regular exercises. Moreover, staying fit does not mean you have to start a rigorous or time-consuming workout during lunch break. Working hard is usually at odds with staying in shape, which is why we have written this guide to help you achieve a healthy lifestyle while at work.
Engage In Short Workouts 
It is important to have your health at heart while you work. Making 10 minutes workouts as part of your daily 9-5 routine is an easy way to stay fit and healthy. You should try as much to avoid sitting all day. Walking while talking to a friend, reaching the office by riding a bicycle of 400 lb capacity or taking water from a cup that requires frequent refills are great ways to stretch and exercise your muscles. Integrating standing, stretching, and strolling as part of daily work activities is very important.
Monitor your sitting hours with apps that will remind you to stand up frequently. It would help to use office devices like wireless landlines that will give you reasons to leave your seat. Standing while you wait for a file to download, walking to print files, and submitting documents yourself are good habits to stay fit. Finding ways to move through the work area is an effective way to promote blood circulation and boost your mental health.
Modify Your Work Space With Ergonomic And Workout Equipment
If your work requires staying in an office for long hours, there are many fitness-inspired office furniture to help you stay in good shape at work. There are different types of desks to improve your health. A cycling desk lets you pedal while working, and a standing desk is easy to adjust for comfort. If you do not mind the money, there are other ergonomic office furniture such as kneeling chairs, ball chairs, desk bikes, desk yoga, and many others.
According to Fitnessroad.co.uk, Some of the equipment you use at the gym, such as dumbbells, balance discs, and resistance bands, can also work in the office. 
Having your small gym bag at the workplace is a good reminder and motivation for daily 10 minutes of exercise during work hours. If you use multiple desks or travel a lot, there are many compact and portable workout tools to use. Ergonomic foot soles, portable under-desk stair steppers, hand and harm exercisers all have enormous health benefits.
Healthy Dietary Plan 
Eating healthy food is a good way to promote healthy living and improve your performance at work. Your diet should include energy-producing and metabolic substances to help supply energy and promote good metabolism. You should also include enough quality fruits for vitamins. Almonds, proteins, and cereals are nutritional foods to make up your diet. Too many fried foods and junk can cause many health issues that may negatively affect your work. 
Food and drinks such as chocolate, cakes, minerals, and other crispy and sweet foods are big temptations in the office, from friends celebrating birthdays to friendly food invitations. It can be difficult to resist these foods. However, you should try as much to stay away from unhealthy sugary stuff to prevent the accumulation of unhealthy fats.
Protect Your Eyes 
If your job requires using screen devices such as computers, you are prone to getting soreness and pains in the eyes due to prolonged periods of focusing on the screen. It is important to look up from your screen every 5-10 minutes while staring into the distance. Most screen users develop eye problems due to dry and tired eyes from working all day. It is recommended to use protective glasses even if you do not have eyesight problems.
It would help to practice good exercise to relieve your eyes during screen breaks. Some of these exercises include:
Roll your eyes in different directions from left, right, top left corner, bottom left corner, etc. while you keep your neck and head straight
Hold each position for one to two seconds before looking away 
Position your thumb six inches on your nose while staring at it. After some seconds, look out into the distance for another few seconds. Repeat this process up to 15 or more times 
Blink rapidly and steadily for a few seconds to give your eyes moisture and finish the exercise 
Take Break, Avoid Burnout, And Have Enough Rest
During busy work hours, It is sometimes difficult to avoid getting stressed and worn-out. When the body experiences too much stress without enough rest, this causes negative effects on one's mental and physical health. Having too much to do at work may consume your work break or even make you work overtime. Stressing the body and making the brain active for too long without a break is very dangerous to the health. If you want to stay fit and healthy, you should never compromise your break times and sleep hours.
Taking regular breaks from work is a good way to recharge and refocus. It relaxes the body and helps you regain the motivation and concentration needed for a more energetic performance. Adequate sleep is also essential to promote healthiness and more productivity at work. Having enough sleep is a good way to relieve stress, stay fit and healthy. To avoid burning out, you should prioritize your work and do the most urgent and important ones first. Adequate rest in the form of quality sleep and break are effective ways to stay healthy at work.
You may also like: Improve Your Health And Fitness Even When You Work Long Hours
Source: https://highfive.com/blog/ideas-for-staying-fit-at-work
Image source: Unsplash.com