Click here to get this post in PDF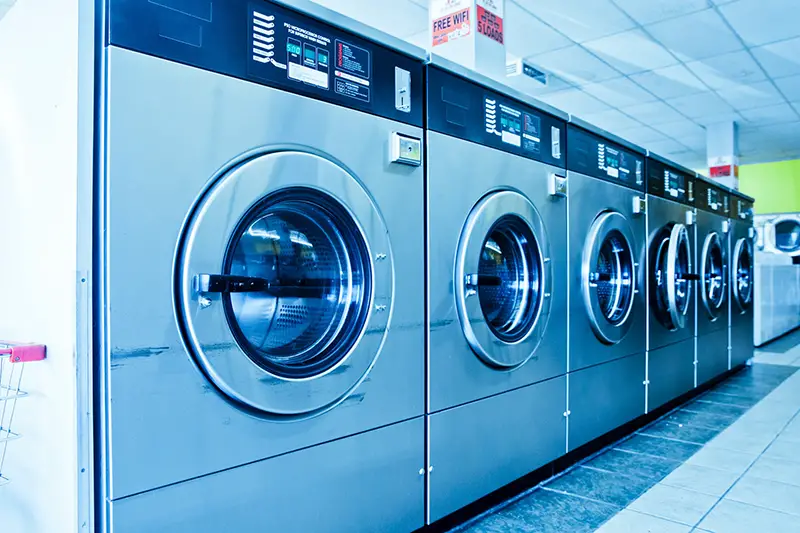 You have a dream of owning a successful business, and you've decided that opening up a laundromat is the perfect way to make that happen. But now it's time to get down to business: How do you start a laundromat from scratch by finding the right location, promoting it, and choosing laundromat payment systems? Luckily, there are plenty of resources available online for aspiring laundromat owners who want to learn how to start their businesses. In this article, we'll walk through the steps of starting a laundromat business so you can launch your dream today!
Learn About the Laundromat Industry
Laundromats are an important part of the economy, and they're not going anywhere. In fact, in the next few years, there is expected to be a great deal of growth in this industry. Laundromats are a good business for small towns because people need their clothes washed and dried just as much as people in big cities—and often at a lower cost than other options. The only difference is that you'll have to rent your store from a landlord instead of owning it yourself (which means you don't get any tax benefits).
But what if your town doesn't have any laundromats? Or maybe there's just one, and it needs some competition? That's where we come into play! Find out how we can help you start up your own laundromat business today!
Assess Market Demand for a Laundromat
To start your laundry business, you must first assess the market demand for a laundromat in your area. This is because there will be no business for you to run without enough demand for your services. The following factors will help you determine if there's enough demand to sustain growth:
How many people live in your area? It's important to know this number to estimate how many loads of laundry are being done per week per household. If there are 100 households and each does four loads of laundry per week, then 400 loads of laundry would be done weekly in that area. At $2 per load (the average price), this makes it possible for 4*$2 = $8 gross revenue from just one location alone! And if each household does an average of six washes per month (1-2 weeks worth), then that means the total annual gross revenue from just one location could be as much as 500*6 = $3,000! That may not sound like much but remember that with multiple locations comes more sales outlets which means more customers and more profits!
Evaluate the Competition
Once you have found a location, the next step is to evaluate the competition. If your laundromat is going to be close to another one, make sure it isn't too close. Customers prefer their laundromats to be within a few miles of where they live or work so they can quickly pop in for an errand or two during their day. In addition to being close by, your laundromat must be unique from other local businesses. For example, if there's already a restaurant next door and another one across the street from your potential location, consider adding something else, like dry cleaning services or grocery items for sale at your establishment. You can also decide what hours of operation will work best for customers nearby by opening earlier in the morning than other local businesses do and staying open later into the evening when people return home from work or school activities after 5:00 PM (or 10:00 PM if necessary).
When looking at existing laundromats in your area and planning out how yours will differ, think about pricing and services offered as well as hours open each day/weekend versus weekdays only; operating hours should reflect when most people need their laundry done right now rather than sticking with tradition just because everyone else does it this way too! Social media pages play an important role since they allow customers
Choose Between a Franchised or Independent Laundromat
The first step to starting your laundromat is deciding whether you want to go with a franchise or an independent business. Franchises are well-established companies that have built a brand, established a business model, and likely have some experience in operating laundromats.
Independent laundromats offer lower startup costs but may lack the experience and support of franchised businesses. While there are exceptions (i.e., you'll need money for marketing either way), the majority of experts agree that choosing a franchise over an independent business will increase your chances for success in the long run.
Set a Budget for Your New Laundromat
Next, you need to set a budget for your new laundromat. You must include all the expenses you'll have as an owner of a laundromat. When calculating your budget, the cost of equipment and supplies is necessary. Here are some items that you might want to consider purchasing:
A washer and dryer unit (or two)
A change machine
A coin counter/sorter machine
You'll also need to consider space rental costs, utilities, insurance, and other expenses associated with opening up your own laundromat business. You must also add these items into your calculations so that they don't surprise you later down the line once you've already committed yourself financially.
Write a Business Plan
A business plan is a blueprint for your future. It's a written document that describes your business model, including details like your target market and competitors, a marketing strategy, and how you will fund the business. A good business plan should be detailed and realistic—you want to be able to clearly explain what you are going to sell, how much it costs, and how much money you will make at the end of each year (or month).
The first part of any good business plan is an executive summary, which summarizes all of these elements in one page or less. Next comes market research: not just describing who else sells similar products or services in your area but why they do it—what are their advantages over other businesses? Where do they have gaps in their service offerings? You might also consider conducting SWOT (Strengths, Weaknesses, Opportunities, Threats) analysis; this helps define areas where there may be opportunities for improvement or weaknesses that could lead to failure if left unaddressed. Finally comes financial forecasting: listing all projected expenses versus revenue streams so that investors can see where profits or losses would come from as well as understand how long until those profits/losses materialize
Fund Your Business
The first step to starting a laundromat is to fund your business. You should have at least $50,000 in cash on hand before you begin the process of opening your laundromat. With this money, you can purchase all of the necessary equipment and supplies needed to run your business efficiently. Your funding plan should include how you will use the money during the initial setup stage and how much will be put into inventory for later expenses like acquiring new equipment or paying employees.
It is also important that you have a budget for this project to keep track of what expenses are coming up next and know when it is an appropriate time to hire more employees or upgrade machinery (if needed). Knowing exactly where these funds are going will help reduce worry about financial problems down the road, such as not having enough money left over from previous months' earnings until tax returns come through again in April 2020.
Select Your Laundromat Location
Location is a key factor in determining the success of your laundromat business. Your location needs to be in an area with many people and cars and plenty of businesses, apartments, and schools.
A busy intersection: Traffic lights are great for attracting customers; they make it easy for them to see you while they wait at the stoplight.
A high-traffic strip mall: Make sure your laundromat isn't too far away from other stores so that people will have time to stop by after shopping or eating at one of the restaurants nearby.
An apartment complex or other housing with lots of residents: You want multiple potential customers who live nearby coming into your business every day rather than just once in a while when they need a load washed before going away on vacation for example.
Choose a Name and Design Branding
Your business name is the first thing people will see when they look for you. Make sure it's easy to remember, spells out what you do, and is available as a domain name (e.g., LaundromatToday.com). Your brand design should use your business name as part of its logo, which should be used on all marketing materials like social media posts, flyers, and advertising campaigns.
Register Your Company with the Secretary of State and Get Licenses & Permits
Once you have decided on a location, it's time to register your business with the Secretary of State and get licenses and permits.
Here are some things you will need:
Business License
Tax ID number (also called an Employer Identification Number or EIN)
Sales tax permit if selling goods, whether onsite or online
Occupational license for your state if providing laundry services such as laundering clothes in wash-and-fold format, dry cleaning, or tailoring. This may not be necessary for all states if you're only operating a coin-operated laundry facility. The best way to find out is by contacting the state licensing board directly; they should know whether occupational licensing is required for laundromats or businesses in general.
Some places may also require an environmental permit if using chemicals like bleach or detergent because these products can be harmful when improperly disposed of into landfills due to runoff into waterways and other water sources (such as lakes) nearby
Complete Necessary Insurance Requirements to Operate a Laundromat
You'll need to file for several permits and licenses to legally operate a laundromat.
Business License
Business Permit
Tax ID number (EIN)
Buy Equipment & Rent Space for Your Laundromat
There are a few things you'll need to buy and rent before opening your business. The first thing you'll want to do is purchase some washers and dryers for your laundromat. You can either buy new ones or refurbish old ones. There are pros and cons to both, but if you have the space available and don't mind doing some work yourself, buying used machines could save you quite a bit of money!
Next up: renting space for your business. As an entrepreneur starting in 2023, you must find affordable rentals that meet all of your needs as well as are easily accessible by customers who live near where they're located (and who knows—maybe even some who live farther away?). For example, if someone living in Westchester County wants their clothes cleaned at night after working all day during rush hour traffic hours on I-95 going southbound towards New York City…they probably won't be willing to travel much further than 10 miles away from their home address because otherwise, they might miss their exit off I-95 onto Merrit Parkway Northbound towards Cross County Expressway Westbound which leads directly into White Plains Road where many other conveniences such as banks (which offer cash advances), pharmacies (which sell medicine for coughs & flu symptoms), grocery stores like Stop & Shop Supermarket Company with its brand items like "Food Should Taste Good" tortilla chips & salsa flavors plus many others including Whole Foods Market whose slogan reads: "Whole Foods Market: Where Quality Meets Value Every Day"!
Hire Employees & Set Up Utilities for Your Laundromat
Now that you have a business plan, it's time to start getting everything in order.
You'll need to hire employees and set up utilities for your laundromat. You will also need to get the right insurance, licenses, permits, and equipment for your business. The best location for a laundromat is close enough to residential areas but also close enough so that customers don't have to drive too far out of their way when they need their laundry done.
Advertise Your New Laundromat Business
Now that your business is up and running, it's time to spread the word. A laundromat is a niche business, so not many people within the community will already know of its existence. Advertising is an important tool for getting new customers into your laundromat and keeping them coming back.
There are many different ways that you can advertise your laundromat business. The best option depends on what advertising works best for your location and budget. Consider:
Social media ads
Google Adwords (Google's pay-per-click program)
Yelp ads
Once you've chosen how to advertise your business, be sure to stick with it! Changing things up constantly will confuse potential customers and make them less likely to visit again in the future
Start your dream business by following these steps!
When you first start your business, it's best to keep things as simple as possible. Don't worry about getting fancy with your equipment or renting an expensive space right away we recommend starting in someone else's laundromat! This will give you a chance to get the lay of the land before making any big investments. Plus, it's easier on your wallet at first when there are fewer costs involved (and being frugal is important!).
There are many ways to conduct market research for laundromats: if you have friends who own them already, ask them questions about their experience; if not, look online for forums where people talk about running their businesses (like this one!). We recommend reading reviews from customers who've been happy with various machines and equipment before buying anything new; that'll help ensure that whatever product choices go into building out your business today will be popular tomorrow too!
Conclusion
You can start your own laundromat business and make money. There are lots of different things to think about when starting a laundromat, but with some research, planning, and determination, you can make it happen!
You may also like: Startups and Risk: How to Deal
Image source: Pexels.com