Click here to get this post in PDF
Running a business involves a lot of time, effort, and strategizing. Especially in this competitive market, no business can survive without quality and promotion. First, you need to provide quality products or services and choose the right channels to market your business.
Without proper promotion, your business might get buried amid thousands of competitors, and your target customers might never come to know about you. Thus, it is important to understand that any new business cannot flourish without promotion, no matter how good the offerings are. This is why local promotion and SEO strategies should matter greatly to a business owner. The simplest way to market your business locally is to hire a local SEO company and let them build effective strategies to bring in traffic and customers.
Why Should You Promote Your Local Business?
Marketing and promotion are important aspects of building a brand identity and generating new leads for your business. In the present market, 63% of all shopping experiences begin with an online search or encounter, even if the purchase itself happens at a physical store.
Hence, business owners have shifted from physical advertisement (like pamphlets, newspaper ads, etc.) to online marketing. In addition, digital ad expenditure has increased drastically for businesses, which means most businesses have moved their advertising efforts to the online medium. With google being the most popular search engine, choosing to optimize your Google profile, can benefit your business, ensuring more traffic to your site, and creating more sales alongside advertising for your business.
In 2022, the best way to catch the attention of your target customers is through search engines and social media. Such promotion has major benefits for your local business.
It helps you stay ahead of your competitors.
You can reach your target audience on the platform where they are active.
It builds brand identity and reputation.
You can find people in your area who might be interested in your offerings.
Local promotion leads to word-of-mouth publicity.
It increases the customer base and helps to generate more revenue.
Since promoting your local business is such a crucial aspect, you must be aware of the best ways to do so. Marketing strategies need time and sometimes investment. Hence, you must find the most effective channels for your business.
6 Marketing Techniques for Local Business Promotion in 2022
Marketing techniques have evolved over the last few years and have gone mostly digital. Hence, you must focus your efforts to gain maximum visibility and grow your business effectively.
Prioritize Social Media Marketing
Social media marketing is one of the best channels of digital promotion. It is cheap, effective, and gives you access to a vast customer pool. The best part is you can achieve this in-house with some research and minimal expenditure.
The first thing to do here is to set up social media accounts for your business. Make sure you are visible on all popular platforms, like Instagram, Facebook, Twitter, LinkedIn, etc. Now, figure out where your target audience is the most active, then focus your efforts in that direction.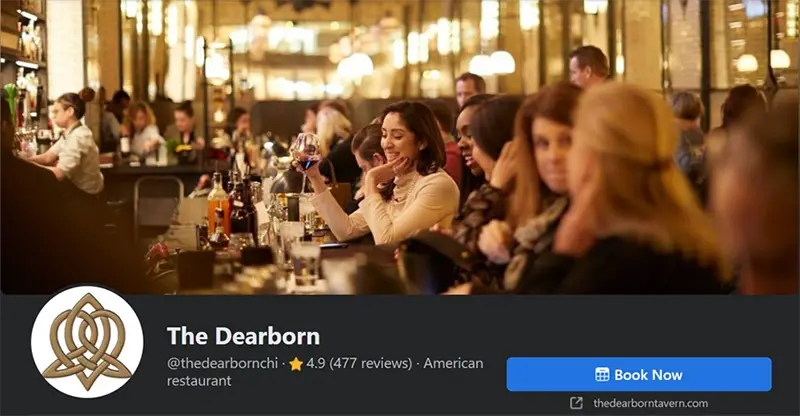 https://www.facebook.com/thedearbornchi
There are several social media marketing tools that help you manage multiple accounts and create a uniform brand voice. Here are some tips to get you started with social media marketing.
Be consistent in terms of voice and message across all platforms.
Post content regularly.
Use visual aids like photos and videos to attract viewers.
Add your website link in your social media bios and descriptions.
Promote engagement-driven posts, like contests, hashtags, Ask Me Anything, live sessions, etc.
Create trends and jump onto existing trends that have become popular.
Endorse relevant issues to give your business a human voice.
Take Help from Local Influencers
Influencer marketing goes a long way in fetching customers in this day and age. Influencers have many followers who are likely to check out any brand that they endorse. You can choose influencers to collaborate with based on your brand image and industry.
For instance, if you run a sportswear company, you can contact a local athlete to endorse your brand on social media or make appearances in your gear. Since people are "influenced" by the actions of their favorite personalities, influencer marketing can work wonders in bringing you new customers.
However, you must make sure that you choose a relevant personality to create hype about your business, someone the audience would relate to while looking at your products or services.
Have a Story for Your Brand
Every brand needs a story to connect to its audience. Without a distinct brand identity, you will get lost in a sea of competition. After all, people remember stories more than ads. Hence, you need to create a brand voice that appeals to your target audience and then stick to it in all forms of communication.
Some ways to develop a brand story are through videos, posts, podcasts, blogs, and so on. To build a relatable humorous vibe, make sure your posts are funny, content-driven, relevant, and engaging. In addition, if your brand identity is inspirational, your posts must have positive affirmations and life hacks.
Provide Discounts and Rewards
Local businesses depend greatly on goodwill. In addition to prompt responses and quality service, discounts and rewards can create a good impression in the minds of your customers. Promotional offers, seasonal discounts, and periodic rewards ensure your customers remain more invested in your business and return to shop frequently.
Some reward options to be considered are:
Free gifts with purchases
Special offers for new customers
Buy 1 Get 1 or such offers
Discounts on the bill amount
Redeemable coupons, and so on.
Focus on Google My Business
Google My Business is basically a business listing on Google that lets you provide details about your local business, like address, contact information, website link, hours of operation, etc. You can also give information on your products and services here.
This helps you gain more visibility on Google as a Google Business Profile appears on Google Maps, Google Shopping, and in search results. To set this up, you must create a free Business Profile on Google and then create a free Google My Business account separately.
This strategy is effective as many potential customers search for local options on Google before visiting. You must ensure that your business information is always accurate and updated, and encourage your customers to leave reviews about your service in your Google profile.
Run PPCs or Ad Campaigns
Google is the best platform to advertise your business. You can leverage the power of Google through PPC (pay-per-click) campaigns for your local business. Additionally, 85% of Google's entire revenue comes from Google Ads, so you can understand how your business can benefit from this powerful tool.
PPC campaigns are also cost-effective to manage as you simply have to pay for each click. You can tap into a vast market and run targeted campaigns that are bound to fetch positive results at a minimal cost. PPC or ad campaigns are effective, low-cost, and niche marketing techniques that can boost the revenue of a small business.
However, make sure your ad is engaging, relevant, and informative because there is a huge competition on the Google platform.
Conclusion
Local businesses need targeted promotion as their goal is to reach audiences in their physical vicinity to make fruitful conversions. The above techniques will surely get your potential buyers' attention and do wonders for your business. And if you are not sure how to carry out these activities in-house, you can always hire a local SEO services company to revolutionize your marketing campaigns.
You may also like: How to Help Small Businesses Improve Their Local Presence