Click here to get this post in PDF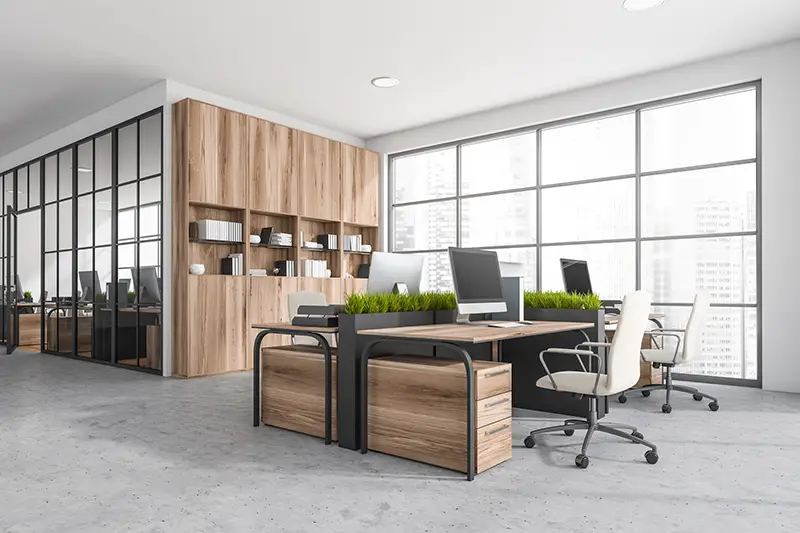 An office space that works well for your staff will help them perform their tasks with greater efficiency, creativity and comfort. The office space should be tailored to their individual needs and preferences and the company's overall goals and objectives.  The layout of an office plays a crucial role in shaping the working environment and influencing employee productivity and collaboration. Read on below for some tips on creating an office space that works well for your staff.
Create a layout that is conducive to collaboration:
Creating a layout in your office that encourages collaboration between staff members can increase workflow and productivity. For example, consider grouping similar departments together such as marketing and finance, while also providing enough open spaces for those who prefer to work independently. Cubicles and benches instead of traditional desks are also another excellent way to maximise communication among staff members by allowing them to easily interact with each other throughout the day.
Incorporate technology:
Modern offices take advantage of the latest technologies to increase efficiency and collaboration between staff. Consider installing wireless internet, webcams, video conferencing systems, and other up-to-date tools that allow teams to work together more effectively. Using cloud storage solutions can also help streamline communication between departments while providing easy access to documents among team members. This will reduce time spent searching for important files or resources and boost staff productivity.
Promote comfort:
Offices that are comfortable will help your employees stay focused throughout the day and feel valued as part of the team. For example, provide comfortable seating such as ergonomic chairs or standing desks to minimise stress on their bodies while working. You should also incorporate natural light into the office design as much as possible to keep employees energised and productive.
Make sure that office maintenance is up-to-date:
When creating a space that works well for your staff, it's important to make sure that all the necessary office maintenance is up-to-date. This includes ensuring that the electrical systems are in proper working order, the HVAC system is functioning correctly, and any plumbing issues are taken care of with the help from a commercial plumbing service. These services will guarantee that your employees have a safe and comfortable environment to work in every day.
Provide decor that inspires:
A well-designed and inspiring office space will help your staff focus, stay motivated and remain productive. Incorporate decor that reflects the company's mission statement or core values to remind employees why they do what they do every day. For example, adding wall art or inspirational posters can help set the tone for a successful working environment.
Creating an office space that works well for your staff is essential to keep them engaged and productive throughout their workday. With these tips, you can create an effective layout, incorporate modern technologies, promote comfort, maintain it properly and decorate it with inspiring pieces of artwork. Doing this will show your employees that you value their well-being and want to create a workplace that allows them to excel in their roles.
You may also like: How To Save Money With Your Next Office Space
Image source: Depositphotos.com