Click here to get this post in PDF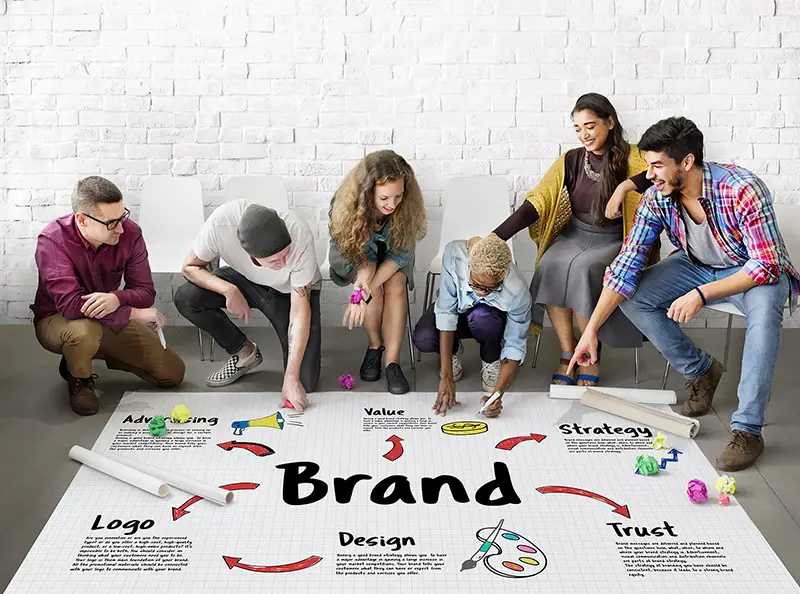 For better or for worse, branding and marketing your business is just as important as your services and expertise. Getting the word out and distinguishing your small business is essential for recruiting customers, showcasing your services, and generating buzz around your work. Fortunately, branding opportunities have never been greater, so there are many avenues for sharing the best of your business with the world at large. 
Start with social media
These days, and especially this past year, most consumers rely on the internet for new products and services. Starting social media accounts for your small business is a great way to engage with a variety of individuals across a wide range of platforms. You can build a business Instagram account, a Twitter, or a Facebook page. 
On each of these, you can examine analytics and engagement to assess how well you are reaching customers. If you want to engage with the widest range of people, having profiles on each of these platforms will diversify the people you are able to connect with. You should use social media to communicate your brand.
Post regularly and create engaging graphics and pictures to keep your followers informed and interested. You will want to develop a style for posting, whether that's more humorous, informative, or laid back, so that your social media profiles are distinctive and memorable. This posting style will become part of the brand of your business, so you'll want to think carefully about the vibe of your posts. 
Strive for cohesiveness within these social media platforms to build upon your brand further. When posting images, it might be worthwhile to make sure they have the same general aesthetic, whether via filters or particular graphics. This consistency is what will make your brand, and thus your business, memorable to consumers.
Identify your target audience
Focusing on a target group, or the types of people most likely to be interested in your business, will help you develop the rest of your branding strategies. If your target customer is very young, for example, you might want to focus on Instagram and Twitter more than on Facebook and appeal to millennial or Generation Z humor and lifestyle. If your target group is older, you might also pursue alternative forms of advertising, such as in newspapers. 
Other aspects of your branding will also be shaped by your target group. To figure out what that group might be for your business, consider who is most in need of your services or products or who might be in a position to spread the word about your business. Keep this target group in mind to allow you to prioritize different avenues for branding and marketing.
Devise a logo and slogan
This branding strategy is old as time but remains as essential today as ever. Creating an aesthetically pleasing logo to be used on social media platforms, promotional materials, and elsewhere will make your brand both appealing and hard to forget. Think critically about the images, color scheme, and visual appearance of this logo so that it aligns with what you are trying to communicate about your business.
A good slogan is another effective way to brand your business. As you develop your slogan, think about what is most important to showcase about your business and its services or products. Is it your personalized efforts? Your timeliness? Your quality of products? Once you pinpoint what it is you wish to communicate, boil it down to a few words or a sentence that is memorable, clever, and easy to incorporate into advertisements, social media, and any other ways you plan to promote your business.
Invest in promotional items
The more people see your brand, the more they will think about it. Because of this, it's worth investing some money in merchandise and other promotional materials to really get your company name out there and further your branding efforts. 
For example, if you own a marketing firm, you can put your name, logo, and slogan on promotional products like drawstring bags, bumper stickers, pens, and coffee mugs. If you own a retail clothing business, hang tags will be your branding method of choice to help draw in more business and keep your brand at the forefront of customers' minds. 
These different promotional methods offer a great opportunity to use your logo and slogan to help concretize your branding efforts onto physical materials.
Create a user-friendly website
Creating a website is another great way to brand your small business. This website should be linked to all of your social media accounts and should feature your logo, slogan, and other branding efforts you have come up with so far. The general tone should be consistent with your social media profiles, and it should be easy to navigate and informative. 
A website is a great way to enable potential customers to read more in-depth about your business. The goal is to bring people onto the site through effective branding and then to offer more long-form explanations of your services or products. Include testimonials, special deals, or other distinguishing features of your business. Making sure that the website is easy to browse will encourage potential customers to stay on for longer and learn more about your business, making them more likely to request your services. 
Hire a brand agency
Regardless of the size of your business, you can still develop a distinct brand voice by prioritizing your customers' experience. There are tons of brands offering similar products or services to yours, so you have to stand out from the rest. But how do you go about attaining this goal?
An effective strategy that you should consider is hiring a brand expert. An established brand agency like Liquid Creativity Melbourne will help you transform your business by revamping customer connection. It'll be easier for you to bring together the most suitable storytelling, innovative strategies, and visual design for your target audience with the help of a brand agency.
Move your business forward by creating an impressive brand identity through the following:
Brand Positioning: You need to define your brand to reflect your business goals. By hiring a good branding agency that applies agile methodologies, you'll be able to increase your customers' satisfaction to the highest level.
Brand Direction: It's essential to create a creative and strategic direction that will guide your brand. A top-notch branding agency knows the right techniques to clear the path for your business, allowing prospective customers to see your brand in a positive and meaningful way.
Brand Overhaul: You can meet your current and future business objectives by identifying and resolving branding gaps—something that established agencies can easily identify.
Wrap-up
Branding your small business can be a challenge, but it's one that comes with great rewards. By building and investing in a brand, you are setting up your business with the best chance for success. Even if you don't fulfill every branding possibility at first, building a brand is something you can always keep working towards over time, so there is endless potential for your business to evolve and grow.
You may also like: Marketing Psychologists Are Vital For Successful Branding- Why?
Image source: Shutterstock.com