Click here to get this post in PDF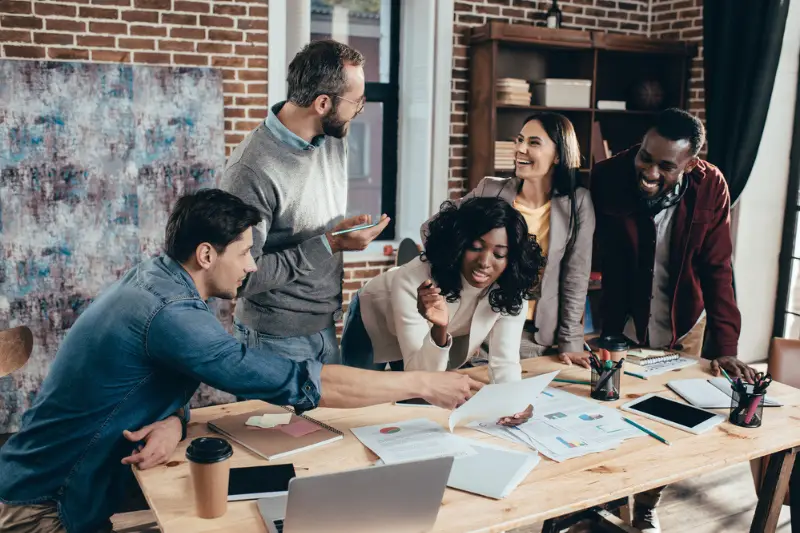 Successful sales teams are not made up of lone wolf sales stars closing deals with aggressive sales techniques and shots of bourbon. The days of Glengarry Glen Ross are over. So, what's changed? Put simply: the customer. Where once a customer might be dragged through a sale by a pushy salesperson, today's customer holds all the power. They have Google at their fingertips, and they're prepared to do their research before making a purchase.
With the decision all but made before they've even spoken to a salesperson, there's little for the sales team to add to the buying journey — reducing the opportunity for salespeople to influence purchasing decisions.
So how can your teamwork with this new approach to buying? The answer is Sales Enablement.
What Is Sales Enablement?
At its core, sales enablement is the tools, resources, and techniques that help salespeople to win more deals. That could include things like selling software, a content library, training, deal support — basically, anything you can think of that enables a salesperson to more easily answer the customer's needs.
Though the term sounds sales-centric, the practices themselves are all about helping the customer get what they want: information and insight into how your offering solves their need.
How Does Sales Enablement Serve the Salesperson?
This move towards a customer-controlled buying process leaves the salesperson with one option — they must add value to the sales process. This means committing to a more consultative selling style, where the salesperson is considered an ally rather than an adversary.
LinkedIn Research indicates that 86% of buyers will listen if sales professionals provide insights about their business.
Salespeople must be well informed about their product to fulfil this role — to the market and their customers. That's a lot to take on, which is why sales enablement has developed to assist the sellers in this process.
Whether it originates from within the sales department, from the marketing side, or as an entirely independent entity within your organisation, sales enablement helps salespeople to be:
Better prepared
Better informed
Better able to assist with customer questions
Offer more value in the buying process
Sounds great, right? But what does this all look like in practice? Let's break down the core elements of sales enablement to figure it out.
Tools
There are a number of tools marketing themselves as sales enablement solutions, which can make it a bit difficult to understand what exactly a sales enablement tool does.
A sales enablement tool is (typically) a software product that aims to assist with sales processes. Since salespeople spend the majority of their time on non-sales activities, tools that can reduce the amount of admin needed or decrease time spent on manual tasks are big business. These might include:
CRM software
Email automation
Content management
Social selling tools
Learning and development tools
More products enter the market all the time, solving more of the challenges and frustrations salespeople face on a day-to-day basis.
There are several benefits to these kinds of tools, such as:
You save time — leaving you more time to focus on selling
You create more opportunities by increasing your communications and speeding up the prospecting and lead qualification processes
You can develop more tailored communications and build better proposals
You can more easily integrate training into your regular schedule
All of this adds up — in theory, at least — to increased sales. However, it's also worth noting that these kinds of tools can end up causing more frustration if they don't easily integrate or if they don't fulfil your needs.
Resources
What kinds of resources do salespeople require to close more deals? A lot of different types. Brochures, datasheets, catalogues, slide decks, graphics, videos, charts, blog posts, thought leadership pieces — the list goes on and on.
Most organisations these days will be running at least some level of content marketing strategy, whereby content is used to help build brand awareness, assist customers with decision making and help users get the most from their purchase. From a purely practical perspective, content is essential to help increase your visibility on search engines. If you don't have any content online, customers won't be able to find you.
All of this might sound like marketing's job and has nothing to do with sales, but the world doesn't work that way anymore. Customers expect content through every stage of the buying journey — and it's the salesperson's job to provide the added value insight that the customer couldn't discover on their own. This could be in the form of:
Case studies showing how similar customers have successfully used your product/service.
Customer testimonials — or even reference calls with satisfied customers.
Video or written content answering customer questions
The latter is an important point — by the time the customer sits in front of a salesperson, they will have specific questions related to how your offering will work for their business.
This is exactly the time when personalised content from a salesperson can make all the difference. Do you have that kind of material in your library?
Though content development might fall to marketing, it's often the salespeople who are best placed to know what questions customers have. The two departments should work together to prepare the relevant materials before the questions arise. Research suggests that 95% of customers will go with a company that can provide content to help them at every stage. We put our trust in the people who seem to have the most authority. If you're looking to increase sales, ensuring you have the resources in place is a good starting point.
Techniques
Techniques, skills, behaviours — this element of sales enablement is all about training. Good sales training can help boost sales team performance, both by increasing the win rate and by improving employee engagement — meaning your turnover reduces and you stop wasting money onboarding personnel who quickly move on to the next opportunity.
Training exists for the subject of every sale. Do your salespeople need to get better at cold calls? There's a programme for that. Are they too quick to discount? Implement some training in negotiating skills. Don't they understand what they're selling? You can fix that with training.
Whether you choose face-to-face training or online, make sure there's an element of interaction or your salespeople will switch off. It's also important that you properly prepare for and follow up after all training — they say 90% of what we learn is forgotten within a week without proper reinforcement.
In terms of responsibility, it's not the sales enablement lead's job to train your sales team. Instead, they talk to the sales team and either make their own observations or bring in a professional to perform a skills assessment, which is then used to develop a training programme.
Putting It All Together
You may have been reading this and thinking "I have tools, I have the resources, I have the training — I don't need sales enablement." That's great — but coordinating all these things into one strategy will help prevent the formation of silos in your business and will make sure your efforts are as effective as possible. If — for example — you have IT in charge of your sales tools, marketing in charge of resources and HR taking responsibility for training, it's unlikely they will all be talking to each other — or to sales. The result? Mismatched programmes that don't deliver the expected ROI. The most likely outcome of this is that these programmes don't get funding in the next budget — and your salespeople miss out on a lot of opportunities.
Sales enablement brings together all the pieces of the puzzle your salespeople need to be successful in this new sales environment. It's certainly worth exploring if you want to boost sales in 2019.
You may also like: How Can B2B Funnels Turn The Tables For Quick Deals
About the Author
Charlotte Powell is the Head of Creative at iPresent, a UK-based sales enablement platform. Charlotte is passionate about all things Sales and is constantly researching techniques and tools to enhance sales performance.