Click here to get this post in PDF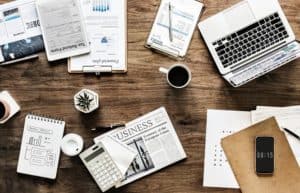 Would you like to be more productive in your office?
An office is a place where people go to get work done. They're usually designed to revolve around the work that's being done. However, many people aren't sure how to maximize productivity within their office.
By investing in a few office items, you can greatly improve your productivity. You will also save yourself a lot of time and stress in the long run.
Continue reading to learn about 5 office essentials for productive professionals.
1. Storage Spaces
Storage spaces are something that people often overlook when designing their office. Storage spaces can come in the form of shelves, desks, and even storage bins.
When you have an office, it's important to be organized. Proper organization will help you find things easily and keep clutter from building up in your workspace. 
You should get creative with your storage spaces and make them convenient for you. This means you should set up shelves near your desk for quick access. Having storage near you will save you time and having to get out of your seat.
If you spend a lot of time writing on physical paper, you should invest in a small bin to hold writing utensils on your desk. You won't have to scramble looking for a pen when it's conveniently placed right in front of you.
If you do a lot of artwork, such as painting large pictures, you can invest in shelves that mount on the wall. This will give you a lot of room to freely walk around and avoid spilling paint on your furniture.
2. Multi-Functional Desk
Multi-functional desks are office must-haves because they're where most office work is done. A multi-functional desk will have a roomy surface to work and pre-installed shelves equipped to the desk.
Aside from having your own storage shelves, a desk will often provide you with overhead space for items and drawers to your side. These desks usually incorporate a designated area for your mouse and keyboard to save your surface space.
You won't have to do much moving around because a multi-functional desk will be able to fit many of your important items. Some desks go as far as having a built-in cup holder to prevent you from accidental spills.
3. Computer
When looking at your office checklist, a computer should be one of the first things on it. Computers allow you to do a variety of tasks to work done. There are even different kinds of computers that are useful depending on the situation.
With a computer, you can install various programs to do things, such as PhotoShop for photo editing, Sony Vegas for video editing, and Microsoft Office programs for a variety of office tools.
Laptops are great for those that would like to work in their office and have the ability to travel with their work. With a laptop, you can work from anywhere provided that it's charged.
You can go with a desktop if you don't plan on working outside of your office. Desktops are often cheaper than laptops and have better specs, but you also have to invest money in peripherals such as a monitor, keyboard, and mouse.
4. Printer
A printer is very useful for people that often have to print out documents. Doing things like legal work and making contracts will require printing because you need to give these to other people.
Modern printers are a lot more user-friendly than those of the past, having built-in WiFi and Bluetooth. This saves a lot of time, allowing you to print an item from across the house.
You can even print things from your phone providing that you're on the same network as the printer. 
Aside from printing out documents, printers are also capable of printing out high-quality images. You can get a printer that uses either ink or toner cartridges. Ink is used in inkjet printers and toner cartridges are used in laser printers.
When deciding what type of printer you'd like to get, think about the work that you do. Inkjets are often used for printing photos and colorful documents where laser printers are often used for printing out text documents.
The problem with ink printers is that the ink runs out fast. A premium toner cartridge will last you a year or two.
5. Ergonomic Chair
An ergonomic chair is one of the most important office desk must-haves. A basic office chair can leave you with back and shoulder pains. Ergonomic chairs are specially designed to comfort you and allow you to maintain a healthy posture.
They often provide decent cushioning for those that sit long hours, and they have elbow rests so you don't hurt your shoulders. Some incorporate headrests so users can lean back when they need to. 
In an age where we often find ourselves sitting at a computer for hours on end, an ergonomic chair will quickly become your best friend. There are many ergonomic chairs to choose from if you're interested.
Get These Office Essentials Today
There are many office things that claim to help professionals, but these are some of the ones that will actually help you.
If you would like to effectively maximize your productivity in the office, start investing in these office essentials. The benefits are too good to miss out on, and you can save yourself from a lot of annoyance. 
Visit our blog to learn more about business-related topics that will assist any beginner or seasoned professional.
You may also like: What's on Your Work Desk?