Click here to get this post in PDF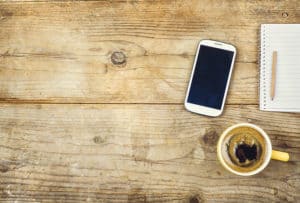 We asked 16 business leaders of start-ups, established companies and multinational giants what their work desks look like, and what it means to them.
Have you ever wondered what some of the most influential business leaders work desk looks like? Are they tidy, messy, do they have pictures of loved ones or gadgets close to hand? And why do they keep their desk that way; is it a place of function to get work done or an area of creativity and a home from home? Let's find out.
Jason Droege, Vice President and Head of UberEverything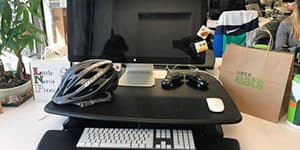 Here's what Jason has to say about his work desk
Jason Droege is a Vice President and Head of UberEverything where he leads the Uber Eats team. Uber Eats works with over 160,000 restaurants in 350 markets across 35 countries and delivers food in under 31 minutes. Jason's expertise as a successful founder and business leader across e-commerce, enterprise software, and internet services helped him lead the team that created Uber's first app outside of rides.
"Jason enjoys testing Uber Eats features by delivering Eats meals via bike and ordering lunch from local San Francisco restaurants. Jason also enjoys collecting artifacts from the past few years, including when Uber Eats recreated the pizza delivery service Little Nero's Pizza from "Home Alone". He regularly visits international Uber offices and picks up items like Uber Eats refrigerator magnets."
Aron Gelbard, Founder of Bloom and Wild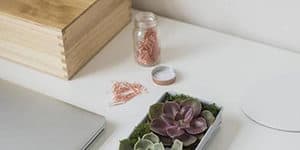 Here's how Aron's desk helps him declutter his mind
Aron Gelbard is the founder of the second fastest growing business in the UK – Bloom and Wild.
"Aron keeps his desk pretty tidy in order to declutter the space around him and as well as his mind. Aron has a pretty hectic schedule looking after their exploding flower business in the UK, France, and Germany so instead of lots of florals, he has a small pot of Jamie succulents on his desk which just needs a spritz every other week. Easy!"
Monika Bhasin, Founder of the Glyd App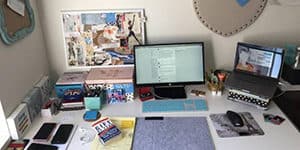 Here's how Monika's desk represents her workdays
Monika Bhasin is a founder of Glyd, an app that connects travellers with local guides.
"My desk represents my day: double screens to multitask on a zillion open windows, Chinese stress balls for when work gets a little overwhelming, my vision board to keep me focused and driven day by day, a legal pad to always note down to-do lists or any other notes I need to remember, pictures of my hubby and pups are always there to remind me of how much I'm loved and blessed, a golden crown full of beauty products to remind me I AM the queen! Bunch of phones for testing GLYD in QA, and a current book I'm reading: The Gift of Fear.  Fear isn't always a bad thing, it drives us to be our best sometimes."
Rupert Hunt, Founder & CEO of SpareRoom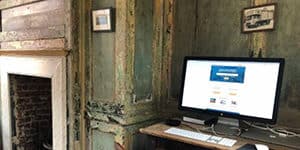 Here's what Rupert shared with us about his work desk(s)
Rupert launched SpareRoom in 2004 in the UK and in 2016 expanded it across to the US, leading to them having offices in London, Manchester and New York.
"I tend to move between SpareRoom's offices in London, Manchester and New York but I also work from home when I'm working on something particularly sensitive or need to focus. This is the desk in my 18th century home in East London. One thing I always have on my desk is a good mic; much as I hate them, video calls between offices have become really important. Above my desk is a photo of my grandfather's wagon on the farm me and my dad grew up on. Both my grandfather and my dad were huge inspirations to me growing up, both were butchers and successful businessmen, and I like to keep a bit of home with me."
Michael Krayenhoff, COO and Co-Founder of The Inner Circle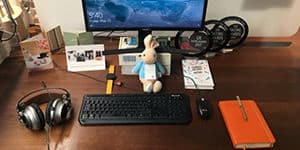 How Michael's desk helps him navigate his tasks
The Inner Circle is a popular global dating and socialising website, that aims to provide a quality over quantity experience.
"Michael's desk is his compass for navigating the challenging world of entrepreneurship and dating. The orange book is my bible of Dutch courage. Its where the magic happens. The cards from former members about their weddings and babies are the ultimate reminder of the purpose of the job. Peter is waiting to be sent out to our most recent Inner Circle baby. Many passed my desk so far. The awards are a welcome recognition from the industry and a reminder to keep innovating."
Jeff Kelisky, CEO of Seedrs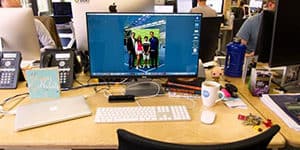 How Jeff personalises his desk
Jeff is a senior and highly experienced executive with a track record in building, scaling and leading successful technology businesses. Jeff's goal for Seedrs is to unlock and capitalise on the opportunities that the asset class provides whilst leading the company through its transition from start-up to scale-up. He is intent on bringing to market the most advanced product and service innovations to both investors and businesses.
"Jeff's desk features a range of personal, memorable and inspiring flourishes. From his toy Snoke, a gift from his son, as "he's the boss", to his daughter's keychain additions, SpongeBob SquarePants a reminder of special memories as she grew up and a red giraffe from her recent time teaching in India. Jeff's desk also boasts a range of books; including, The Hard Thing about Hard Things, Scientific Progress Goes "Boink" and Uncle Petros and Golbach's Conjecture. Even Jeff's desktop includes pictures from a special day when he met Andy Murray and his son got to play a game with him."
James Constantinou, Founder of Prestige Pawnbrokers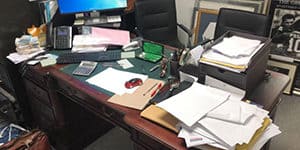 How James describes his desk
James Constantinou is a founder of Prestige Pawnbrokers, and a star of Channel 4's Posh Pawn.
"My desk is large and imposing in my office. On my desk I always like to have three calculators, it annoys me when I can't find one so I'm better having three within easy reach. I have a pair of binoculars which I'm currently appraising as it looks like they were used in World War 2, some Jack Daniels chocolates given to me on my birthday, a dirty coaster as you can't get the staff these days, a lovely large magnifying glass for looking at intricate stitching on handbags, a mini moto bike ornament given to me by my partner's children which I hold very dear, diaries dating back to 2011, a mini sports car as everyone who knows me knows how much I like a nice set of wheels. Then the usual pens, pads and my PC."
Rebecca Newenham, Founder of Get Ahead VA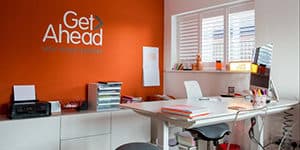 Here's how Rebecca's desk adapts to her workneeds
Rebecca is a founder of Get Ahead VA, a virtual assistant business support agency.
"I have a height adjustable desk which allows me to sit or stand. I try and keep my actual desk as clear as possible. My essentials are: iMac, VoIP phone, Pen pot, notebooks, light, glasses, sunglasses, 'To do' list and two candles to adapt to my mood and enhance concentration."
Elliot Gold, Co-Founder Work.Life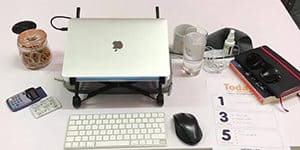 Elliot Gold, Co-Founder Work.Life
Work.Life provides vibrant workspaces where businesses of all sizes feel productive and most importantly happy.
"Elliot's desk focus' around his laptop – his mobile office. Elliot keeps a number of personal effects and work items on his desk, including a bank pin reader, a notebook and his to-do list – which he'd be lost without."
David Kosky, Co-Founder of Work.Life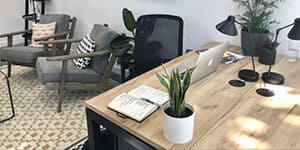 David's minimalist desk and statement
David likes to keep his desk clear, with a few bits of greenery and close to a window with lots of natural light.
Bhavin Shah, CEO of Central Vision Opticians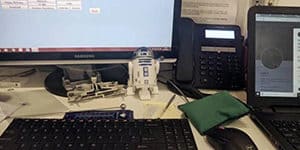 Here's how Bhavin describes his work desk
Bhavin is a behavioural optometrist, children's vision specialist and CEO at an award-winning Opticians.
"Unlike a normal optometrist, my desk is a treasure trove of visually stimulating tools, equipment and toys that allow me to help to improve people's vision, even adults get to play with the toys.."
Carly Thompsett, Owner of Anaphase Store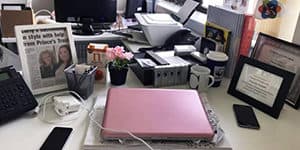 How Carly describes her work desk
Carly's business,  Anaphase Store, is an online business that has been supported by the Prince's Trust and is based in Cardiff. They design our own unique slogans and prints for adults and kids!
"Carly owns the business solely her own so her desk is full of random stuff including my invitation to Buckingham Palace this May, the certificate I got for passing an employment law course and an article from the paper I was in."
Andy Lawson, Founder & CEO of BoroughBox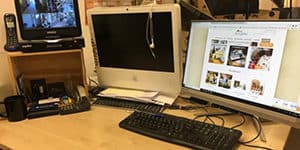 Here's how Andy describes his work desk
Andy Lawson is founder & CEO of BoroughBox – who are reinventing the supply chain for the independent food & drinks sector. A digital marketplace connects 1000's of customers to the best independent food & drinks businesses each month, while a rapidly growing fulfillment division offers logistics solutions and enhanced retail & distribution opportunities.
"My desk is the non-fancy but invaluable hub from which I operate. Tucked into the corner of our warehouse is the office, with me tucked into the corner of that. My PC is there for standard work alongside the landline phone and mobile for calls. The beaten up old Mac usually has Google Analytics humming away for real-time website visitors, and the CCTV unit helps me monitor any lost couriers in the warehouse. Besides that, there's nothing fancy, just essentials. Headphones for webinars, mug for tea, calculator for number crunching and two bottle openers for wine & beer … in case I lose one!"
Michelle Kennedy, Founder of Peanut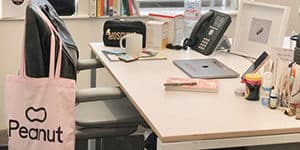 Here's how Michelle uses her desk to connect with others
Michelle Kennedy is a founder of the community app Peanut that connects like-minded mothers.
"What you can't see in this image are the boxes of Peanut swag tucked behind me, which makes the office extremely 'cosy'. One of my investors recently gave me some Goopwellness supplements, and I'm not just saying this, I honestly feel better, I start every morning with them. Also on my desk is a photo my best friend took (he's a keen photographer), it's a peanut on lines of code, and I couldn't think of anything more perfect."
Founder and CEO of Mallzee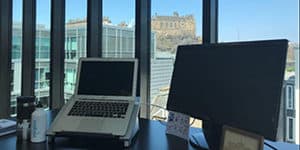 How Cally's desk inspires him
Cally Russell is CEO of Mallzee – the UK's leading non-retailer shopping app, with over 1.5 million users and featuring hundreds of high street retailers.  Since launch Mallzee has won numerous tech and retail awards including being named by Apple as the best new app.
"Open plan office – important as a start-up as we are always bouncing ideas around the team on how we can improve/iterate our products. The picture on my desk is of Dunoon Grammer School – given to me recently when we were visited by a group of 14-year-olds from my old school looking to learn about entrepreneurship. The other drawing depicts where our team all come from and was drawn just last week by our Data Science Lead Martina Pugliese. The other obvious thing is the view – I love living in Edinburgh and my views of the castle are amazing."
Sam Bruce, Founder of Much Better Adventures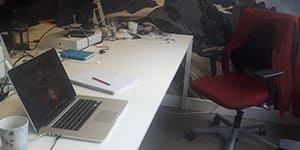 How Sam incorporates adventure in his work desk
Sam Bruce is an owner of Much Better Adventures, a travel company that helps people to arrange proper adventure holidays with handpicked local guides, supporting conservation with every booking.
"As an adventure travel company, we thought it would be very appropriate to set up Much Better Adventures as a fully remote company and so our staff work in places like Tenerife, The Alps and around the UK. We do however have this permanent base in London by Old Street, in the heart of the tech startup community. Given the flexibility, nobody, myself included really has their own desk, but we do have a slackline for phone calls and an office pug called Dizzie."
You may also like: Can Well-Organized Working Space Increase Your Productivity?
This article first appeared on https://www.comprigo.co.uk/articles/whats-on-your-workdesk