Click here to get this post in PDF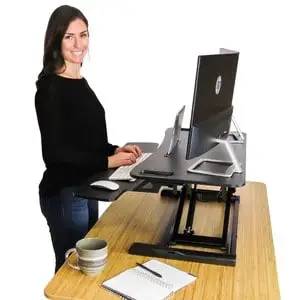 Studies prove that a sedentary lifestyle can contribute to major illnesses like heart disease and diabetes.  Doctors have been recommending people to stand and walk more to increase their metabolism and blood circulation. 
However, since most people sit down for more than eight hours in the office, increasing physical activity at work can be a challenge.  The perfect solution is the manual standing desks that provide the flexibility of working while sitting or standing. 
The American Society of Interior Designers (ASID) initiated the "Stand Up To Work" research project to assess whether the usage of adjustable workstations (AWS) could result in improvements. 
The study took one year and Dr. Elizabeth Garland, who led the team, reported the following statistics on participants with provided adjustable workstations:
88% found their standing desks convenient to use
65% were more productive
65% reported improvement in overall health and better concentration
Since then, more companies are using "sit-stand desks" (SSD) to improve employee health and wellness.
How should one choose a standing desk?
There are two kinds – electric and manual standing desks.
The advantage of manual desks over electric, aside from being more affordable, is their ability to change height without power cords, electronic equipment, or motors.  However, they are slower and may require more effort from the user to adjust heights.
Various methods can adjust manually-operated desks:
A crank mechanism located in the corner of the table
Locking pins in the table's legs
Tools like gas-strut and spring-loading
Counterbalance to glide up and down
With electric standing desks, however, adjustment is powered by a motor that easily adjusts height at the press of a button.  They are usually more expensive.
If you have decided to purchase manual standing desks, here are some considerations:
Weight capacity
Check for the specified weight limit.  Choose those that can handle the heavier weight, especially for crank-adjusted tables.  It may be more challenging to turn the crank if the load is heavy.
Speed in adjusting the height
For desks with crank mechanisms, it may take several turns to raise the height by one inch.  Those with locking pins will require the user to remove all items on the desk before adjusting the height. The newer models are faster to adjust, especially those with counterbalance, gas-strut, and spring-loading.
Durability and stability
Frequent adjustments from sitting to standing height may cause the desk to wobble.  Check for the strength of the locking brake mechanism.
Range of adjustment
The desk should be adjustable to different heights in standing mode.  As a general guide, most buyers follow ANSI/BIFMA certified products that base their standards on the median height of men and women in the U.S. workforce. However, if there are plans to install a "treadmill desk," the desk may need a higher height.
Safety and ease of use
The desk should be quiet and safe to adjust.
What is the best way to use a standing desk?
As with any new tool, there are guidelines in their usage:
Alternate between sitting and standing every 30 to 60 minutes.  Standing for long hours would be detrimental to the legs and may even cause varicose veins.
Make sure that the computer screen's position is at the correct desk height.
Consider using a standing desk mat and standing desk balance board to increase blood flow and reduce discomfort from standing more often.
With the desk adjustment, change the keyboard and mouse position to reduce straining wrists.
Always take a break to walk around, stretch, and rest your eyes.
With the benefits mentioned above, the "sit-stand desk" may be one of the best solutions given by ergonomists in this generation.
You may also like: What's on Your Work Desk?